Data Point
Cox Automotive Analysis: Stellantis' Q1 2022 Market Performance
Tuesday May 3, 2022
Article Highlights
Stellantis Q1 2022 sales fell 14%, a smaller drop than the overall market on the strength of Jeep and Ram.
Stellantis Q1 2022 incentives nearly halved to an average of $2,420 per vehicle.
Stellantis average transaction price soared 17% to $53,212.
Stellantis posts first-quarter 2022 financial results before the U.S. stock market opens on Thursday, May 5. In its important U.S. market, Stellantis sales fell less than the overall market because it had more inventory than many competitors. The high-volume, most profitable brands – Jeep and Ram – significantly outperformed in sales. At the same time, Stellantis slashed incentives to levels substantially lower than seen in years, while average transaction prices soared, particularly for Jeep and Ram.
Here are some data points from Cox Automotive on Stellantis' first-quarter market performance in the U.S., where the company derives most of its profits.
Sales and market share
Stellantis' U.S. sales totaled 405,221 vehicles, down 14% from the first quarter of 2021. Stellantis outperformed the total market, which fell by 16%. That put Stellantis' total market share at 12.2%, up .3 percentage points, but still its second-lowest share for the quarter since at least 2017.
Stellantis' six brands all posted lower sales than a year ago, some significantly. However, Jeep and Ram outperformed the overall market.
Sales Volume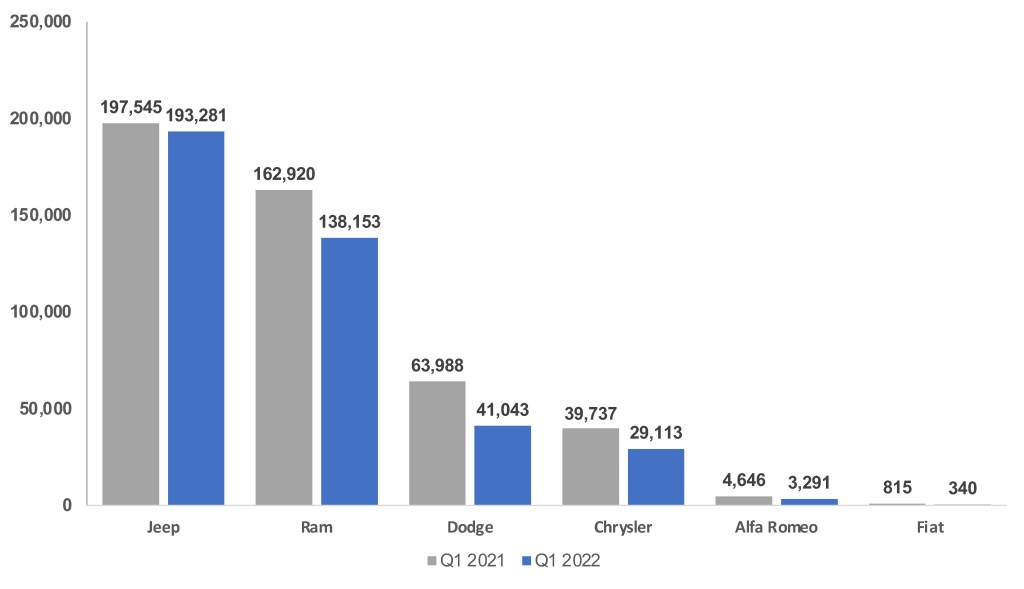 Jeep sales were off a mere 2% to 193,281 vehicles in the quarter. Its market share rose nearly a percentage point to 5.8%, its highest level for the quarter in at least six years. The volume-leading Grand Cherokee had a 36% increase in sales to 75,117 units. The model's previous high sales mark for the quarter was in 2019, with just under 58,000 units sold. The new Grand Wagoneer kicked in 3,169 units of sales; the Wagoneer added 7,055.
Ram sales fell only 15% to 138,153 units, about where it was in the pre-pandemic first quarter of 2019. Its market share was flat from a year ago at 4.2%, but still its highest for the quarter in at least six years. The volume-leading Ram pickup slipped 15% due mainly to the fact that first-quarter 2021 sales were extremely high. Pickup sales of 127,116 units is more in line with typical first-quarter sales.
Dodge sales fell 36% to 41,043 units. A far cry from 134,063 in the same quarter in 2017. Dodge's market share fell to 1.2%, compared with 3.3% in 2017. Challenger and Charger sales were down more than 20% each. Durango sales fell more than 30%.
Chrysler brand sales were down 27% to 29,113. Its market share slipped to .9%, which is in the ballpark of where it has been over the past few years. The Chrysler Pacifica minivan had a sales drop of 23% against the year-ago quarter, which had higher than expected sales. The 26,366 minivans sold in this year's first quarter were more in line with previous first quarters. Sales of the 300 sedan were nearly halved to a scant 2,745 cars.
Alfa Romeo sales declined 29% to a mere 3,291 vehicles. It was Alfa's lowest sales for the quarter since 2017. The brand's market share was .01%, flat compared to a year ago. Giulia sales plummeted nearly 45%. Stelvio sales were off 16%.
Fiat had the biggest decline – down 58% – a barely in business 340 units for the entire quarter. At its highest for a first quarter, Fiat sold 7,231 cars in 2017. It has been a downward slide since then.
INCENTIVES AND PRICES
In total, Stellantis slashed incentives almost in half – by 56% – to an average of $2,420 per vehicle, according to Cox Automotive calculations.
Sales Incentives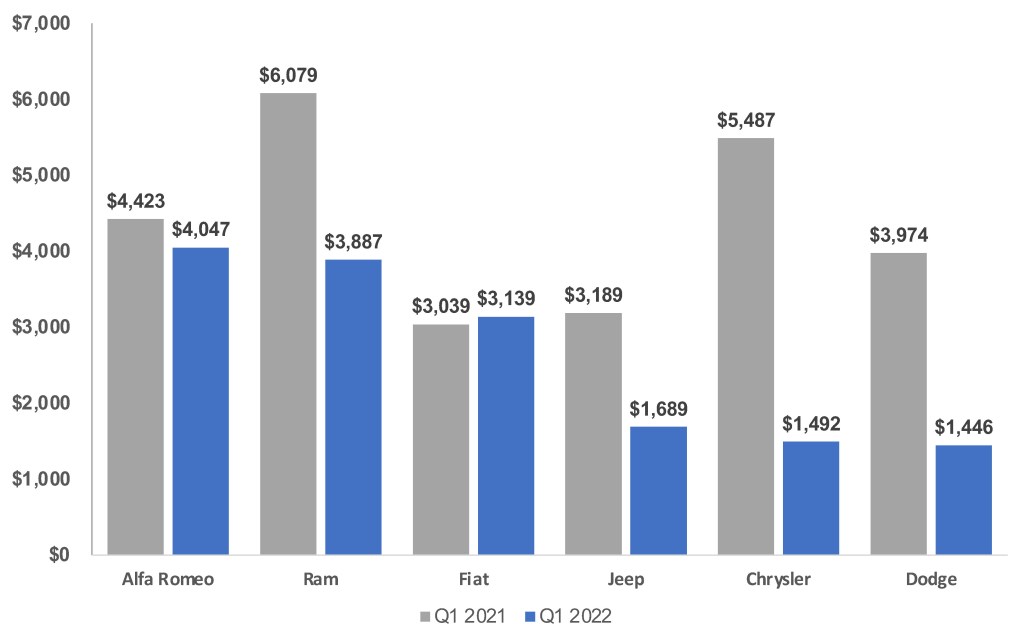 Incentives for Jeep were nearly halved to an average of $1,689 from a year ago. For the past six years for the quarter, Jeep has never fallen below an average of $3,000 per vehicle for incentives.
Ram incentives were cut by more than a third to an average of $3,887 per vehicle. They had not been below $5,000 for the quarter in at least seven years.
Chrysler brand got the most significant cut, down 73% to an average of $1,492. Its incentives had not been below $5,000 for the quarter in at least six years.
Dodge also got a big cut, down 64%, to an average of $1,446 per vehicle. Before the first quarter of 2022, the per-vehicle incentive had only fallen below $4,000 once in the last seven years.
Alfa Romeo had the highest incentives at $4,057 per vehicle though that was down 8%. Fiat was the only brand to boost incentives, up 3% for an average of $3,139 per vehicle, which clearly did not help sales.
Average Transaction Price
Stellantis' overall average transaction price (ATP) soared by 17% to $53,212, according to Cox Automotive calculations.
Jeep's plan to move upmarket is working with five of its models transacting at more than $50,000. The Jeep Grand Wagoneer, with an ATP of $96,802, was the highest-priced model for Stellantis in the quarter, followed by the Jeep Wagoneer at $81,345. The next highest was the Jeep Gladiator pickup truck at $54,365. The new Grand Cherokee got a big boost in ATP to $51,471. The lowest-priced model from Stellantis, excluding its Ram Promaster delivery van, was also a Jeep, the Jeep Renegade, with an ATP of $31,146.
The high-volume Ram pickup had a 13% gain in ATP to $62,313. The Promaster City van had the biggest increase in ATP at 20% to nearly $45,000.
At Dodge, the Challenger had a beefy ATP hike of 15% to 48,333. Durango was up 13% to $52,893. The Charger had a 3% rise to $41,234.
The Chrysler Pacifica minivan had a 10% rise in ATP to $47,654. The 300 sedan was up 15% to $41,359.
Both models offered by Alfa Romeo now transact at more than $50,000. The Fiat 500X had a transaction price of $31,164, Stellantis' second-lowest ATP aside from the Jeep Renegade and Ram Promaster City van.
---
Michelle Krebs is executive analyst at Cox Automotive.
Tags