Data Point
Cox Automotive Analysis: Stellantis' Q3 2021 Market Performance
Wednesday October 27, 2021
Article Highlights
Stellantis' Q3 sales declined 19%.
Stellantis slashed incentives by 30%.
Stellantis' average transaction prices rose 11% to $48,366.
Stellantis reports third-quarter 2021 financial results on the morning of Thursday, October 28. The earnings of the company formed early this year with the combination of PSA Group (Peugeot) and Fiat Chrysler will reflect the impact of the global computer chip shortage.
In Europe, where Stellantis is headquartered, the automaker was forced to make many production cuts and is in the process of rearranging products and production facilities. In North America, the former Fiat Chrysler unit closed its Belvidere, Ill., plant, where it makes the Jeep Cherokee, and the Windsor, Ontario, Canada, plant that makes minivans, including the Chrysler Pacifica, for weeks at a time.
However, Stellantis was able to maintain a decent flow of its big profit margin vehicles, like the Ram 1500 pickup truck and Jeeps. In addition, Stellantis launched new, pricier Jeeps, including the Grand Cherokee and Grand Cherokee L and the Wagoneer and Grand Wagoneer. At the same time, Stellantis slashed incentives and boosted its average transaction price.
Here are key data points from Cox Automotive on Stellantis' third-quarter performance in the U.S. market, a market that is key to the world's now fourth-largest company.
Sales and market share
Stellantis sales dropped 19% in the quarter to 410,917 units, slightly underperforming the overall market that was down 13%. All six Stellantis brands posted a sales decline. Still, Stellantis overall surpassed Ford in sales.
Sales Volume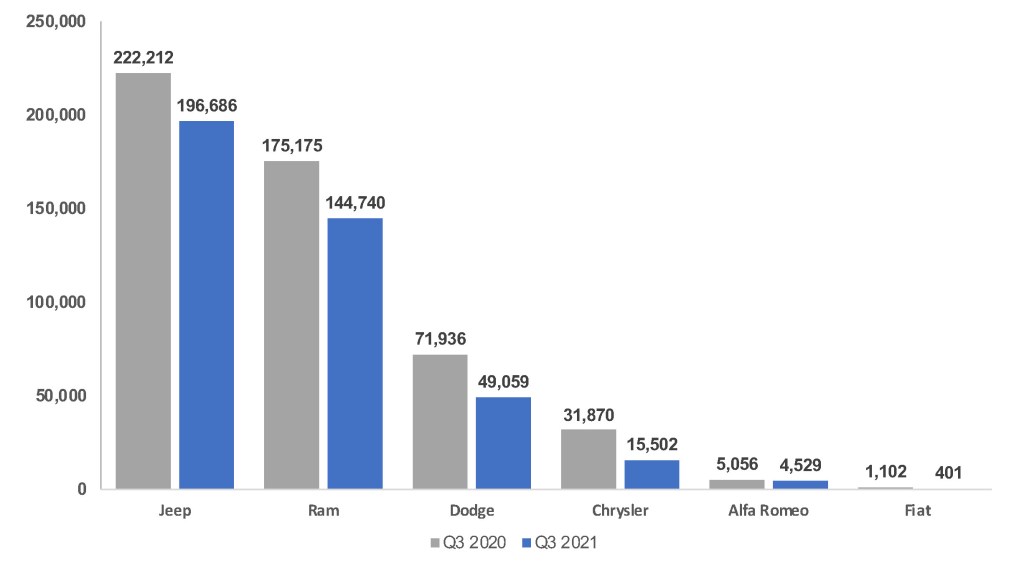 The volume leading Jeep brand had sales fall 12% to below 200,000 units for the first time in at last six years. However, the Grand Cherokee had a stellar quarter with sales up 45% to about 81,000 units, the highest by a wide margin in at least six years. The next highest was 65,000 in the third quarter of 2017. The Gladiator eked out a 2% sales gain.
Ram sales fell 17% to just under 145,000 units, but that was still higher than the brand's sales in 2017 and earlier. Ram pickup sales fell 22% but still beat Chevrolet Silverado. Van sales were mixed: Promaster sales soared 26%, surpassing 20,000 units in the third quarter for the first time in six years, but the lower-volume Promaster City sales fell 5%.
Alfa Romeo had the lowest percentage decline, down 10% to 4,529 units. Giulia sales dropped 17%. Stelvio SUV sales slipped 5%.
Dodge sold just under 50,000 units for a 32% decline. In contrast, Dodge sold 126,000 vehicles in the same quarter in 2015. The brand intentionally has been winnowing its product line, just focusing on performance models. Sales of those models fell – Challenger fell 14%, Charger declined 18% and Durango was off 9%.
Chrysler brand had a 51% decline in sales to about 15,500 units. Six years ago, Chrysler sold nearly 70,000 units in the quarter. Today, however, it basically has only two models, the dated 300 sedan and the Pacifica minivan. The Canadian plant that makes the Pacifica has been idle much of this year due to the chip shortage, and Stellantis recently announced it would scale back to just one shift from the original three starting in the spring. Stellantis just hired a new executive to lead the brand on a comeback.
Fiat barely exists in the U.S. anymore, selling a scant 401 vehicles the entire quarter.
Stellantis' total market share dipped to 12.1%, from 13% in the year-ago quarter. The drops in Chrysler and Dodge market share were the biggest among brands.
Incentives
Stellantis slashed incentives by 30% to an average of $3,046 per vehicle, according to Cox Automotive calculations.
Sales Incentives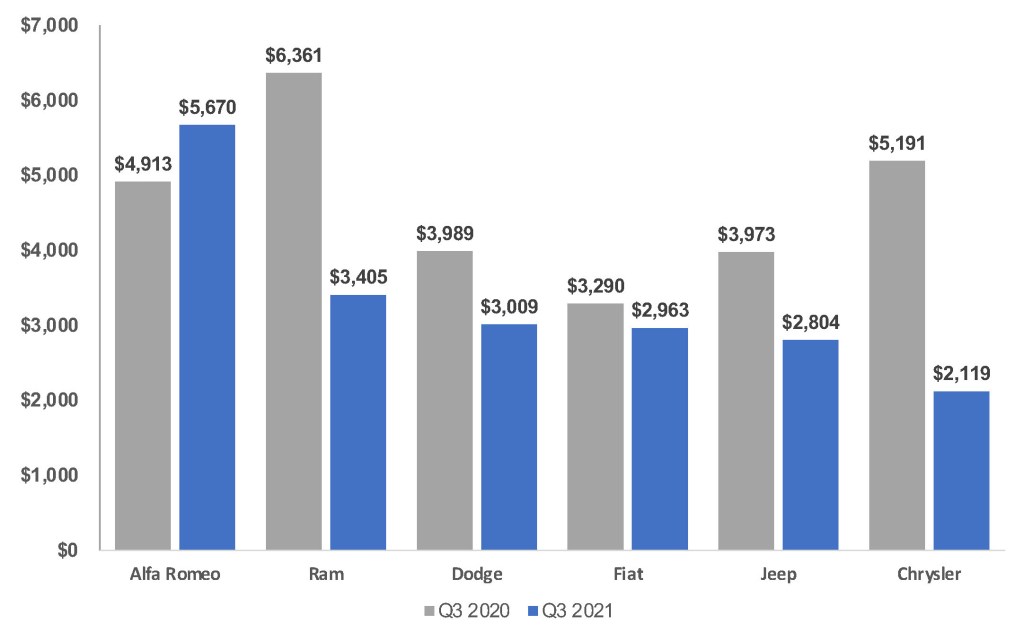 Bucking the trend, Alfa Romeo raised incentives by 15% to an average of $5,670 per vehicle, its highest level in six years for the quarter.
Brands that cut incentives the most were: Ram, to an average of $3,405, Dodge, to an average of $3,009; Jeep, to an average of $2,804; and Chrysler, to an average of $2,119 per vehicle. Fiat incentives changed little, slipping below $3,000 per vehicle on average.
Average Transaction Price
Stellantis' overall average transaction price (ATP) gained 11% to $48,366, according to Cox Automotive calculations.
Average Transaction Prices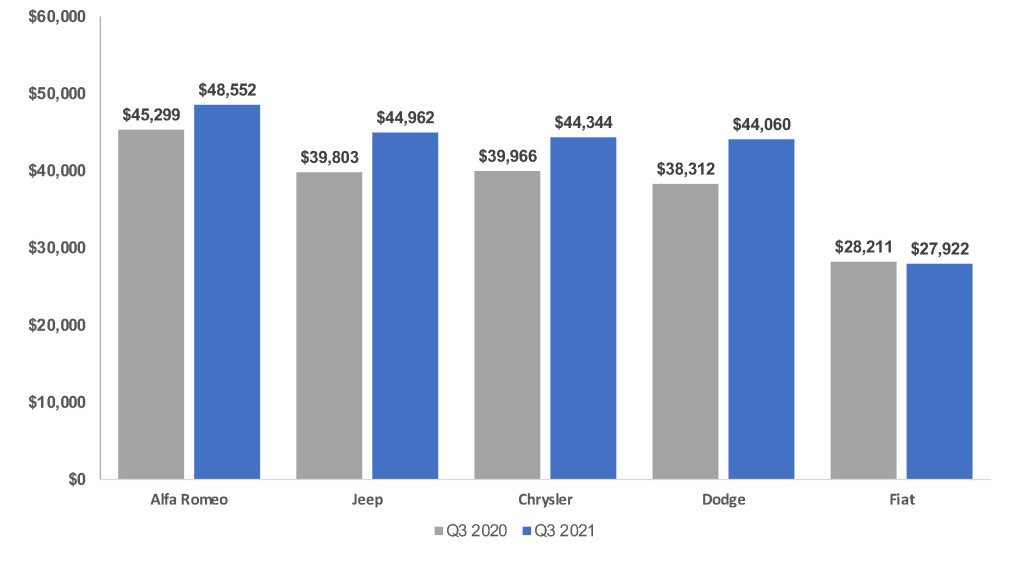 Dodge brand had the biggest hike, climbing 12% to $44,060. The biggest gain came from the Durango, which had a 12% increase in its ATP to just under $50,000, the most expensive model in the Dodge line. The Charger and Challenger had increases as well, putting each of their ATPs at more than $42,000.
Jeep gained 11% for an ATP of $44,962. The volume-leading Wrangler had the biggest gain of 16% for an ATP of $52,289. Only the Gladiator had a higher ATP, up 10% to $53,324.
Ram's ATP rose 9% to $54,932 on the strength of the Ram pickup truck, which had an 11% gain for an ATP of $57,803.
Alfa Romeo's ATP was roughly flat at $48,552. Fiat's ATP was down 1% to $27,922, despite slight increases transaction prices for the 124 Spider and 500X.
Tags