Data Point
Cox Automotive Analysis: Toyota's Quarterly U.S. Market Performance
Wednesday May 11, 2022
Article Highlights
Toyota quarterly sales fell 15% from a year ago for a 15.5% market share.
Toyota slashed incentives by 62% to an average of $1,003 per vehicle.
Toyota's average transaction price rose 10% to $40,036.
Toyota posts financial results for the January-to-March quarter on May 11, the automaker's final quarter of its fiscal year. In the U.S., sales were down in the quarter as both Toyota and Lexus continue to have supply constraints brought on by the chip shortage, higher raw materials prices and the war in Ukraine. Even with inventory lower than in pre-pandemic years, Toyota and Lexus saw slight increases in market share. At the same time, Toyota slashed incentives and boosted average transaction prices (ATP).
Here are some data points from Cox Automotive on Toyota's quarterly market performance in the U.S.
Sales and market share
Toyota's U.S. sales totaled 514,592, down 15% from a year ago and more than 100,000 below the 603,000 plus of the first quarter of 2021. The total U.S. market in the quarter saw sales fall 16%. As a result, Toyota's total market share stood at 15.5%, up 0.2 percentage points. This is the highest market share in recent years with 2017 to 2020 being between 13% and 14%.
U.S. Sales Volume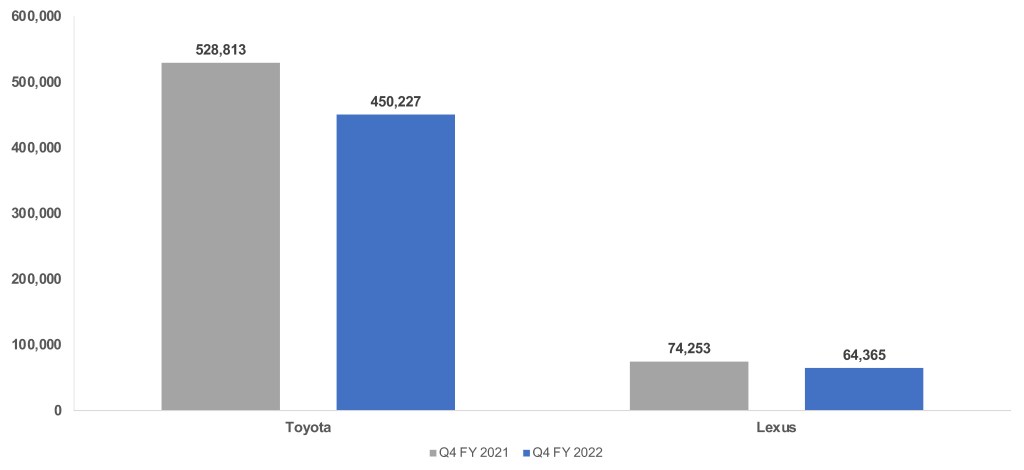 Toyota brand sales totaled 450,227 vehicles, down 15%. Even with brand sales down, market share inched up. Toyota had only a few models on the plus side of sales. The 86 sports car, all-new for model year 2022, saw a 326% bump in sales with 3,257 sales in this quarter versus 764 units a year ago. The Highlander and Tundra also posted increases of 3% and 18% respectively. All other models saw declines, such as the 4Runner with 34,907 units sold, a 6% decrease. The popular Camry and Corolla models were down 21% and 35% for the quarter. RAV4 sales declined 11%, and Prius sales were down nearly 27%. An SUV version of the popular-in-Japan Crown sedan is coming to the U.S. as a replacement for the Land Cruiser, which has been discontinued and delivered sales of only 28 units this quarter.
Top Models by U.S. Sales Volume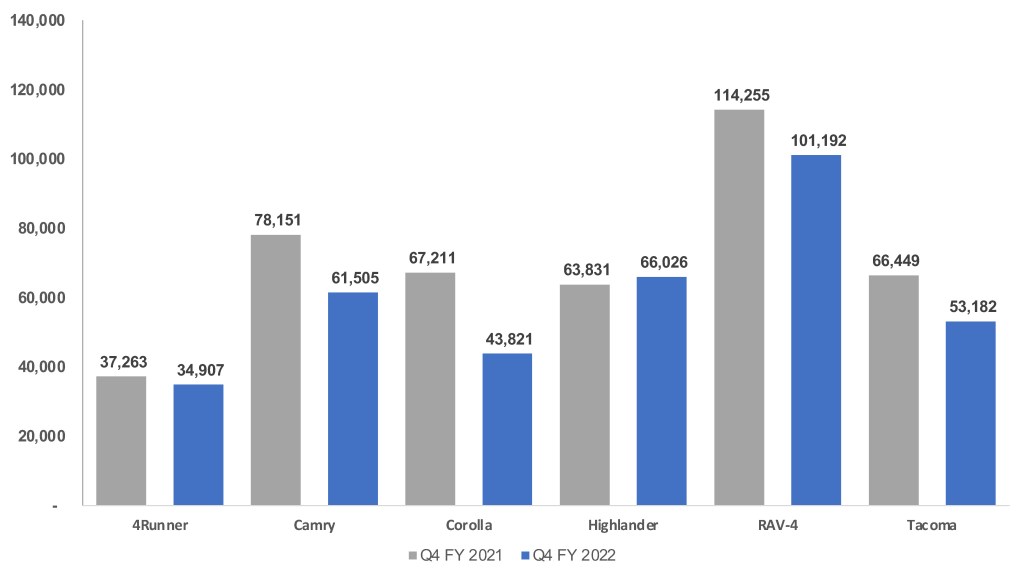 Lexus sales dropped by 13% to 64,365 units. Its market share saw a slight increase of 0.1% as consumers continued to purchase luxury vehicles. All models saw declines between 1% (ES) up to the LX (58%).
Incentives and Prices
Toyota slashed incentives as demand was higher than supply throughout the quarter. In total, Toyota cut incentives by 62% to an average of $1,003 per vehicle, according to Cox Automotive calculations. It was the first time since 2017 that incentives averaged below $2,000 per vehicle for the quarter.
Toyota brand incentives were slashed by 62% to an average of $843 per vehicle, the first time in the quarter it fell below $1,900 per vehicle. Lexus incentives were reduced by 63% to an average of $2,123 per vehicle, though the past two years, Lexus incentives averaged more than $5,000 per vehicle.
U.S. Sales Incentives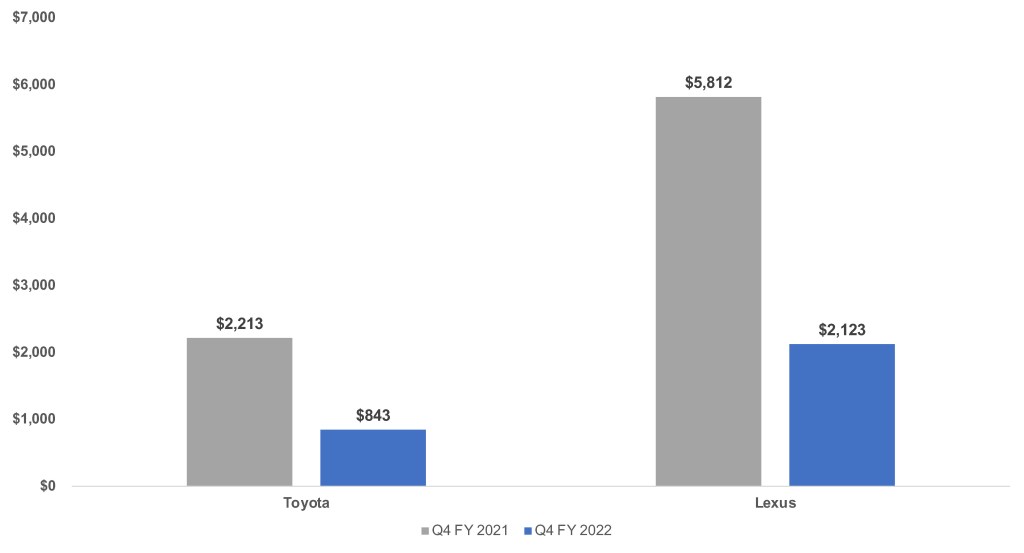 Average Transaction Prices
Toyota's overall average transaction price (ATP) rose 10% to $40,036. Popular models such as the Corolla saw ATPs rise 19%. Tundra rose 22%. All of Toyota's models saw ATP increases with the exclusion of Sequoia, which decreased by 5%. All Lexus models saw increases.
---
Rebecca Rydzewski is a research manager for economic and industry insights for Cox Automotive.
Tags