Data Point
Cox Automotive Analysis: Toyota Quarterly U.S. Market Performance
Wednesday August 4, 2021
Article Highlights
Despite the industry's lowest inventories, Toyota boosted sales, beat GM.
Toyota slashed already low incentives.
Toyota average transaction prices by brand and some models set records.
Toyota in Japan reported its financial results for the April-to-June quarter Thursday, Aug. 5. The quarter is Toyota's first in its fiscal year that ends March 31, 2022.
The U.S. headline in the quarter was that Toyota beat General Motors in sales for the first time. Toyota accomplished the feat with the lowest inventories for its Toyota and Lexus brands in the industry. Toyota executives said the automaker entered the third quarter with a scant six to seven days' supply. They added that it is possible Toyota could beat GM again, but it is not sustainable long term.
Toyota proved sales of traditional cars remain viable. Sales of Camry, Corolla and even Avalon increased, as did their transaction prices, as potential used-car buyers turned into new-car buyers.
In addition to its sales outpacing the industry, Toyota slashed its already low incentives, and average transaction prices overall, by brand and with some models, set records.
Here are key data points from Cox Automotive on Toyota's quarterly performance in the U.S., an important market for the automaker.
Sales and Market Share
Toyota's overall sales soared 73% to 688,813 vehicles sold, beating the same quarter in 2015 by nearly 46,000 units, which was the previous record-high quarter.
Sales Volume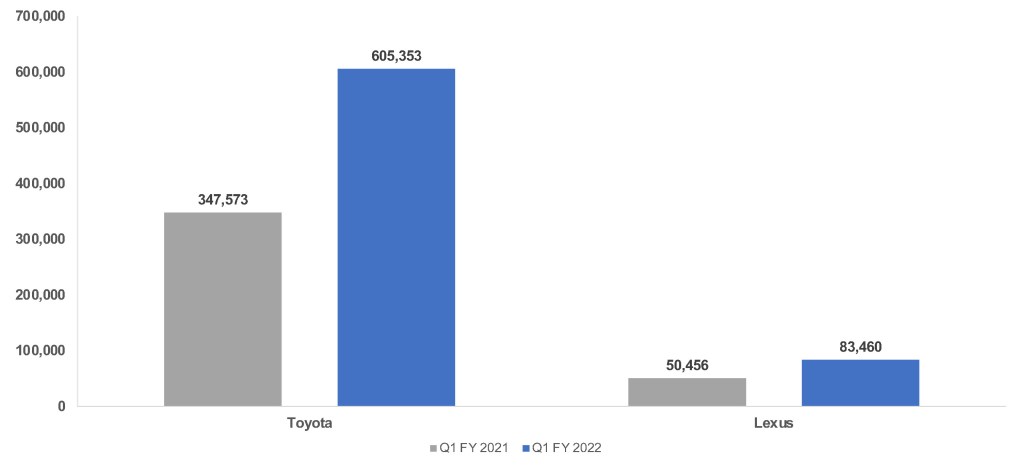 Sales of Toyota-branded vehicles skyrocketed 74% to 605,353 units. That was the first time the brand surpassed the 600,000-unit mark for sales and hit 38,000 units above the past high in 2015.
The volume leader, RAV4, posted a 25% increase in sales despite being the model with the lowest inventory through much of the quarter. RAV4 sales hit 106,940 units, the next highest to 2019. Camry sedan sales doubled to nearly 100,000 units, its highest sales since 2016. Corolla car sales also doubled to 76,327 units, the highest since 2018.
The new Highlander SUV had a 158% increase crossing the 80,000-unit sales mark for the first time and far surpassing the previous high of 61,000 sold in 2018. Sales of the new Sienna, available only as a hybrid, posted the biggest gain – an eye-popping 482% to 31,064 units, its highest sales since 2016. CH-R sales rose 27% to its highest level. Sales of 4Runner were up 11% to their highest since 2018. Sequoia sales doubled. Land Cruiser sales climbed as buyers snapped up the distinctive SUV, which is being discontinued.
The Tacoma pickup, in extremely low supply in the quarter, had a 42% gain in sales. The full-size Tundra pickup truck was the only Toyota model – except the Yaris that is being discontinued – to post a sales decline – down 9%. Toyota intentionally slowed Tundra production and used Tundra computer chips for other models, like the Highlander. The Tundra is heading into sell-down to pave the way for the new generation model coming late this year.
Lexus sales soared 65% to 83,460 units, surpassing its previous best quarter in 2015 by about 1,000 units. Lexus had the lowest inventory of its luxury competitors by far throughout the quarter.
Lexus' volume leader, the RX utility, posted an 80% sales gain to a record 28,703 units. The second highest volume model, the NX utility, was up 54% to a near-record of 17,604 units. The UX utility was up 58% to its highest sales since its introduction three years ago.
Lexus cars also posted gains. The ES sedan had a 62% increase, its highest sales since 2016. The IS had the biggest percentage gain – up 210% – to its highest sales volume since 2016.
Incentives and Prices
Never a big spender, Toyota slashed incentive spending in the quarter by 17% to an average of $2,241 per vehicle, its lowest level since 2018. Toyota brand spending dropped 17% to a paltry $1,852 per vehicle, its lowest spend since 2015. Lexus cut incentives by 15% to an average of $5,061 per vehicle, its lowest amount since 2019.
Sales Incentives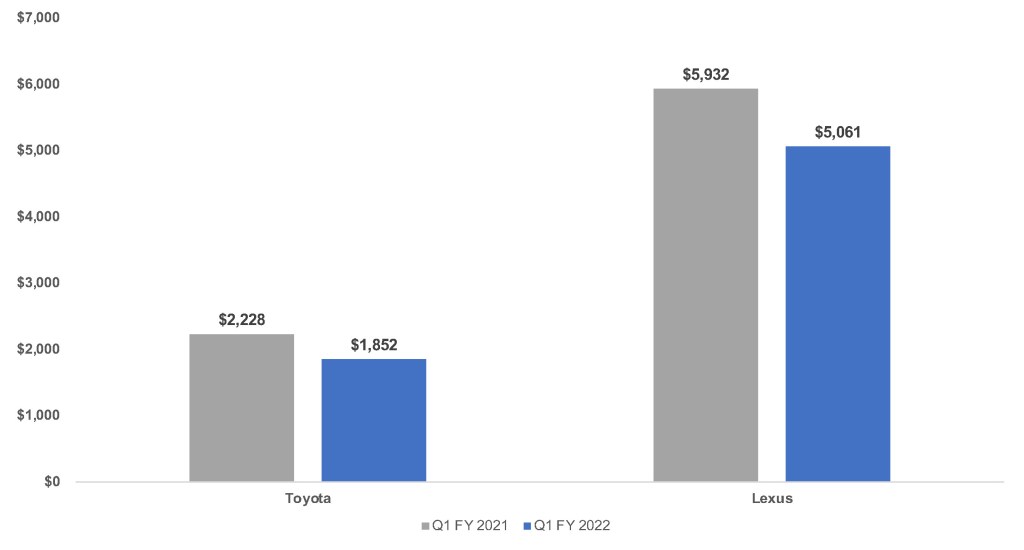 Average Transaction Prices
Toyota overall and its brands set new records for average transaction prices (ATP). Toyota's overall ATP rose 4% to $37,307.
Average Transaction Prices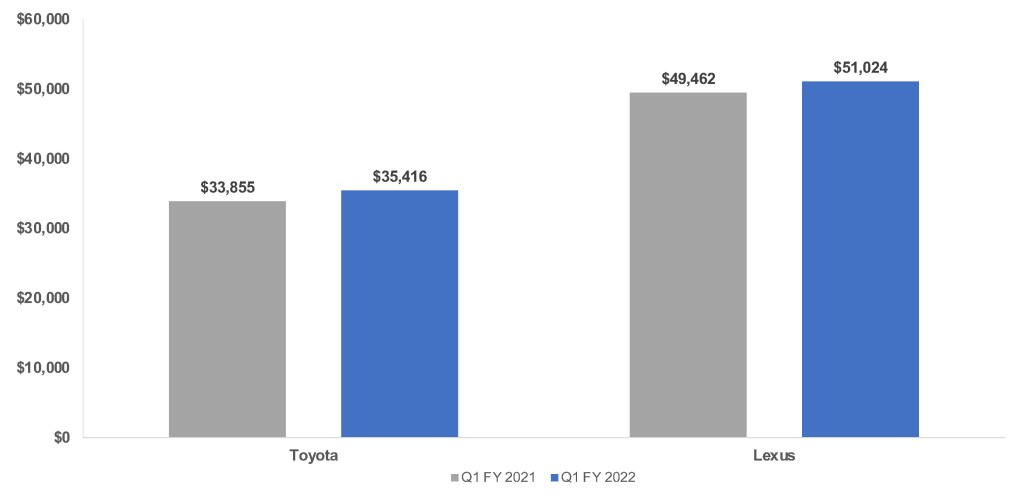 Toyota brand's ATP climbed 5% to a record $35,416. The new Sienna minivan had the biggest gain, up 12% to a record $43,091. Despite lower sales and tight supply, the Tundra had a 7% hike in ATP, surpassing $50,000 for the first time. Every model but the 86 and the discontinued Yaris saw an increase in ATP.
Lexus' ATP rose 3% to $51,024. Every model had a gain except the LS sedan, which was about even with a year ago. The IS and LC had the biggest hikes, both up 9%.
Tags