Data Point
Cox Automotive Analysis: Toyota's Quarterly U.S. Market Performance
Wednesday August 3, 2022
Article Highlights
Toyota's quarterly sales fell 23% from a year ago for a 15.1% market share.
Toyota slashed incentives by 66% to an average of $772 per vehicle.
Toyota's average transaction price rose 6% to $39,671.
Toyota Motor Corporation posts financial results for the April-to-June quarter on Thursday, August 4, the automaker's first quarter of its fiscal year. Like its Japanese competitors, Toyota has warned that the chip shortage, shutdowns due to COVID and rising materials costs will impact earnings.
In the U.S., one of Toyota's most important markets, sales were down for both Toyota and Lexus as the brands had among the lowest supplies in the industry for the past year. Toyota should benefit from lower incentive spending, which was slashed by 66% to well under $1,000 per vehicle for the first time in a long time, and a higher average transaction price (ATP) that approached $40,000.
Here are some data points from Cox Automotive on Toyota's quarterly market performance in the U.S.
SALES AND MARKET SHARE
Toyota Motor North America's U.S. sales totaled 531,105, down 23% from a year ago and over 150,000 below the 688,000-plus sold in the same quarter of 2021. Toyota's total market share dropped to 15.1%, down 0.5 percentage points. This is the second highest market share in recent years, only behind 2021 and with 2017-2020 being between 13% and 14%.
TOYOTA U.S. SALES FOR Q1 FISCAL YEAR 2023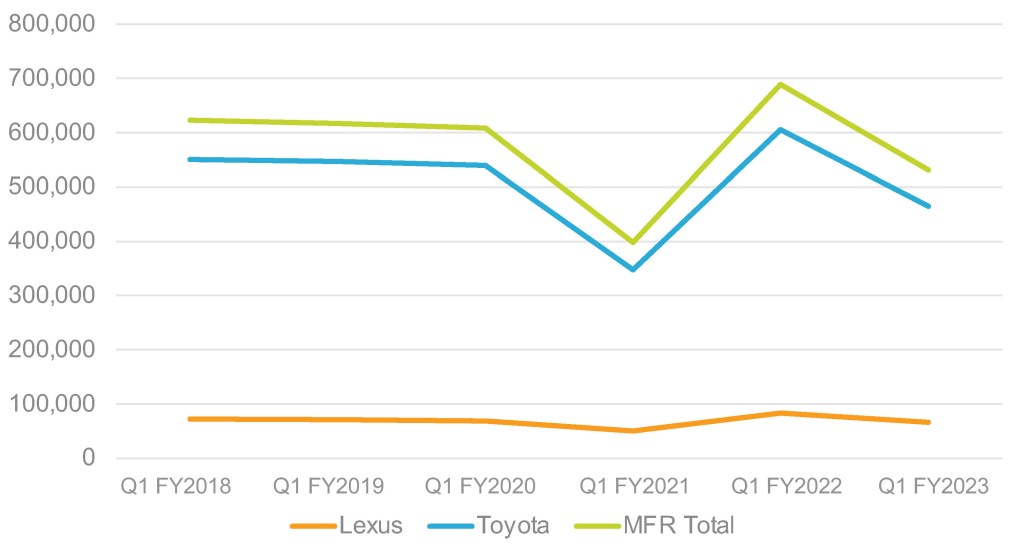 Toyota brand sales totaled 464,382 vehicles, down 23%. Toyota had only two models on the plus side of sales. The 86 sports car saw a 981% bump in sales with 2,920 sales this quarter versus 270 units a year ago, when the 2nd generation of the two-door sports car was initially launched. The Avalon, which Toyota will discontinue, saw an increase of 15%. All other models saw declines, such as the 4Runner with 31,922 units sold, a 2% decrease. Due to low inventories, the popular Camry and Corolla models were down 25% and 18% for the quarter. RAV4 sales were down 7%. Prius hybrid sales were down nearly 60%.
Lexus sales dropped by 20% to 66,723 units. Its market share remained flat versus a year ago at 1.9% in a luxury segment that has been growing. All models saw declines between 1% for the ES and up to 58% for the LX.
INCENTIVES AND PRICES
Toyota slashed incentives as demand was high. In total, Toyota cut incentives by 66% to an average of $772 per vehicle, according to Cox Automotive calculations. It was the first time since 2017 that incentives averaged below $1,000 per vehicle for the quarter.
TOYOTA U.S. INCENTIVE SPENDING FOR Q1 FISCAL YEAR 2023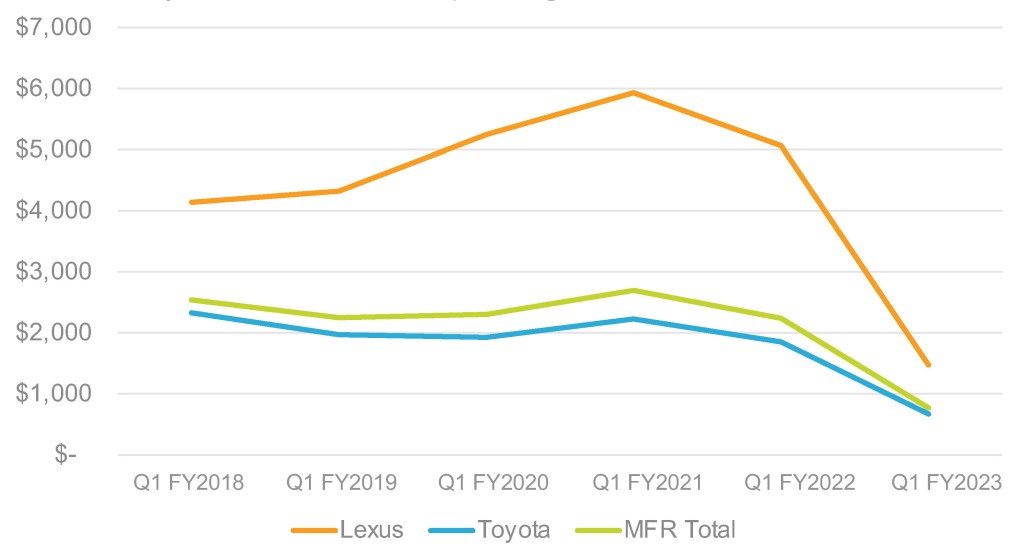 Toyota brand incentives were slashed by 64% to an average of $672 per vehicle, the first time in the quarter that it fell below $1,000 per vehicle. Lexus incentives were reduced by 71% to an average of $1,474 per vehicle, though the past two years, Lexus incentives averaged more than $5,000 per vehicle.
AVERAGE TRANSACTION PRICES
Toyota's overall average transaction price (ATP) rose 5% to $37,336. All of Toyota's models saw ATP increases, with popular models such as the Avalon increasing 8% and Corolla rising 11%. All Lexus models saw increases except for the RC, which saw a decrease of 0.5% for the quarter.
---
Rebecca Rydzewski is a research manager for economic and industry insights for Cox Automotive.
Tags