Data Point
Cox Automotive Analysis: Toyota Motor Corporation's Quarterly U.S. Market Performance
Monday May 8, 2023
Article Highlights
Toyota Motor Corp. quarterly sales were down 11% from a year ago for a 13.1% market share.
Overall incentives were slashed by 31% to an average of $695 per vehicle.
Toyota Motor Corp.'s average transaction price rose 4.7% to $42,635.
Toyota Motor Corporation posts financial results for the January-to-March quarter on Wednesday, May 10, the automaker's fourth quarter of its 2022 fiscal year. Like its Asian competitors, Toyota Motor North America has had one of the lowest inventory levels in the U.S. for the past year, including the most recent quarter.
Throughout the past calendar year, including the recent quarter, Toyota Motor Corp. was selling cars as fast as it could make them. But General Motors had more inventory to sell, allowing the U.S. automaker to take back its sales crown from Toyota for the full year.
In the U.S., one of Toyota Motor Corp.'s most important markets, sales for the final quarter of the fiscal year were down close to 11% for the Toyota brand but up for Lexus by 6%, as luxury sales made up 18.2% of the market in March, up 1.5 percentage points from a year ago. The automaker announced increased production as it recovers from the chip shortage and lasting COVID-19 effects. Toyota Motor Corp.'s bottom line could be helped by a drastic 31% reduction in incentives, while its average transaction price rose slightly.
Here are some data points from Cox Automotive on Toyota Motor Corp.'s quarterly market performance in the U.S.
Toyota Motor Corp.'s U.S. Sales and Market Share Decrease Year Over Year
Toyota Motor Corp.'s U.S. sales totaled 469,558, down 9% from a year ago. With overall U.S. sales up 8%, Toyota's total market share dipped to 13.1%, down 2.3 percentage points, its lowest market share since before the pandemic.
TOYOTA MOTOR CORP. U.S. SALES FOR Q4 FISCAL YEAR 2022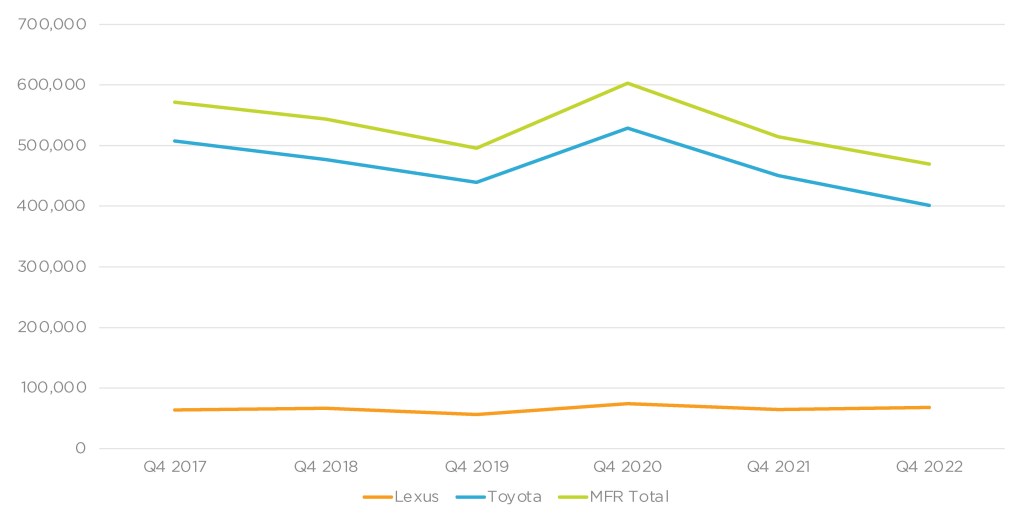 Toyota brand sales totaled 401,306 vehicles, down 11% year over year. Toyota brand had only six models on the plus side of sales, signaling a weak quarter. With 53,583 units sold, Tacoma had the lowest increase of 0.8%. Camry sales saw a 7.4% increase, while the newer Corolla Cross saw sales rise 43%, with 14,514 units sold for the quarter. Tundra sales were up 22% and the Corolla Hatchback was up 37%. Sales for the Sequoia full-size SUV were up a whopping 939% for the quarter, to 4,384 units, up from just 422 units during the same quarter in 2022. The Sequoia was redesigned for the 2023 model year when production was moved from Indiana to Texas to boost output.
Sales of electrified models, such as the Mirai fuel cell car and Prius hybrid, were down 7% and 46%, respectively. Popular models that saw double-digit declines are the Highlander, down 16%, the Corolla, down 13%, the RAV 4, down 16% and the Sienna, down 48%.
Lexus sales rose by 6% to 68,252 units for the quarter. Its market share remained flat from the previous quarter. The LX saw a 182% sales gain, selling 1,572 units versus 588 units in 2022. The IS was up 20% increase to 5,361, the NX was up 54% to 15,556, and the new electric RZ sold 185. The ES, GX, LC, LS, RC, RX and UX all had declines for the quarter.
Incentive Spending Slashed While Demand Remains High
Toyota Motor Corp. slashed incentive spending as demand remained high against low supply. In total, Toyota cut incentives by 31% to an average of only $695 per vehicle, according to Cox Automotive calculations.
TOYOTA MOTOR CORP. U.S. INCENTIVE SPENDING FOR Q4 FISCAL YEAR 2022
Toyota brand incentives were slashed by 25% to an average of $631 per vehicle. Lexus incentives were reduced by 49% to an average of $1,073 per vehicle, marking the first time that incentives were around $1,000 for the quarter.
Overall Average Transaction Price Remains Above $40,000
Toyota Motor Corp.'s overall average transaction price (ATP) was up 4.7% to $42,635, according to Cox Automotive calculations.
TOYOTA MOTOR CORP. U.S. AVERAGE TRANSACTION PRICE FOR Q4 FISCAL YEAR 2022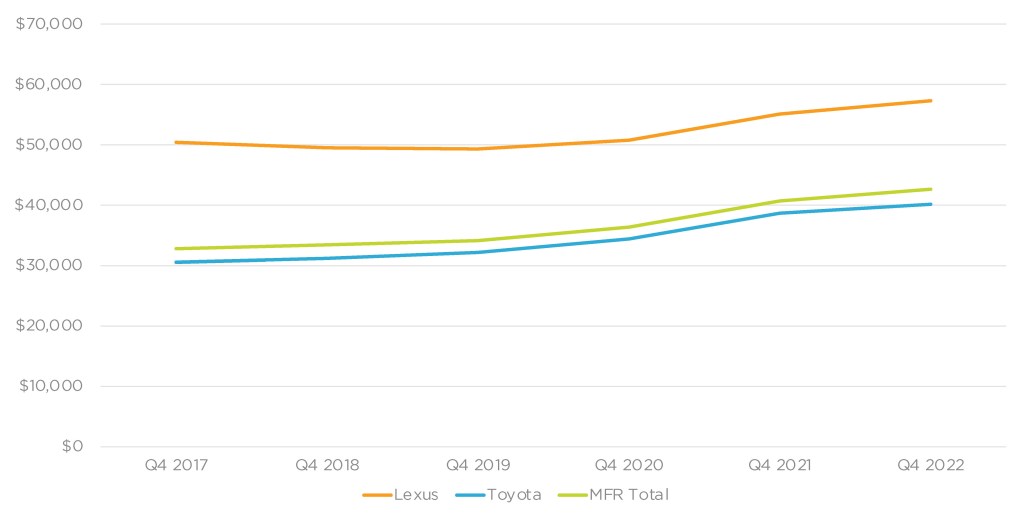 The Toyota brand's ATP was up 3.9%. Only two models showed price declines – the Camry was down 2% and the discontinued Avalon was down 15%. The Sequoia had the highest price increase of 34% or $80,252, up from $59,719 in 2022, along with the Sienna, which saw prices rise 11%. All other offered models saw incremental gains in the single digits.
Lexus brand ATP was up 4% for the quarter, with all models showing pricing gains between 0.2% and 20.5%.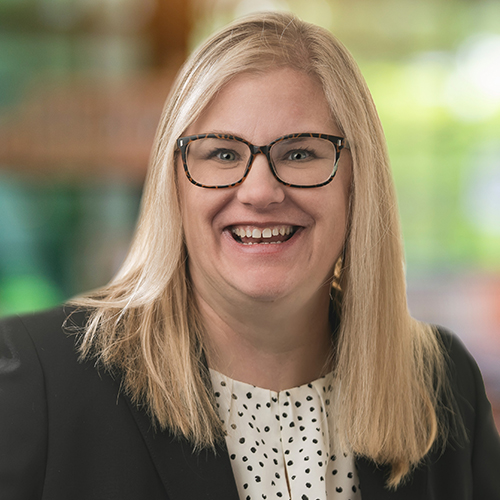 Rebecca Rydzewski
Research Manager of Economic and Industry Insights
Rebecca Rydzewski is an automotive analyst with over 20 years of experience in the automotive industry. She provides industry and data analysis using consumer and industry data from Cox Automotive and its brands including Autotrader and Kelley Blue Book. Rydzewski joined Cox Automotive in March 2022.
Tags