Smoke on Cars
Cox Automotive's Ten Predictions for 2022 Take Home a Solid "B" Grade in the First Half
Wednesday June 29, 2022
As the first half of 2022 comes to a close, our team is once again reviewing the market predictions we offered back in January and providing an assessment of how well we did.
Of course, we don't have full-year results to judge every factor completely, but for the most part, our Ten Predictions for 2022 are holding up well. We have fallen short on three items.
First, in January, we predicted vehicle demand would remain robust in the year ahead. This has been a difficult point to assess, and we still don't believe the industry has a demand problem. But inflationary pressures are beginning to impact used-vehicle demand and are likely forcing some would-be new-vehicle buyers to the sidelines. One thing we can't deny, vehicle sales remained muted in Q2 and well below what we were expecting back in January, particularly on the new side. With sales trending downward along with consumer sentiment, we won't take full credit for our prediction on demand. Five points off on item #1.

We again fully acknowledge that our initial expectation of improving vehicle inventory in 2022 has not materialized. Used-vehicle inventory has returned to normal, but new-vehicle inventory continues to be the industry's biggest headwind, and that's why we've reduced our new-vehicle forecast for 2022. Bottom line, in January, we said, "Tight vehicle supply will gradually improve." We were correct on used, wrong on new. Points off.

Back in January, we also expected leasing to gain year over year in 2022. We do believe leasing demand is there, but we simply cannot take credit for predicting strong lease demand when in fact, lease penetration has fallen even further this year. Lease share will likely improve at some point, but it is now doubtful we will see much movement in 2022. More points off.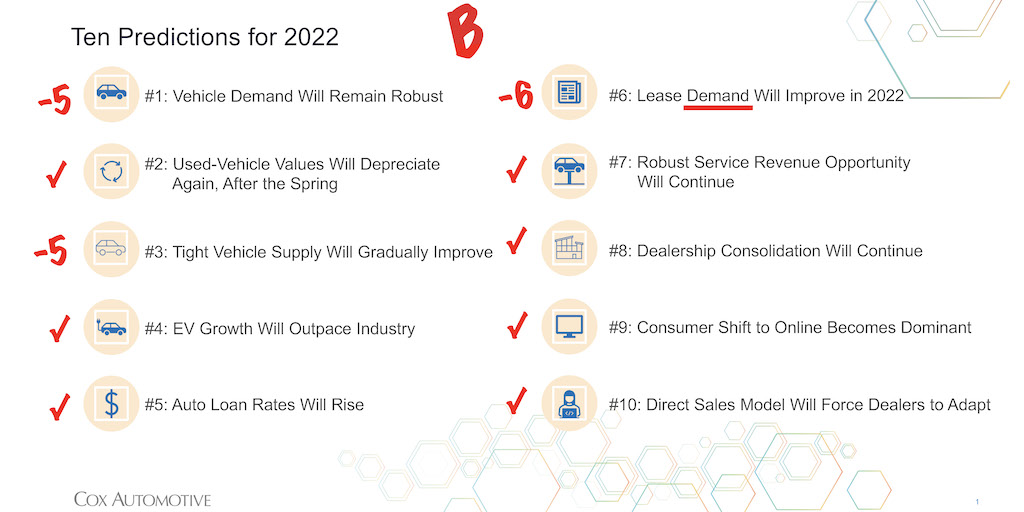 While those three items definitely hurt our grade for the 2022 Predictions, we did get many of the other points right.
First up, vehicles are once again depreciating at a relatively normal level, and, as we had suggested, the electric-vehicle segment has gained the most share year to date. We expected the EV market to accelerate and, amped up further by high gas prices, that has indeed happened. Check and check.
Auto loan rates are up over a point so far this year and likely have at least another point to go if the Fed carries through with their latest plans. We expected auto loan rates to move higher in 2022 – our fifth prediction – and challenge vehicle affordability even more, and that has indeed transpired. In fact, consumers are experiencing right now some of the fastest rate moves in modern American history.
Robust service revenues continue to strongly support many franchise dealer operations. Last month, according to an analysis of Xtime service metrics, the Repair Order Revenue Index increased to a record high, dating back to January 2019. We expect this trend to continue.
We still feel our other forecasts are sound as well. Dealership consolidation continues to be a lead story for the industry, in many cases with larger dealer groups gobbling up smaller operations as a means of growth.
The consumer shift to online retailing also continues – our ninth prediction – and, essentially, is rapidly becoming the norm for the industry. Nearly all dealers now agree that they can't survive without competitive digital retailing tools. We also believe the continued success of the direct sales model – example #1: Tesla – has forced industry insiders to question everything and is leading dealers to adapt. Check and check. We are seeing more dealers provide convenient solutions such as pick-up and delivery services and reaping the customer satisfaction benefits of said services. 
Overall, we are giving our Ten Predictions for 2022 a good grade – a solid B – at the halfway point of the year. The next few months will be telling for the auto industry, and we will check in again on these points as we forecast the industry's Q3 results at the end of September.
---
Jonathan Smoke is chief economist at Cox Automotive.