CAMIO
CPO Sales Drop in 2022
Wednesday June 7, 2023
Sales of certified pre-owned (CPO) vehicles had a rough 2022, with volumes down 10.2% from 2021, to 2.47 million units. The volume decline was in line with the overall used market's 10.6% drop. As CPO is a subset of used, the same constraints played a role in the sales figures: higher prices, higher interest rates, and reduced supply. For CPO, supply is the lifeblood, and the market has seen a significant decline in recent times.
Typical CPO units are newer, mostly off-lease, higher-quality vehicles with lower mileage compared to more typical older-model used vehicles. Add a good warranty, and CPO is the next best option to a new vehicle. During the pandemic's early days, when dealers were shut down and fewer people were commuting to work, leased vehicles naturally became even more attractive than usual, with lower-than-normal mileage and less wear and tear. Fast forward to 2022, and with used-vehicle values still relatively strong and new-vehicle inventory tight, not only did dealers buy up all the off-lease units they could, so did consumers that were ending their lease terms, leaving a sizeable gap in the normal volume of CPO-eligible vehicles. To fill the hole in supply, some OEMs increased the mileage and age criteria for CPO units, hoping to expand the available CPO supply and improve CPO sales.
Still, CPO sales in 2022 were mostly flat or down year-over-year, as low inventory and high prices kept the sale volume in check. Total sales of 2.47 million was the lowest level since 2014 and well off the recent peak of 2.81 million in 2019.
2022 Monthly CPO Sales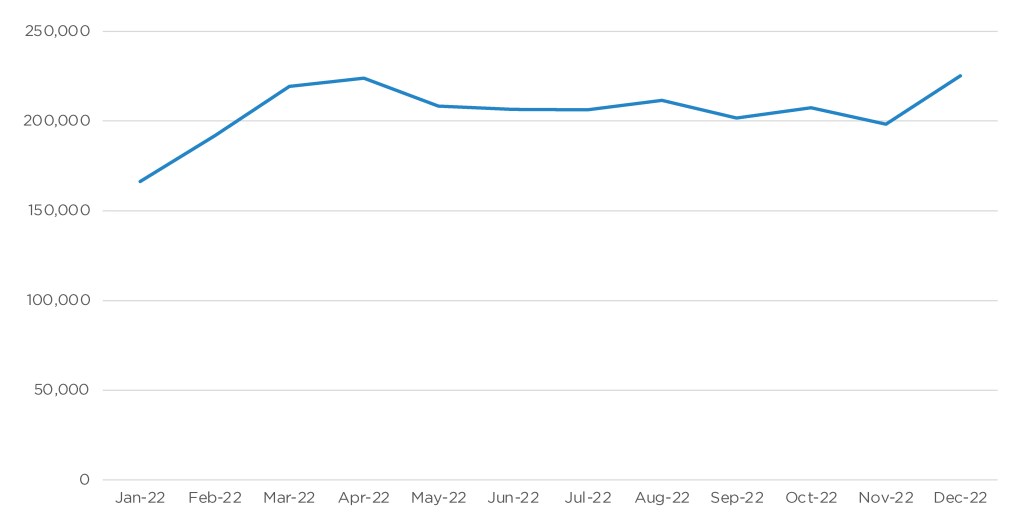 Outlook: While 2022 finished with an uptick in December, we're not expecting a large increase for some time. 2023 CPO sales look to be only slightly higher than 2022, mostly from the expansion of eligible units. Rates and prices are also expected to moderate any increase in sales. At the end of Q1, Cox Automotive forecast CPO sales in 2023 to reach 2.4 million, finishing the year roughly equal to 2022.