Data Point
Estimated Monthly Used-Vehicle SAAR and Volume
Wednesday January 18, 2023
Total used-vehicle sales in December are estimated to be near 2.4 million units, down 4.2% from December 2021. The seasonally adjusted annual rate, or SAAR, is estimated to have finished near 33.7 million, down from last December's 36.2 million level and below November's revised 34.4 million pace. Used retail sales were also estimated to be lower in December.
Total Used Volume and Used SAAR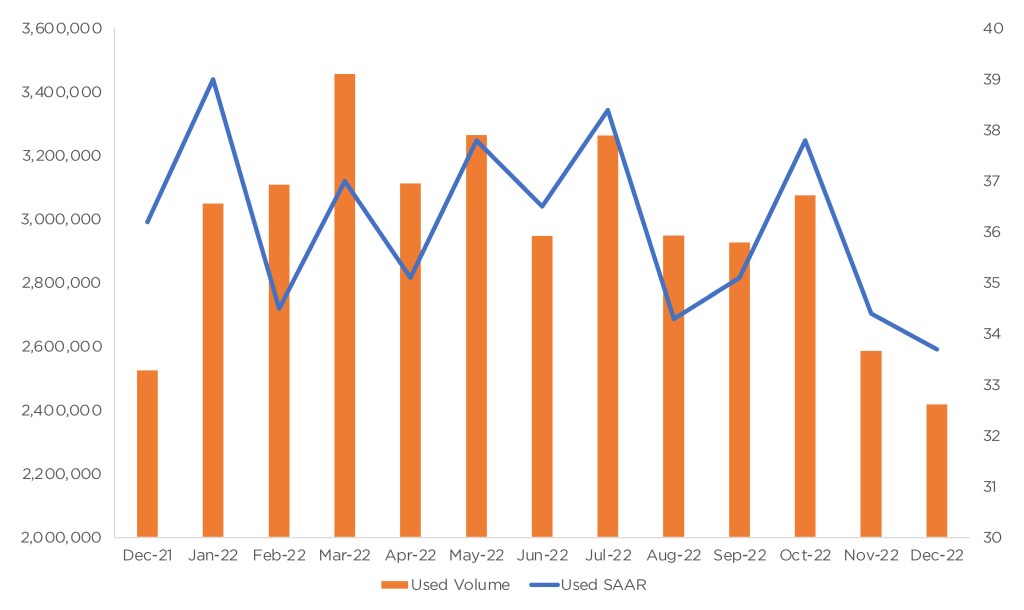 According to Charles Chesbrough, senior economist at Cox Automotive: "The used-vehicle market faces a challenging year ahead as demand weakens and supply of nearly new vehicles is particularly constrained. However, the slight sales decline Cox Automotive forecasts for 2023 will be far better than what we saw in 2022."
Retail used-vehicle sales — the volume of vehicles sold via a dealership, thus removing private party sales — are estimated to be 1.3 million, down 3.4% from December 2021. The used retail sales pace ticked down to 17.8 million in December from November's revised 18.2 million level.
Total Used Retail Volume and Used Retail SAAR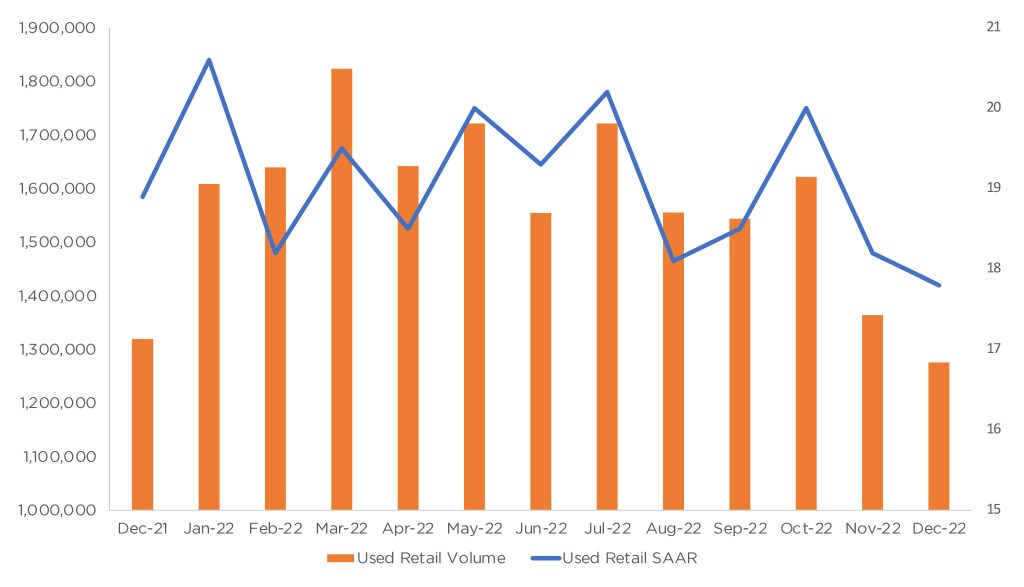 Cox Automotive estimates that the total used market finished the year at 36.2 million, down more than 10% from the 40.6 million recorded in 2021, based on preliminary data. Total used sales for 2023 are forecast to be 35.6 million, down another 1%.
---
The Cox Automotive estimated total and retail used-vehicle SAAR and volume are updated monthly and are subject to change due to market volatility.
Tags