Data Point
Estimated Monthly Used-Vehicle SAAR and Volume
Wednesday November 15, 2023
According to Cox Automotive estimates based on vehicle registration data, total used-vehicle sales in October decreased 3.5% year over year to 3.0 million units. Retail used-vehicle sales also decreased month over month in October, with one less selling day than September.
Estimates based on registration data indicate that the used-vehicle sales pace — both total and retail — in October declined compared to the market's pace of one year ago. The seasonally adjusted annual rate (SAAR) is estimated to have finished at 36.5 million, down from last October's 37.8 million pace but up from September's revised 35.8 million level.
Total Used Volume and Used SAAR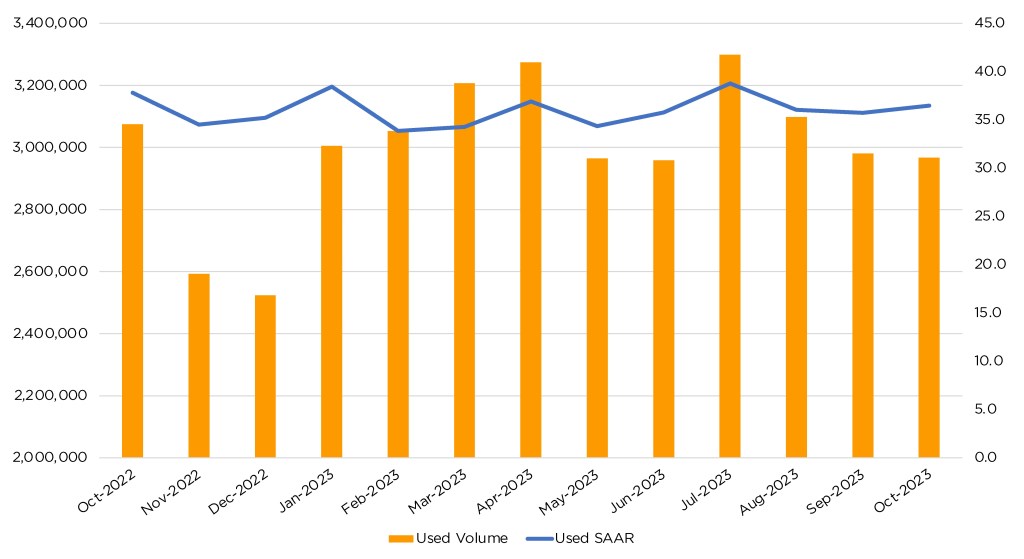 "The used-vehicle market saw a slight decline in October, which is a bit surprising given the affordability issues in the new market," said Chris Frey, senior manager of Economic and Industry Insights at Cox Automotive. "Despite facing higher interest rates, the used market has remained strong, a result of the lower prices of used vehicles and the continued need for transportation among consumers."
Retail used-vehicle sales — the volume of vehicles sold via a dealership, thus removing private party sales — are estimated to be 1.57 million in October, down only 0.4% from the 1.58 million recorded in September. The used retail sales pace ticked up to 19.3 million in October from September's revised 18.9 million level.
RETAIL USED VOLUME AND USED SAAR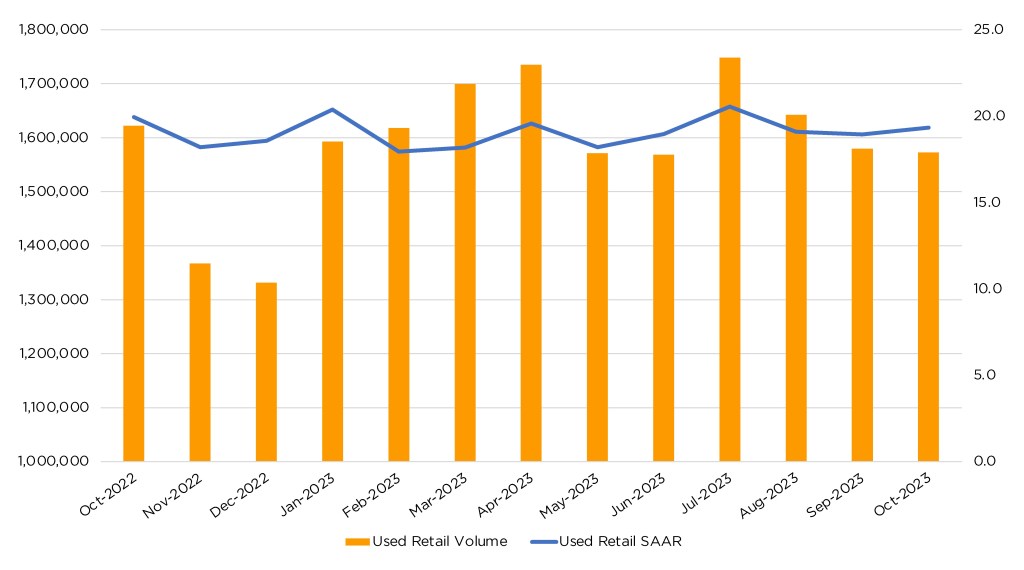 The retail used-vehicle sales estimates based on registration data generally align with the used sales estimates based on observed changes in advertised units tracked by vAuto, a Cox Automotive company specializing in inventory management. This month, the vAuto estimates suggest that used retail vehicles sales volume in October was down 2% compared to September. Revised registration data for October will be available in December.
---
The Cox Automotive estimated total and retail used-vehicle SAAR and volume are updated monthly and are subject to change due to market volatility.
Tags