CAMIO
EV Sales Growth was a Highlight of 2022
Wednesday June 7, 2023
The overall new-vehicle market contracted in 2022 by approximately 8%, but battery-electric vehicle (EV) sales outpaced the industry. According to the estimates from Cox Automotive's Kelley Blue Book team, total new-vehicle sales in the U.S. fell year over year in 2022 to 13.8 million units, down from 15 million in 2021 and well below the 17.3 million the market delivered five years ago. EV sales in the U.S., on the other hand, soared as new models and high interest pushed sales volumes past 800,000 for the first time, an increase of 65% versus 2021.
Sales of Electric Vehicles Continued to Rapidly Increase in 2022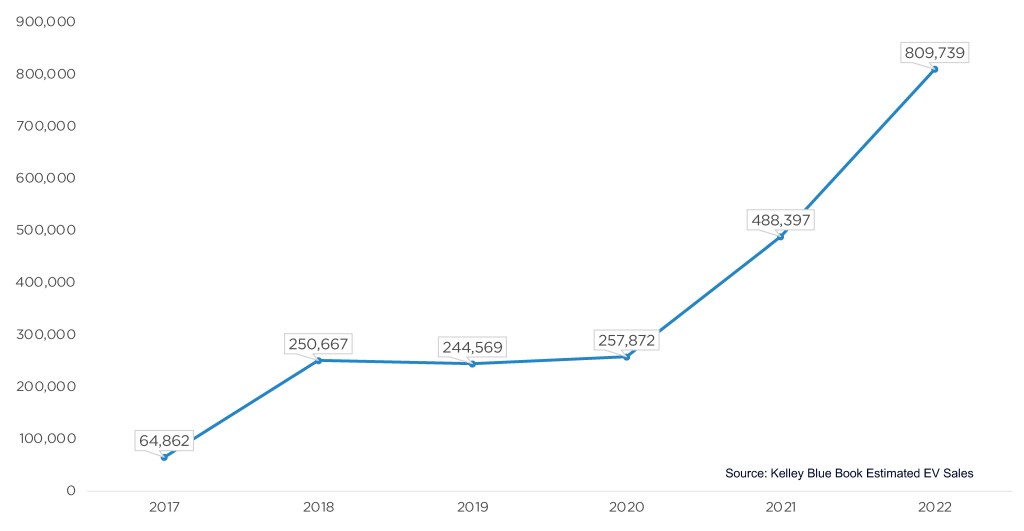 In 2022, Tesla was far and away the EV market leader – and overall luxury vehicle leader for the second straight year, according to Kelley Blue Book estimates – but Tesla's share of the EV market continues to tumble, as forecast, falling below 60% for the first time in Q4 of 2022. In 2021, Tesla's share of total EV sales was 72%, down from 80% in 2020.
Tesla's falling share of EVs is more about new players entering the market than Tesla stumbling. Indeed, the Tesla brand continues to grow in the U.S., but so do the number of EV offerings. In 2020, roughly 13 EV models had annual sales of over 1,000 vehicles. In 2022, that number jumped to 31, with more players coming.
A vast majority of EV entrants launched in 2022 were expensive compared to the overall market, as most were from luxury makers and listed for well over $60,000. But there are signs that prices are coming down. Tesla announced big price cuts in late 2022 and early 2023, and new models on the horizon from mainstream makers such as General Motors promise "more affordable" EV pricing.
THE OUTLOOK: Cox Automotive believes the industry is now in the EV Decade when the U.S. market shifts more toward new EV solutions and the industry is forced to transform. EV share of new-vehicle sales in 2022 hit 5.8%, up from 3.2% in 2021. In Q1 of 2023, EV share was near 7%. Cox Automotive is forecasting 1 million EV sales in the U.S. for the first time ever in 2023, pushing EV share higher. With new government-backed incentives and fresh product coming in the year ahead, passing 1 million is all but guaranteed.
See the full data report on EV sales in 2022 for additional details.