Commentary & Voices
FCA: It's All About the Ram
Wednesday February 5, 2020
Article Highlights
FCA U.S. sales fell for every brand but Ram.
Incentives got a big boost, especially for Ram.
FCA's overall Average Transaction Price rose on the strength of Ram.
UPDATED, Feb. 14, 2020 – Fiat Chrysler reported respectable earnings, making $2.3 billion in Q4 and $7.4 billion for the year.
_________________________________________________________________________
Fiat Chrysler Automobiles reports its financial results on Thursday, Feb. 6, while the automaker works on a merger with France's PSA, which should be completed by about this time next year. In the U.S., from which FCA derives the majority of its profits and revenues, FCA's quarterly sales fell 2%. While only Ram brand reported higher sales in the fourth quarter compared with a year ago, both incentives and transaction prices rose significantly, according to Cox Automotive.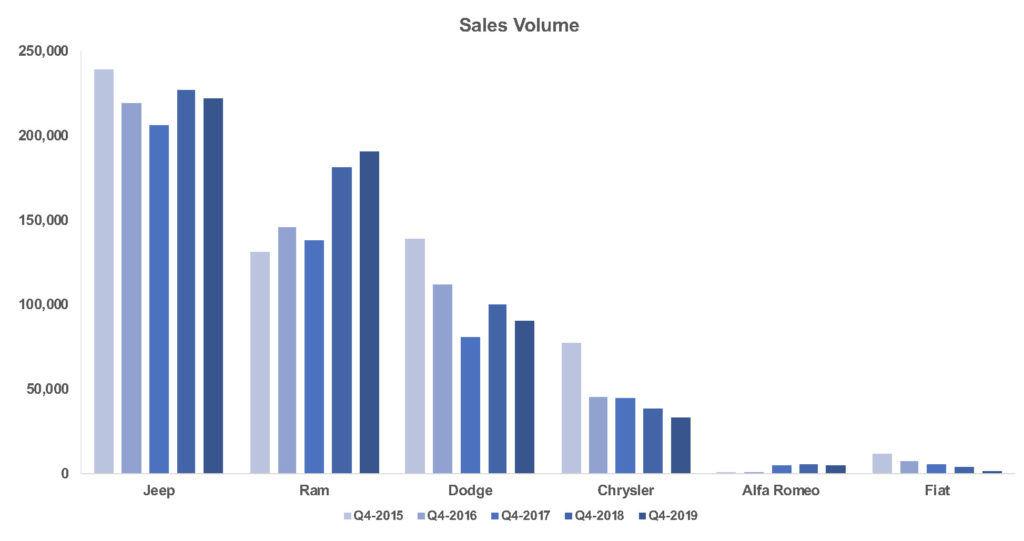 With sales up 6% in the quarter, Ram brand closed out an extraordinary year. The Ram 1500 grabbed the No. 2 spot for full-size pickup truck sales from Chevrolet Silverado for the first time in history – a monumental shift in the full-size pickup segment. The highly profitable Ram pickup was second only to Ford F-Series in 2019. In Q4, FCA sold some 172,000 Ram trucks – up 7% from Q4 2018 and about the same as in Q3 – a level never before reached. Ram has momentum, and it is scoring high marks in customer perception, as the upcoming Kelley Blue Book Brand Watch for the fourth quarter of 2019 will show.
Beyond Ram, however, the performance of the other brands was not stellar. Jeep had the smallest sales decline in the quarter, down 2%. Looking ahead, Jeep has new products coming from a new plant in the city of Detroit, including a new Jeep Grand Cherokee and Jeep Grand Wagoneer.
For now, the brand is struggling with sales particularly with Jeep models at the lower end of the price spectrum – Cherokee, Renegade and Compass. FCA has had a couple of temporary closures of its assembly lines that make the so-called "cheap Jeeps."
Those models are purchased often by younger buyers and less credit-worthy buyers who have been socked with much higher auto loan rates, despite the Fed lowering the overall interest rate. Delinquencies for subprime auto loans hit a new high in November, likely prompting lenders to tighten credit standards for loans and pushing some buyers, like those considering the low-end Jeeps, out of the new-vehicle market.
Dodge reported sales were off 9% in Q4, according to Cox Automotive. The other divisions had even more dismal performances: Alfa Romeo, down 13%; Chrysler, with only two models – the aged 300 sedan and the Pacifica minivan – was down 15%; and Fiat, which is having some versions of the 500 trimmed from its already narrow line, plummeted 51%.
FCA boosted incentives in Q4 by 10% to an average of $4,961 per vehicle, a significant increase from a year ago, according to Kelley Blue Book. The automaker juggled incentives around, boosting them significantly on some brands while reducing them on others. Most notably, FCA raised incentives on Ram by 25% from a year ago to a hefty $6,639 per vehicle and the highest level of any fourth quarter in at least five years. That high number, however, was down from Q3 when incentives on Ram pickups were over $7,000 per vehicle, according to Kelley Blue Book.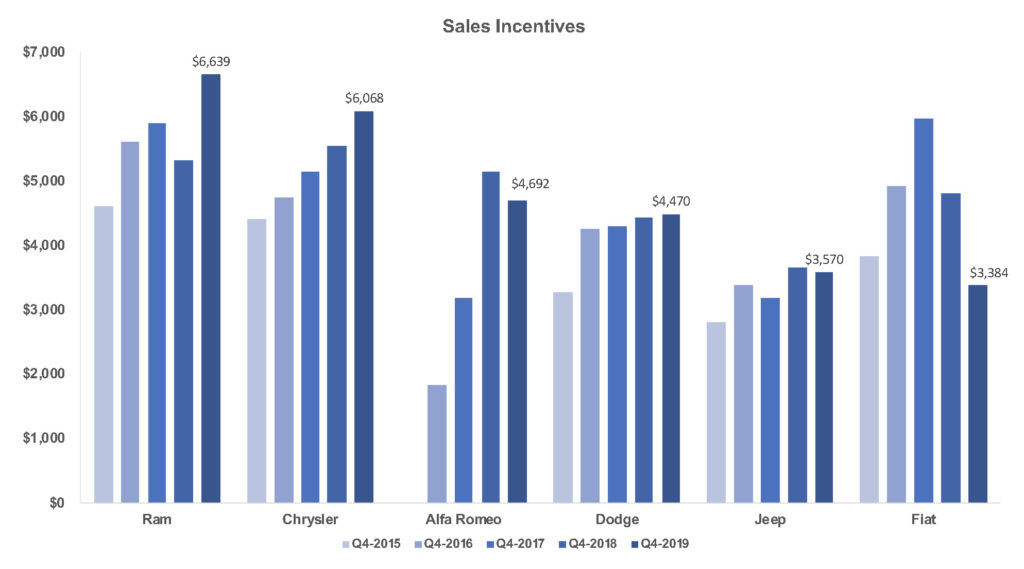 Chrysler brand also got a significant 10% boost to an average of $6,068 per vehicle, surpassing the $6,000 mark for any fourth quarter in at least five years. Dodge got a 1% bump to $4,470 per vehicle.
FCA trimmed incentives on Fiat brand, down 30% to a still-high $3,384 per vehicle, since Fiat sells vehicles at the lower end of the price spectrum. Jeep incentives were trimmed from a year ago but remained high at $3,570 per vehicle.
FCA's Average Transaction Price (ATP) rose 7% in the quarter to an average of $40,894 per vehicle, according to Kelley Blue Book.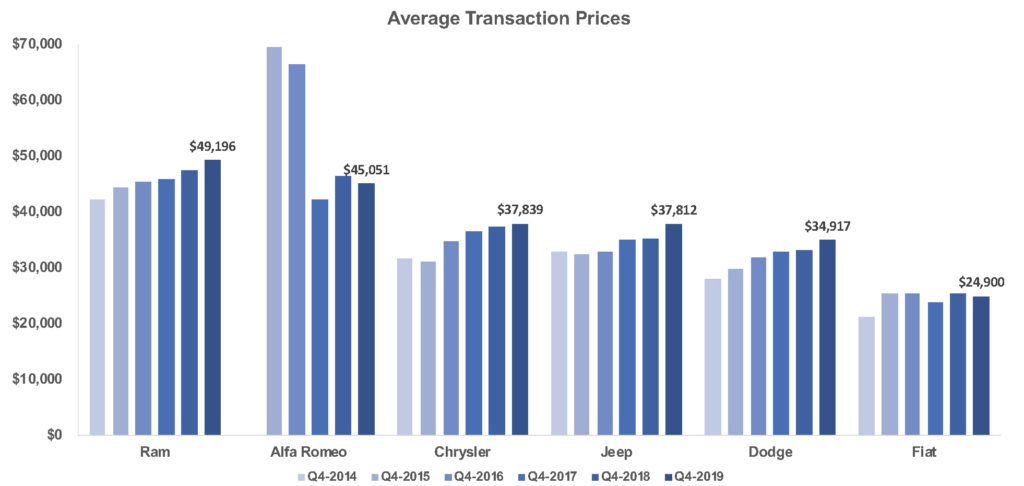 This marked the first time in a fourth quarter that FCA's overall ATP surpassed the $40,000 mark. It came all on the strength of the Ram pickup truck, which had a 4% increase in ATP to $49,196 on average, though in some quarters last year, its ATP hit the $50,000 mark.