Commentary & Voices
FCA: Q3 Sales Rely Largely on Ram, Incentives
Wednesday October 30, 2019
Article Highlights
FCA outpaces the industry for Q3 U.S. sales, thanks to Ram and Jeep.
Incentives hit new Q3 highs.
Average Transaction Prices rise, making incentive spending possible.
UPDATED, Oct. 31, 2019 — FCA posted higher than expected operating earnings in Q3, lifted by its North American business and success of Ram trucks. FCA said North American profitability set a record. Company officials said they expect 2020's financial performance to be even better than 2019's.
_________________________________________________________________________
Fiat Chrysler Automobiles N.V. reports Q3 earnings on Thursday, October 31, with Wall Street analysts forecasting a decline in earnings on lower revenues.
In the U.S., its largest market, FCA's sales slightly outperformed the overall industry, due to higher incentives made possible by higher average transaction prices, according to Cox Automotive and Kelley Blue Book data.
On the strength of Ram and Jeep, FCA's total Q3 sales in the U.S. rose nearly 1% to 565,034 vehicles, outpacing the overall industry that was down 1% for the quarter, according to Cox Automotive.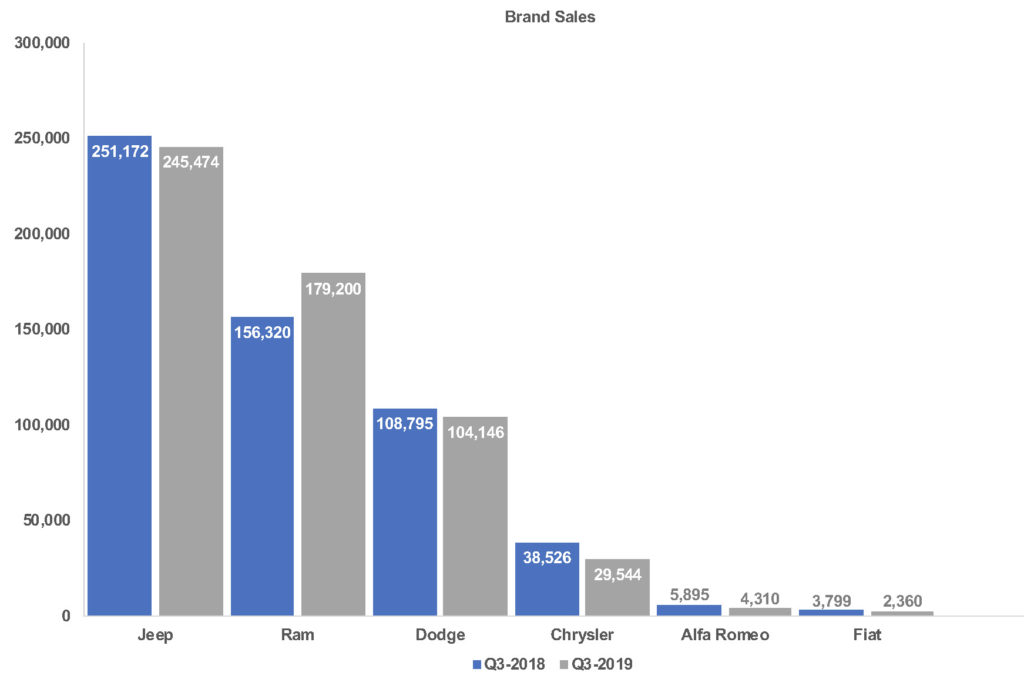 It took hefty incentive spending to achieve Q3 results. FCA boosted incentive spending by 10% to an average of $5,017 per vehicle, according to Kelley Blue Book. That was the highest Q3 spending since at least 2014, and the first time it was above $5,000 for a Q3 in the past five years. Three of FCA's six brands hit their highest Q3 incentive spending levels for the past five years.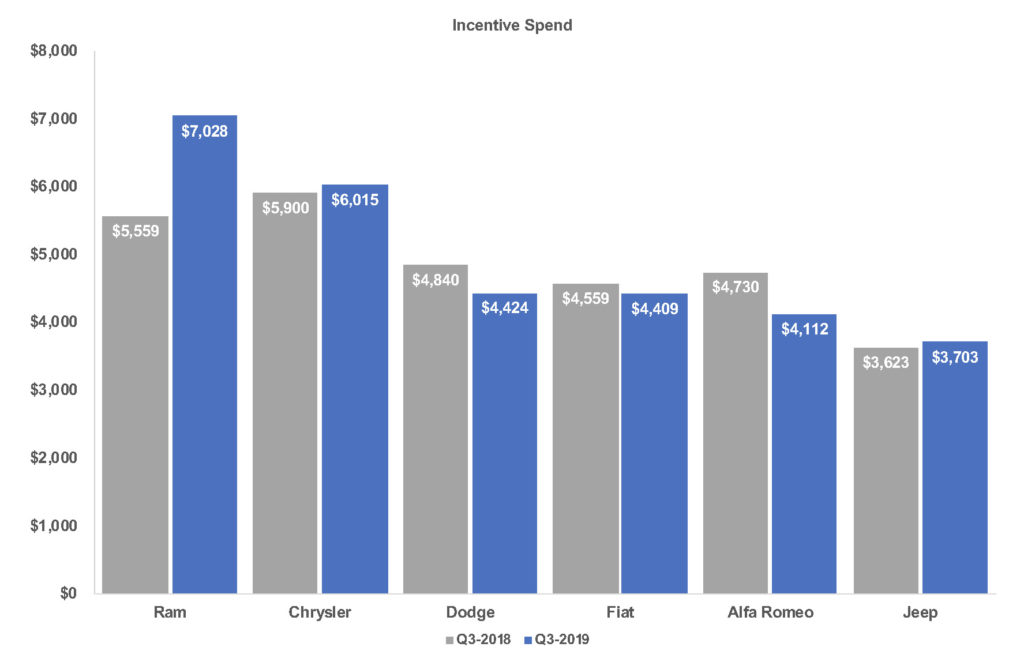 Still, FCA's Average Transaction Prices (ATPs) soared by nearly 7%, surpassing $40,000 for the first time. According to Kelley Blue Book, FCA's overall ATP was $40,894 in Q3.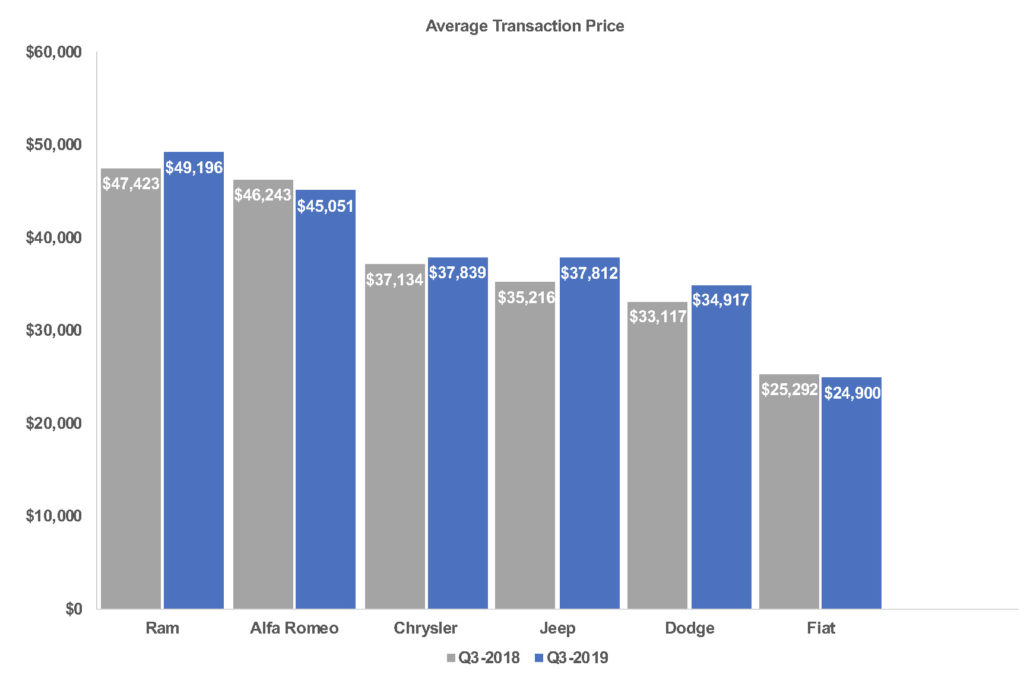 Ram was FCA's star in Q3 with sales up 15% to 179,200, its highest level of Q3 sales since at least 2014. Ram cargo vans got a big bump in Q3, as did Ram 1500. It had a 14% sales increase, enough to steal the No. 2 spot for U.S. truck sales from Chevrolet Silverado.
Ram's sales win didn't come for free though. FCA upped Ram incentive spending by 27% to a beefy $7,028 per vehicle, $1,000 more than any Q3 level over the past five years, according to Kelley Blue Book.
Ram's ATP in Q3 was $49,196, driven mostly by a 4% hike in the pickup's ATP, now over $50,000 for the first time in a third quarter, at $50,730, according to Kelley Blue Book. The Ram cargo van also had a higher ATP.
Jeep had a 2% dip in Q3 sales to 245,474, compared with a peak level a year ago. Surprisingly, the aged flagship Grand Cherokee's sales climbed 8%, taking the top spot for Jeep sales at more than 60,000 units. The relatively new Wrangler, Jeeps' next best-seller, chipped in a 3% hike in sales. The just-launched Gladiator added 16,132 sales.
The so-called "cheap Jeeps", including the Cherokee, Compass and Renegade, posted double-digit sales declines. The Cherokee and Compass had a big 2018 Q3, so the comparisons were tough. The trio of Jeeps appeal to younger buyers who are budget strained and less credit-worthy than other consumers.
Jeep incentives were up 2% to $3,703 per vehicle. That was the highest Q3 level of incentives for the brand in at least five years, according to Kelley Blue Book.
Jeep ATP's set a new Q3 high, up 7%, at $37,812. The Gladiator, with its $50,000 plus ATP, helped give the brand an overall boost.
Dodge sales dipped only 4% to 104,146 vehicles, its lowest Q3 level since at least 2014. The smaller decline was due to the strength of muscle cars Challenger and Charger, which scored double-digit sales increases. Other Dodge models posted declines. Still, Dodge sales were the lowest of any third quarter since at least 2014.
Dodge decreased incentive spending by 9% from last year's high levels. Still, Dodge spent on average $4,424 per vehicle, according to Kelley Blue Book. Over the past five years, Dodge consistently has spent more than $4,000 per vehicle, and sometimes close to $5,000.
Dodge's ATP rose 5% to $34,917 on the strength of the Challenger. As it increases horsepower, it becomes more valuable.
Chrysler brand sales fell 23% to under 30,000 units, a far cry from just 5 years ago when sales were over 80,000. Today, Chrysler sells only the aged 300 sedan, a body style out of favor with consumers, and the Pacifica minivan, a segment that is in decline. Both models had sales down more than 20% from a year ago.
Chrysler incentive spending got 2% bump, pushing it to more than $6,000 per vehicle, the Q3 highest level since at least 2014. At the same time, Chrysler brand's ATP edged up 2% to $37,839, its highest level, thanks to a higher price tag on the Pacifica.
While Q3 luxury sales rose nearly 3%, Alfa Romeo sales were down 27% to 4,310 vehicles, from last year's highest level of sales for the Italian marque. Alfa Romeo now has three models to sell, yet the 4C, Giulia and Stelvio all had double-digit sales declines in Q3.
Alfa Romeo incentives dropped 13% from 2018 Q3's high, according to Kelley Blue Book. But the average vehicle still had more than $4,000 on the hood. ATPs were down 3% to $45,051, largely due to the steep decline in the least expensive 4C model.
Fiat sales continued their free-fall, down 38% in Q3 to a scant 2,360 vehicles. During the quarter, FCA announced the Fiat 500 models, except for the crossover 500X and tall hatchback 500L, would be dropped for the 2020 model year, though it will take well into next year to sell down current inventory, the company said. Fiat sales have never hit the annual 50,000 level that FCA executives had projected.
Fiat incentive spending has edged downward since Q3 2017 when it surpassed $5,000 per vehicle. Down 3% from a year ago, the average Fiat incentive per vehicle is roughly $4,000, according to Kelley Blue Book. That's still big amount considering the lower price tags on Fiat models.
Fiat has the lowest ATP of any FCA brand at $24,900, according to Kelley Blue Book. It was down 5%, largely due to the fact that 500 models will be discontinued.