Commentary & Voices
Five Things You Probably Missed at NADA '23
Wednesday February 8, 2023
As the old saying goes, "Everything is bigger in Texas." And that was certainly the case last month at the annual NADA convention: The attendance, energy, and even the Cox Automotive booth were bigger than I've seen in recent years. NADA returned to Texas for the first time since 1992, and Dallas certainly delivered in a big way. I was impressed by the hospitality, the cleanliness of the downtown, and some incredible restaurants. Travel Tip: Check out Monarch next time you're in town.
But we attend NADA to feed our brains, not our bodies, so here are the most interesting takeaways you might have missed from this year's auto industry gathering.
1. The road to electrification is littered with potholes.
Jack Hollis, head of sales at Toyota, made a compelling point at the J.D. Power Auto Summit: "The amount of lithium required to build one Tesla Model 3 can build 190 Toyota Prius. If the goal is to reduce carbon emissions quickly, the 190 Prius are going to have a far greater impact than one Tesla." He went on to say, "A lot more consumers can afford a $30,000 Prius vs. a $65,000 Tesla."
Randy Parker, COO for Hyundai, talked about EV challenges as well. He points out that the new IONIQ 5 is no longer eligible for EV tax incentives even though Hyundai is investing $5.5 billion for a new EV manufacturing plant in Savannah, GA which will employ 8,100 American workers. Randy said, "We feel like we're trying to do all the right things, but it doesn't feel like we're being treated fairly."
Everyone I ran into at NADA was talking about EVs and how complicated and bumpy the road ahead is. Clearly, the federal government will have greater influence on the U.S. auto industry moving forward. As one dealer told me on the show floor, "By the time we all figure out the Inflation Reduction Act …I'll probably be long gone."
2. The biggest tech innovation didn't have a booth.
ChatGTP, a new AI tool, was launched by OpenAI this past November. The technology can answer questions, write papers, compose music, and even make stock recommendations, all in less than 3 seconds. And most dealers at NADA were not familiar with this new AI-based technology.
Brian Benstock, the general manager and VP at the No. 1 Honda and Acura dealer in the world, mentioned during his NADA workshop that Paragon Honda has begun using ChatGTP to write search-optimized vehicle descriptions. Benstock is well known for quickly embracing new technologies, so I was not surprised to see that he's already on this path. Search-optimized vehicle descriptions are likely just the beginning of the use cases for this new advancement in AI. I'll be on the lookout for ChatGTP booth at NADA '24.
3. Many new technologies digitalize retail transactions, but people and processes still matter.
Despite the growing influence of technology across dealership operations, the customer experience is still critically important to retail success. In the 2022 Cox Automotive Car Buyer Journey, recent customer research indicates that only 8% of transactions last year happened "all online." That is to say, a vast majority of vehicle purchases still involve steps that consumers prefer to do "offline."
The challenge for today's dealers is that more and more consumers are completing portions of their vehicle purchases online but want to engage with a person to finalize the deal. Lori Wittman, president of Retail Solutions at Cox Automotive, highlighted a new platform called Retail 360, which was designed to bring a singular view of each customer and make their exact stage in the vehicle buying process visible to dealership sales staff. It's this combination of online and offline connectivity that will help dealers meet consumers exactly where they want to be met.
4. The move to Variable Management addresses used-market volatility.
Over the past 60-to-90 days, we've seen a rapid uptick in the volatility in the used car valuations, especially with vehicles priced over $35,000. I met an exotic, luxury used-car dealer at the bar who told me about taking a few $40,000 depreciation hits. Ouch. Would you like another drink?
These volatile market conditions are expected to continue in the year ahead. vAuto founder Dale Pollak discussed this exact challenge during his presentation about Variable Management. Dale advocates the need to price inventory based on expected profit potential using data, NOT based on the acquisition cost. Dale said he frequently observes dealers unnecessarily discounting vehicles with higher profit potential while holding for gross on vehicles with lower profit potential. The move to Variable Management is about managing each used vehicle based on its unique risk profile.
5. Lithia Automotive's growth is nothing short of incredible.
This is one of the most impressive PowerPoint slides I saw last week at NADA. Lithia's business has absolutely exploded since 2009: They've grown from 85 stores to 282; revenues have increased from $1.8 billion to $27.5 billion, but most amazing is their return on equity: improving from 3% to 27%!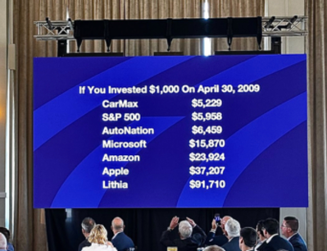 This speaks to the incredible profit opportunity the retail car business makes available to those who do it best. Not many stocks are good enough to make you wish you had bought them vs. Apple.
There are so many interesting dynamics in our industry right now: The push to electrification, the potential impact of artificial intelligence, the continued customer need for human interaction, and the volatility of the used car market. But one thing is certain, any well-run automaker or dealer that can adapt to these new market forces will continue to enjoy Texas-sized profitability for a long time to come. As always, a visit to NADA has energized my enthusiasm for the auto business — the best business there is. It looks like we are in for another great year.
---
Brian Finkelmeyer is the senior director of new-vehicle solutions at Cox Automotive.