CAMIO
Fleet Sales in 2022 Improved But Remained Well Below Historic Norms
Wednesday June 7, 2023
As the data continue to show, product availability was a major obstacle in the 2022 market. Inventory levels remained at historic lows through a large part of the year, and potential vehicle buyers could not find the products they wanted. In addition, the tight supply environment allowed for a significant reduction in incentives and discounting by dealers and manufacturers.
The new vehicle market through much of 2022 became a seller's market where the manufacturer's suggested retail price (MSRP) is the price and little negotiating occurs. As a result of these buying conditions, retail sales fell over 1.3 million units from 2021 to 11.7 million, a decline of 10%. With new-vehicle inventory down and retail sales under pressure, fleet sales in 2022 were also well below historic norms.
Fleet sales did improve over year-earlier levels in 2022, increasing nearly 120,000 units to 2,022,071. This is a 6% gain over the decades-old low seen in 2021. However, total fleet sales in 2022 remained below the levels seen in 2020 and, in fact, total fleet sales in 2022 were down by more than 1 million units compared to 2018.
Monthly Fleet Sales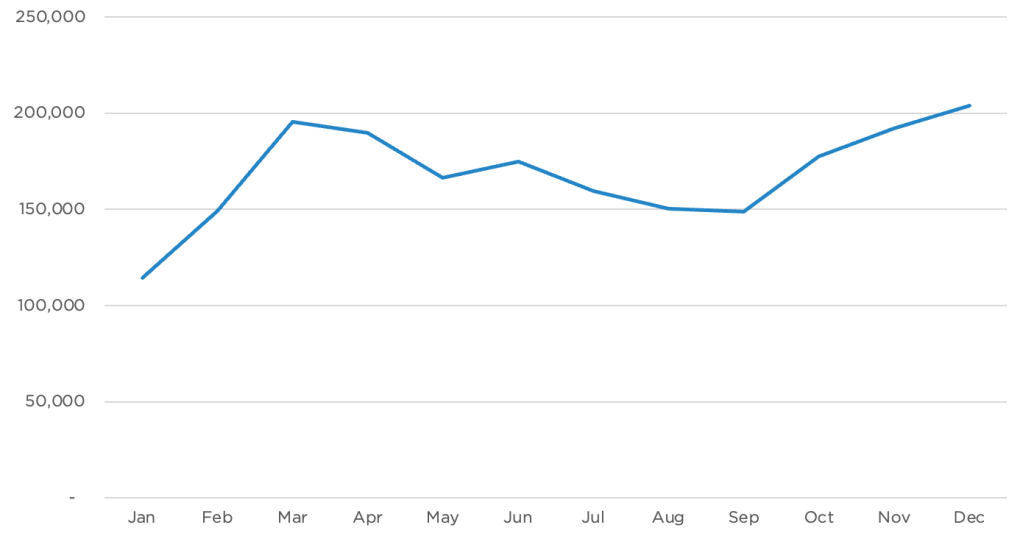 Demand from rental car and delivery services companies was strong, yet production issues and low inventory levels kept manufacturers from steering new products into fleet sales. Fleet sales in 2022 were generally consistent – at a low level – throughout the year but logged increases in the final three months as new-vehicle production began to improve and inventory issues for retail began to ease. Fleet sales through Q4 increased each month, with sales in December above 200,000 for the first time in the calendar year 2022.
The Outlook: Fleet is expected to continue playing a key role in the new-vehicle market's sales recovery in 2023. The Cox Automotive forecast for 2023 fleet sales is 2.6 million, as of the Q2 update. There is likely strong pent-up demand in the market, as fleet sales in 2020, 2021 and 2022 were well below the recent peak of 3.3 million in 2019. Going forward, product availability will improve as supply chain issues dissipate.