Commentary & Voices
Ford: Higher Profits Forecasted Despite Lower U.S. Sales
Wednesday July 24, 2019
Ford Motor Co. reports second-quarter financials after the stock market closes July 24. Wall Street analysts expect Ford to post higher per-share earnings on lower revenue for the second quarter.
In the U.S., Ford's Q2 vehicle sales were down nearly 5%, while industry sales for the quarter were down 1%. Ford brand sales were down about 4%, after a 2% drop in Q1. Lincoln sales were down nearly 7% in Q2, after being up 11% in Q1. Market share for Lincoln was flat; Ford share slipped a bit.
The automaker is in the midst of restructuring its business to cut costs, most recently announcing an alliance with Volkswagen to develop electric vehicles, self-driving vehicles and build production vehicles for each other. Ford is also in the middle of a massive remodeling of its product line to make it the freshest portfolio in the industry.
Within the Ford brand, the Fiesta and Focus small cars are out of production so dealers are selling the last of them. The Explorer and Escape utilities are in sell-down mode in advance of the new ones arriving.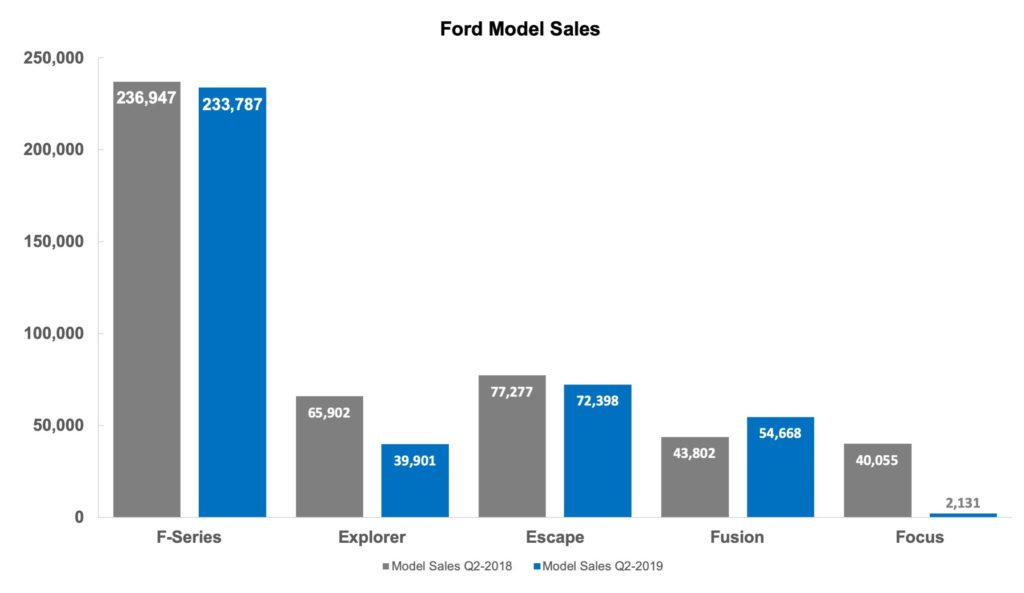 Lincoln has been rolling out new sport utilities, starting with the Navigator followed by the Nautilus last year. The Aviator arrives this summer and the smallest Lincoln utility, the Corsair, was unveiled at the New York auto show in April. Luxury utilities – midsize and compact – now account for about 60% of all luxury vehicle sales, according to Cox Automotive analysis of the luxury market.
In Q2, Ford trimmed overall incentive spending by about 1%. The deepest cut in incentive spending was with Lincoln, down nearly 9%. However, Lincoln remains one of the biggest incentive spenders in the luxury market, well over the industry average and only behind Infiniti and Cadillac, respectively, in terms of incentive spend as a percent of average transaction price (ATP), according to Cox Automotive data.
Speaking of ATPs, the cash cow Ford F-Series pickup line saw sales dip a bit, but ATPs rose nearly 4% in the quarter to $52,208, on the strength of the Super Duty. The F-Series surpassed the $50,000 ATP mark in 2018. Transaction prices for the Explorer and Escape, despite being in sell-down mode, edged up. Even the Fusion sedan held the line on its ATP.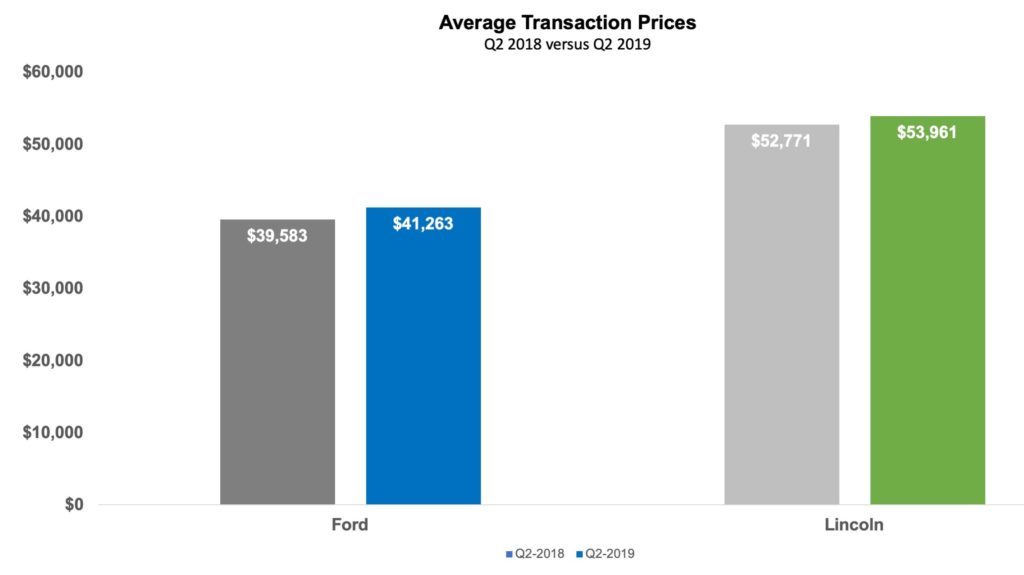 Looking ahead, Ford must be looking forward to the second half. Through the end of the year, Ford will be launching the brand-new Ford Explorer and Ford Escape, its two highest volume models behind the F-Series.