Commentary & Voices
Ford: Slow Explorer Launch and Increasing Headwinds Hamper Q3 Profits
Tuesday October 22, 2019
Article Highlights
Ford, Lincoln average transaction prices set new heights.
Ford, Lincoln incentives were the highest for a third quarter since at least 2014.
Ford Explorer launch could hamper sales, profits.
UPDATED, October 24 – Ford reported a better Q3 than analysts expected with earnings at 34-cents a share vs. the 26-cents most analysts predicted, but still on lower revenue than was predicted. However, Ford warned it was trimming its full-year guidance for profits due to increasing headwinds, including higher warranty costs, higher than expected incentives, the slow, troubled launch of the cash cow Ford Explorer and challenges in China.
Ford Motor Co. reported third-quarter financials after the stock market closed Wednesday, October 23. Wall Street analysts expected the automaker to post slightly lower profits and revenue from a year ago. The wild card was the troubled Ford Explorer launch, which could hamper earnings, which was case.
In the U.S. market, where the company drives a vast majority of its revenue and profit, Ford and Lincoln Q3 vehicle sales (excluding heavy trucks) were down 5% from a year ago. That was a steeper fall than the overall U.S. industry, which had sales down just under 1% from the year-ago third quarter, according to a Cox Automotive analysis.
U.S. sales for the Ford brand in Q3 were down 6%, in part because Ford is winding down sales of discontinued or soon-to-be-discontinued car models. On the strength of new SUVs, Lincoln sales soared nearly 12%, while overall luxury sales were up nearly 3%, according to Cox Automotive figures. As a result, Lincoln gained market share. Still, with Ford brand's fall, the automaker's overall U.S. market share slipped.
Ford juiced sales with incentives aplenty in Q3. In total, the automaker spent an average of $4,843 per vehicle on incentives in Q3, up nearly 3% from the year earlier, according to Kelley Blue Book estimates. Ford brand incentives were up 2% to an average of $4,707 per vehicle. Lincoln's incentives rose a hefty 12% to an average of $7,728. The incentives were at the highest Q3 level since at least 2014 overall and for both brands individually.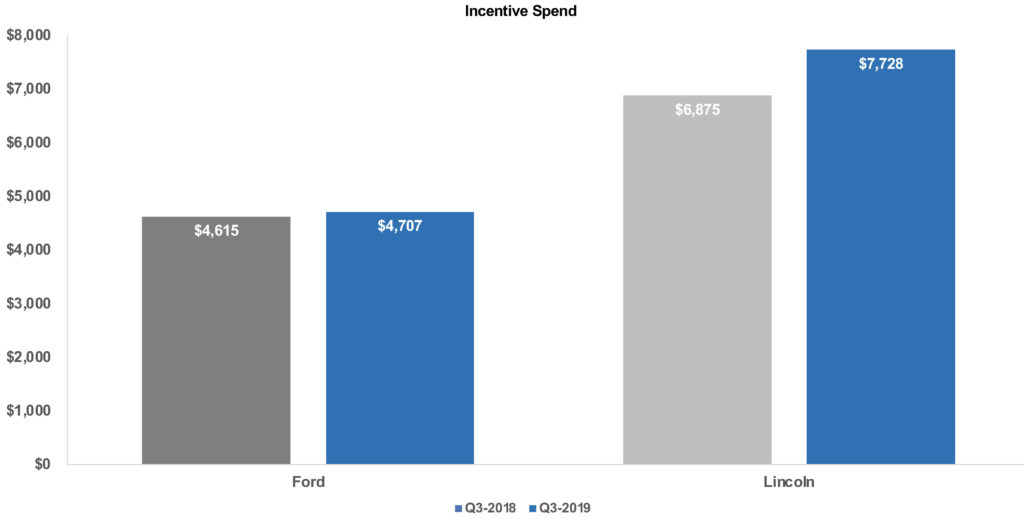 Ford brand is in the midst of transforming its product line and is launching some high-volume models. Ford currently is launching new Explorer and Escape SUVs, its top-volume sellers after F-Series trucks. The Explorer has experienced some launch issues, which, combined with selling down the last model, resulted in a 50% year-over-year plummet in Explorer sales, its lowest third-quarter level since at least 2014.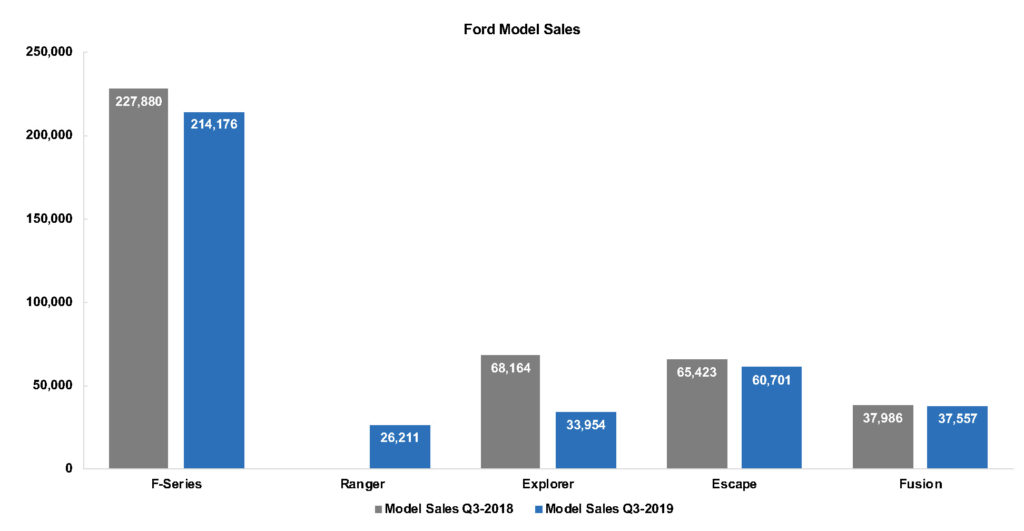 The soon-to-be-released Kelley Blue Book Brand Watch for Q3, which looks at consumer perception and shopping consideration of brands and models, shows the Ford brand doing well in terms of shopping consideration, largely on the strength of the F-150. Despite a Q3 sales drop of 6% for the F-Series in total, the F-150 remains the No. 1 most considered full-size pickup truck, according to Kelley Blue Book Brand Watch. It gets redesigned next year.
Lincoln has been transforming itself with the introduction of a host of new models, mostly SUVs. This year, Lincoln launched the new Aviator and is beginning the launch of the smaller Corsair SUV to replace the MKC. Sales of other relatively new Lincolns, like the Navigator and Nautilus, were up in the quarter. Older models were down. The Kelley Blue Book Brand Watch for Q3 shows Lincoln moving into the top 10 of considered luxury brands for shoppers.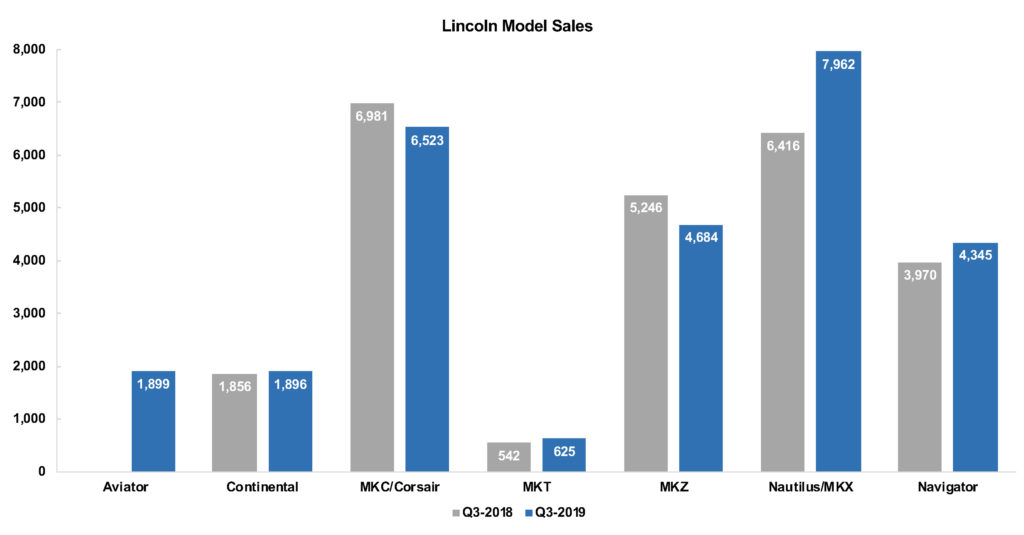 Despite the sales decline, Wall Street analysts point out Ford's product mix was improved to give more weight to trucks and sport utilities than cars.  Indeed, Kelley Blue Book data shows Ford's average transaction prices rose.
Ford's average transaction price is more than $42,000, according to Kelley Blue Book. That is on the strength of the F-150, which has an ever-rising transaction price that is now at almost $52,000. But most other models are also seeing higher average transaction prices.
At Lincoln, every new model transacts at more than $50,000, with the average at more than $54,000, a new level, according to Kelley Blue Book. Only a few older models are in the $40,000-$50,000 range.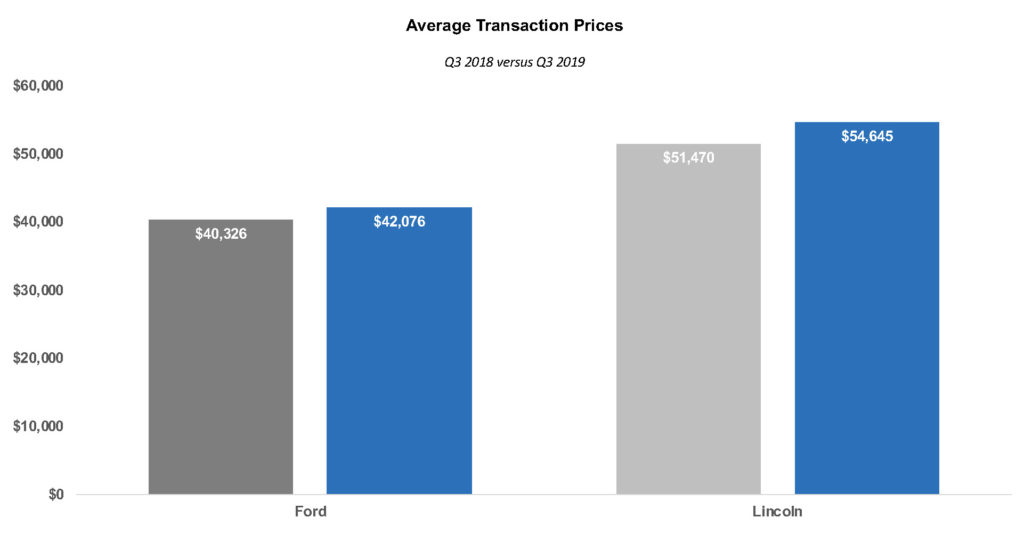 Looking ahead, Ford will be negotiating a new contract with the UAW when ratification is complete at GM. Lincoln will be ramping up the Corsair. Ford will continue the launch of the Escape and Explorer and adding the Bronco SUV at year-end.