Commentary & Voices
General Motors: Pushing Sales Aggressively Throughout the Strike
Monday October 28, 2019
Article Highlights
GM's U.S. light-vehicle sales rose in Q3, boosting GM's market share.
GM beefed up incentives to the highest levels for a third quarter in at least 5 years despite strike.
GM's overall Average Transaction Price sets a quarterly record.
General Motors issues its Q3 earnings report before the stock market opens Tuesday, October 29. The focus will be on the impact on Q3 of the just-ended, six-week strike by the UAW. More importantly, what impact will the strike, which ended with the UAW's ratification October 25, have on Q4 and full-year earnings? Details of the cost of the new labor contract will also be of interest.
Wall Street analysts, hoping for an upside surprise like they got in Q2, expect GM earnings to be off a bit from the year-ago quarter. They expect little strike impact on Q3 as it began just before the quarter ended on September 16.
GM had plenty of inventory to sell and never let off the gas on incentives throughout the strike. The strike's biggest impact was on dealers who reported that replacement parts for service customers were in short supply.
In the U.S., GM's largest market, the automaker sold 735,954 vehicles (excluding heavier duty trucks) in Q3, up 6% from the year-ago quarter, according to Cox Automotive.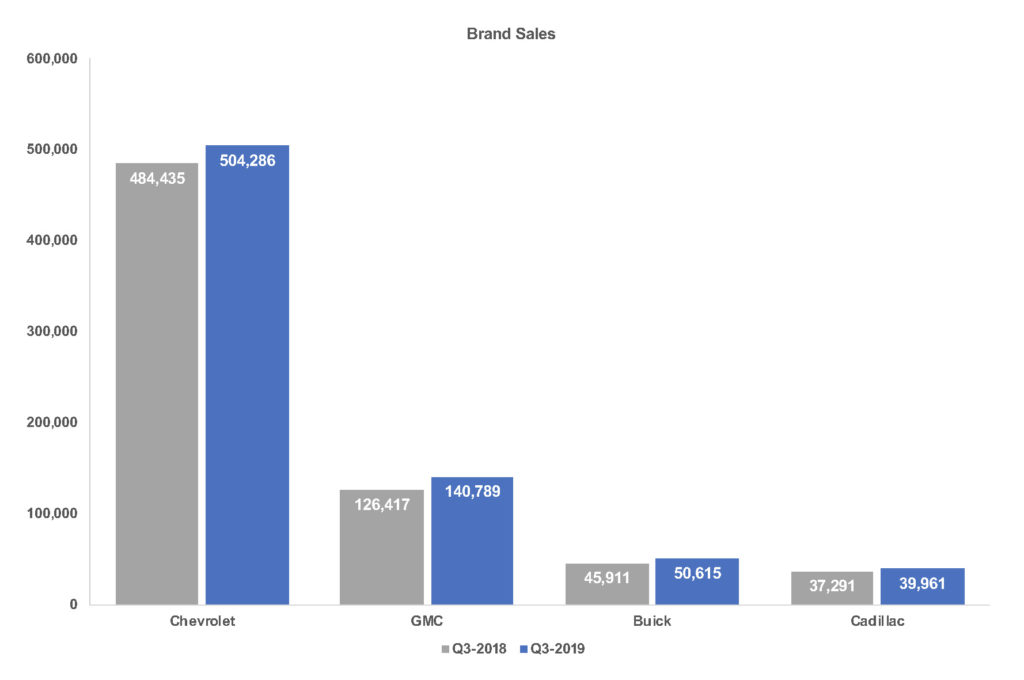 Buick sales climbed 10%, surpassing 50,000 units. Strength came from of its trio of sport-utility vehicles: the Chinese-built Envision; the Enclave; and the smaller Encore, which adds a lengthened version, the Encore GX, early next year.
In the midst of adding new models and eliminating old, mostly car models from its line, Cadillac sales rose 7%, purely on the strength of the Escalade SUV and its two new crossovers, the XT4 and XT6.
U.S. sales for GM's highest-volume brand, Chevrolet, inched up 4%, thanks to strong pickup-truck and sport-utility sales. Chevrolet's most affordable utilities, the Trax and Blazer, had a positive Q3. The Blazer, even though it is built in Mexico by non-UAW workers, had its production stop in October due to lack of parts. The Traverse crossover also kicked in higher sales as did fleet-type vans and large trucks.
Chevrolet dropped the Cruze and Volt from its line, so those sales were down. Tahoe and Suburban sales were off as well. They were in the shortest supply of all GM vehicles – well below industry average – throughout the strike. GM is in the process of revamping its large sport-utility vehicles, like the Suburban, Tahoe and Escalade, shifting them to the new platform used by the Chevrolet Silverado and GMC Sierra pickups.
GMC sales rose 11%, with all models showing increases but three, including the Sierra HD, which is just launching and is in short supply.
As a result of sales increases across the board, GM gained market share, 17% from the year-ago quarter's 16.08%, according to Cox Automotive.
Despite the strike, it was business as usual in terms of competitiveness in the marketplace. GM spent generously on incentives in Q3, after dialing back in Q2 when sales were off from the year-before second quarter.
In total, GM's incentives climbed 11% to an average of $5,223 per vehicle, the highest level for a third-quarter in five years and surpassing the $5,000 mark for the first time in that period, according to Kelley Blue Book calculations.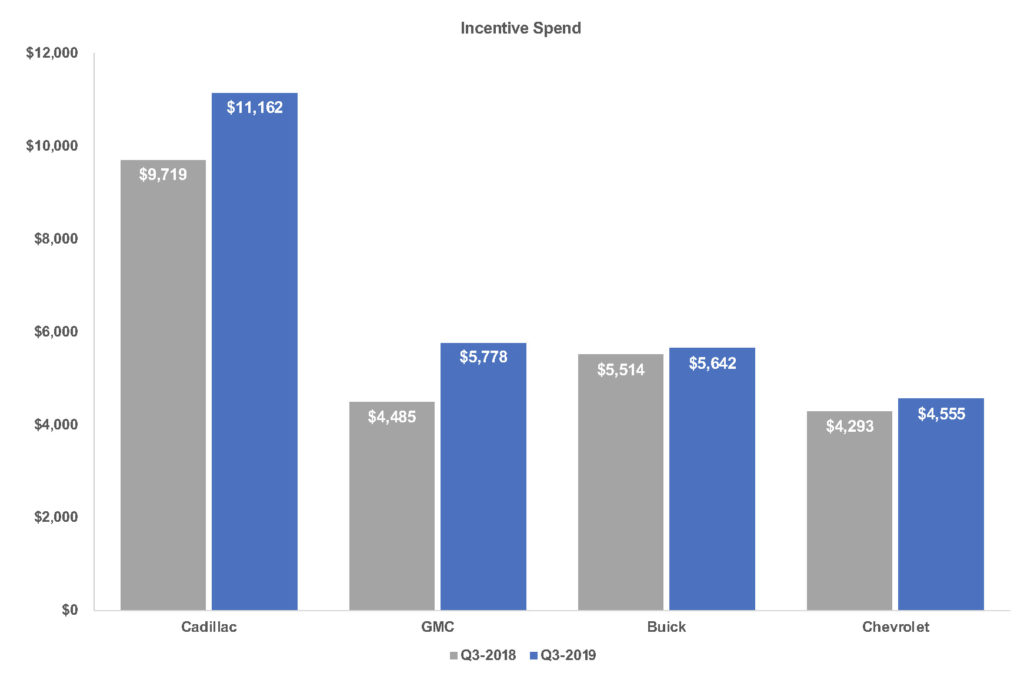 Cadillac incentives were up 15% to a whopping average of $11,162 per vehicle. Cadillac's per-vehicle spend, which surpassed the $10,000 mark for the first third-quarter in five years, was the highest since at least 2014.
GMC saw the heftiest percentage increase in spending, up 29%, to an average of $5,778 per vehicle, according to Kelley Blue Book data. GMC incentives were also the highest for any third quarter since 2014 and the first third-quarter that per-vehicle spend surpassed the $5,000 mark.
Buick, which sells no pickup trucks that tend to have high incentives because of their big price tags, had the lowest incentive increase, up 2%. Still, Buick incentives are hefty at an average of $5,642 per vehicle. In the third quarter of 2014 to 2017, however, Buick incentives were over $6,000 per vehicle, according to Kelley Blue Book records.
Chevrolet incentives rose 6% to an average of $4,555 per vehicle, also the highest level of any third quarter in five years but not vastly out of the norm.
GM's overall Average Transaction Price (ATP) was $42,176 per vehicle, up nearly 3%, for a Q3 record, according to Kelley Blue Book estimates.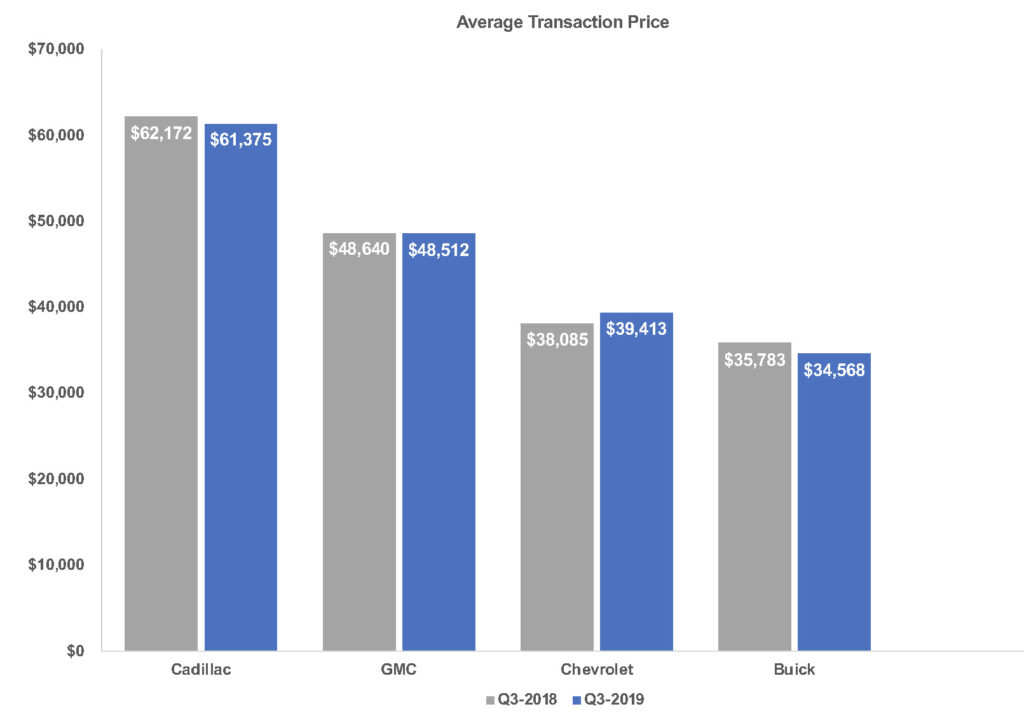 Buick's ATP dropped 3% to $34,568. Buick's ATP for the third quarter held in the general range it has for the past five years.
Cadillac, which is selling down a number of cars from its line, had a 1% decline in ATP at $61,375 per vehicle, but Cadillac's ATP still remains above $60,000, where it has been the past couple of years.
Chevrolet's ATP rose nearly 4% in Q3 to $39,413 on the strength of the Silverado pickup truck. Its ATP keeps rising and rose to $48,318, its highest of any third quarter ever.
Similarly, GMC's ATP, thought it edged downward a tad, stood at $48,512 per vehicle, powered by the Sierra pickup truck at $54,316, and the large Yukon and Yukon XL utilities, at $66,433 and $70,971, respectively.
Looking ahead: Analysts will look for the impact of the strike on Q4 and full-year earnings. They will want to understand what the new labor contract does to GM's cost structure. Short term, the focus will be on how well GM re-starts its plants after the strike and resumes launch of the various configurations of its pickup trucks and its new full-size utilities. GM's inventory levels, which remained healthy through the strike, will be revealed after Friday, November 1 industry sales are reported.