Commentary & Voices
GM to Introduce Hummer EV During Sunday's Advertising Bowl
Thursday January 30, 2020
This Sunday during the Advertising Bowl General Motors will begin talking about a new full-size electric pickup: The GMC Hummer EV. The teaser campaign is underway. By our count, nine different automotive companies are making some pitch during the game, shelling out millions to do so, but the GMC Hummer EV is perhaps the most interesting play for two reasons.
First, in the next three years, consumers are going to be overrun by EV launches and, specifically, advertising about all-new EVs. The Hummer EV ad is just another example of what's already begun. Ford is well underway in this game, buying expensive ad space for the Mustang Mach-E more than a year before any customer can reasonably buy one.
In 2019, there were 16 EVs for sale in the U.S. By the end of 2022, there will be 55, according to a Cox Automotive analysis.
Will More Product Create More Buyers?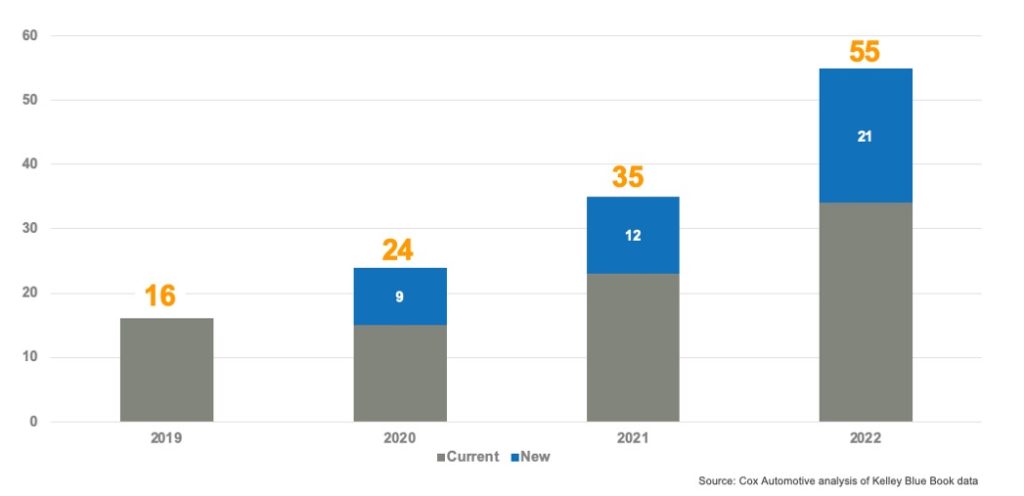 Every EV launch is a chance for automakers to grab a bit of that technology halo they all crave. The industry's advertising firms must be overjoyed at the prospect. Consumers, however, might just be overwhelmed.
Secondly, the launch of the GMC Hummer EV marks the return of a brand that younger buyers likely don't even know existed and older buyers remember vividly, perhaps for the wrong reasons. The naming of the new full-size EV from GMC was a gamble to be sure. We asked our analysts about the prospects for the new Hummer EV and if the name and product can break through.
Here's what they had to say:
From Karl Brauer, executive publisher at Kelley Blue Book and Autotrader:
There's a beautiful irony in the return of Hummer. In 2010, as gas prices spiked, the Dow plunged and environmentalists vandalized the vehicles on dealer lots it seemed Hummer was a brand well behind the times. Ten years later, gas is relatively cheap, the Dow is hitting new records and 70% of new vehicle sales are trucks and SUVs. Even better, the ongoing evolution of battery and electric motor technology is making high-torque, emissions-free drivetrains easier and cheaper. Apparently, Hummer was a brand ahead of its time.
From Brian Moody, executive editor, Autotrader:
Given the equity "Hummer" still has with truck buyers, an all-electric Hummer makes a lot of sense. GMC has firmly established themselves as a premium truck brand with workhorse capability so having Hummer fall under the GMC umbrella makes sense as well. It might even make sense to re-introduce Hummer as its own brand at some point but GM seems like they are really taking the lessons of the past to heart. GMC dealers also have the ability to give Hummer customers the experience they will expect given the premium nature and, likely, premium price of the new Hummer EV.
From Michael Harley, executive editor for Kelley Blue Book:
The original Hummer was ostracized out of showrooms for being heavy and ponderous with an insatiable appetite for gasoline. An all-electric powertrain essentially exonerates the truck on all charges – weight is a non-issue with EVs as abundant electric torque will make it feel lighter and more nimble, and its owners will never have to visit a fuel pump.
From Eric Ibara, senior analyst, Kelley Blue Book:
One of the reasons why Hummers grew unpopular was because they epitomized the culture of excess and was the target of environmentalists. Being resurrected as an EV would appear to solve the gas-guzzling stigma but it will likely still transact quite a bit more than the industry average. As consumers move more to off-road capable utilities, this could be a big winner for GMC.
From Akshay Anand, executive analyst, Kelley Blue Book:
The electric SUV and pickup markets continue to grow. The irony of reviving the Hummer name as an EV is not lost, as Hummer was traditionally known for carrying big gas guzzlers in its lineup. As with any EV though, what will matter most is range and quality.
If you would like to speak with one of the expert analysts from Autotrader, Kelley Blue Book or any member of the Cox Automotive Industry Insights team, please contact us.