Data Point
GM, Toyota Pickup Truck Inventory Depleted in April
Wednesday May 6, 2020
Article Highlights
New-vehicle inventory drops double-digits in April.
GM and Toyota truck inventory declines to potentially problematic levels.
Kia, Subaru, Volkswagen, GMC and Chevrolet have among the lowest stock.
An unexpectedly strong close to April sales, combined with the shutdown in auto production due to COVID-19, has left the U.S. auto industry with much lower inventory volume than a month ago. General Motors and Toyota, in particular, show potentially problematic declines in truck inventory.
Cox Automotive Senior Economist Charlie Chesbrough explains: "How much inventory is too much or too little depends on the trajectory of vehicle sales. There may be plenty of inventory if sales stay weak through the summer. However, if buyers return quickly in May and June, inventory levels could fall quickly. When supply falls, buyers can't be choosey. There may be plenty of certain nameplates on the lot but not in the color the buyer wants."
The total number of new vehicles in inventory closed out April at nearly 3.3 million vehicles, down 11% from March's 3.7 million vehicles and down 18% from last April's 4 million. Because of the low daily sales rate, that resulted in a days' supply for April of 121 days, up 27 days from March and up 45 days from a year ago.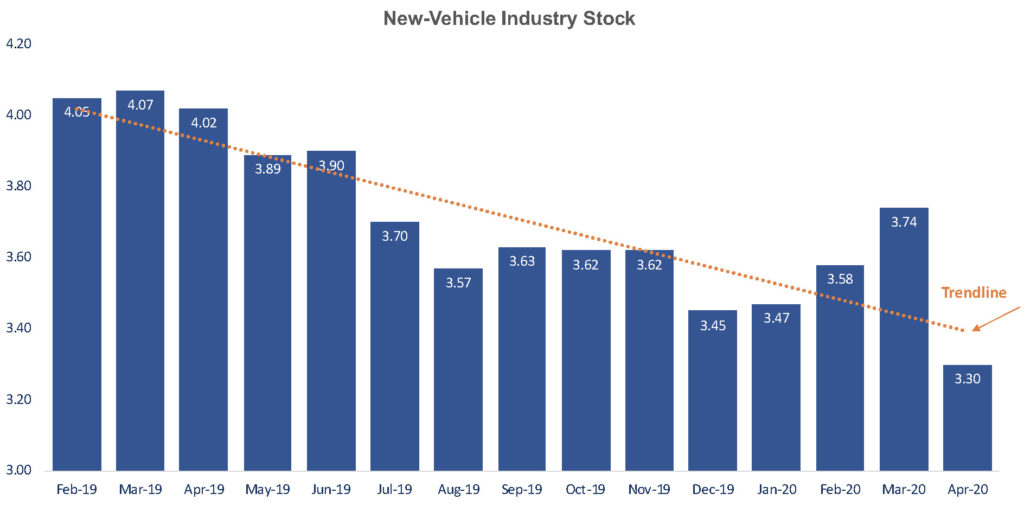 Importantly, though, the days' supply number is being pushed abnormally higher only because of the quick and unexpected drop in sales in late March and April. In fact, if April 2020 sales numbers had been closer to average (equal to 2019, for example), the industry-wide days' supply on May 1 would have been 64 days, down 12 days from year-ago levels. Obviously, if sales recover more quickly than production can resume, dealers will be facing a serious inventory shortage.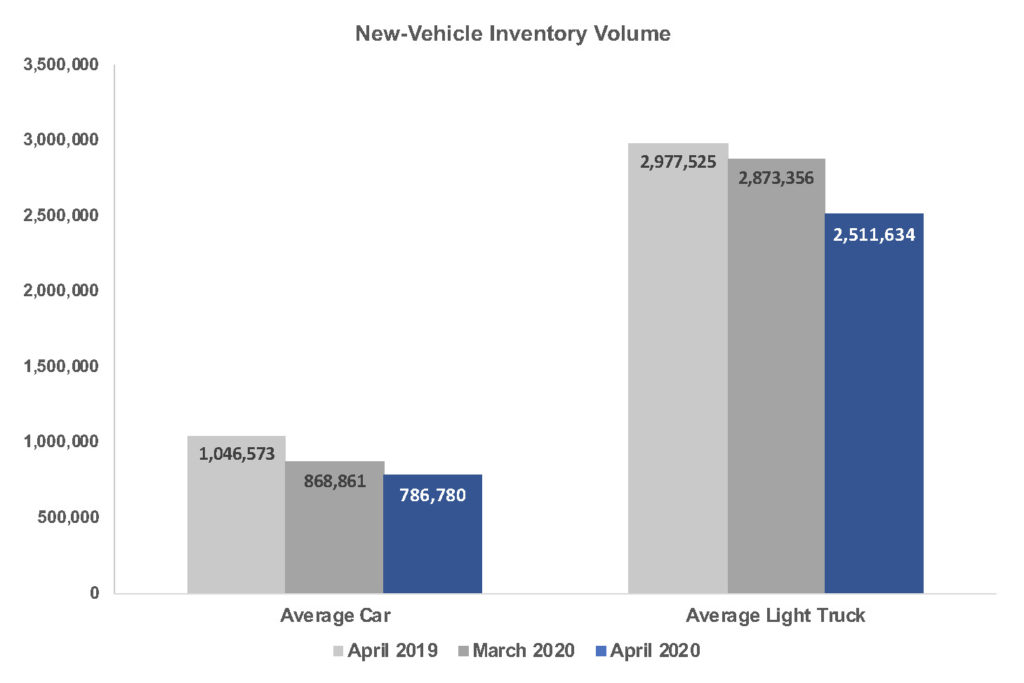 April sales fell 47% from a year ago to historic lows, but the end of the month showed hopeful signs of life, providing optimism for May. At the same time, the good news of improving sales could quickly become bad news for product availability, as automakers struggle to restart production to meet rebounding consumer demand.
Detroit automakers aggressively and successfully marketed 0% financing for up to 84 months, prompting about 21% of buyers to go for the deals. Zero percent financing normally represents only about 2% of all sales.
Pickup trucks and SUVs were shopped most and sold the best throughout the COVID-19 crisis. Pickup trucks in March became the No. 1 selling segment, a spot it held again in April. For the first time, pickup trucks outsold passenger cars in April, and they continue to outpace all other segments for shopping on Autotrader and Kelley Blue Book.
The supply of new, unsold light trucks – pickup trucks and SUVs combined – stood at 2.5 million vehicles, down 11% from March's 2.8 million and down 14% from April 2019's nearly 3 million units.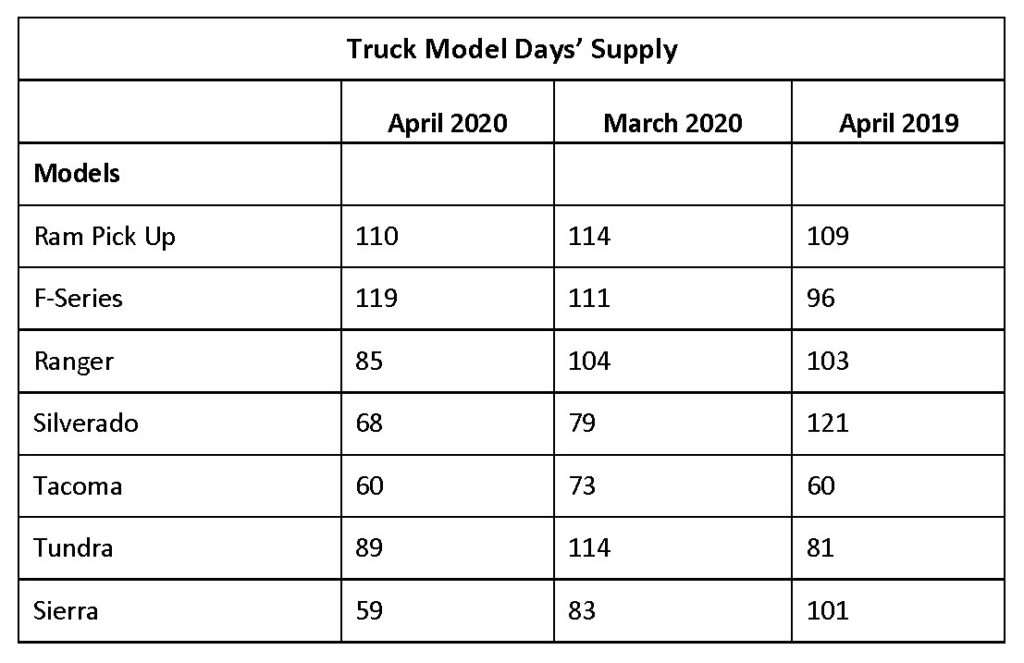 GM had a blockbuster first quarter for full-size pickup truck sales with the Chevrolet Silverado pulling ahead of the Ram, which had overtaken Chevy in 2019. GM is left with only a 68 days' supply of the Silverado and a 59 days' supply of the GMC Sierra. Similarly, Toyota is running at a scant a 60 days' supply of the segment-leading Tacoma midsize truck.
The inventory of unsold cars also fell in April to 786,780 vehicles, down from 868,861 in March and more than a million a year ago.
As was the case in March, Kia had the lowest level of inventory in April at 60 days' supply. All Kia plants in South Korea closed during the height of the pandemic and have yet to all reopen at full production due to a shortage of parts and a lack of demand. Kia re-started its plant in Georgia on May 4 running a single shift as they adjust to supply chains affected by the coronavirus. Subaru, as always, was at the low end for inventories. Volkswagen, with all of its plants closed in Europe, Mexico and the U.S., is at the low end for inventory as well.
Largely due to their high-volume trucks being in short supply, Chevrolet and GMC joined the ranks of automakers low on inventory.
Brands with bulging inventories in April were MINI and Buick. MINI sells mostly small cars and small utilities, segments with the deepest sales declines. Buick, which is selling down all of its cars to focus on its trio of SUVs, moved up two spots from last month with an overabundance of unsold vehicles. GM recently announced it would trim production at its South Korea plant, which makes the Buick Encore.
Cox Automotive anticipates trucks, vans and heart-of-the-market SUVs will do best as U.S. auto sales recovery. Subcompact and compact cars, along with subcompact SUVs, will struggle the most since typically they are purchased by the least credit-worthy consumers.