Commentary & Voices
Honda: Incentives Rise, Prices Drop and Sales Barely Increase in the U.S.
Thursday February 6, 2020
Article Highlights
American Honda ekes out a 1% sales increase in its latest quarter.
Incentives hiked substantially to the highest level in for a third quarter in the past five years.
Average transaction prices decrease for both Honda and Acura brands.
UPDATED, Feb. 14, 2020 – Honda reported a decline in quarterly operating profit due to falling sales, higher research and development costs and fluctuating foreign exchange rates. Despite the downturn for the quarter, Honda raised its profit forecast for the full fiscal year, which ends March 31, though it expects lower global sales.
_________________________________________________________________________
Honda Motor Co. reports earnings Friday, Feb. 7, in Japan for the quarter that closed at the end of the year, which is Honda's third since its fiscal year closes at the end of March. In the U.S., one of the Japanese automaker's largest markets, the automaker boosted incentives and eked out a tiny sales increase last quarter at the expense of lower transaction prices, according to Cox Automotive.
American Honda, which sells the Honda and Acura brands, gained market share for the company overall and the individual brands, according to Cox Automotive. Honda brand sales were up 1%, while Acura sales were flat.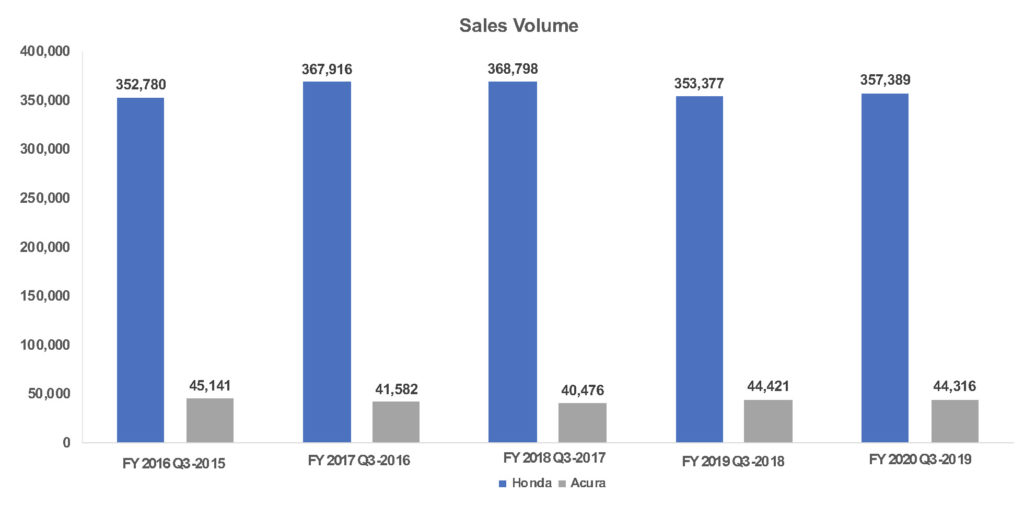 Three models – Accord, Civic and CR-V – account for over 66% of Honda brand sales. In line with the shrinking midsize sedan market, Accord sales plummeted nearly 17% in the quarter. Civic sales were flat, and CR-V sales were up a scant 2% as the compact utility market gets more crowded with new and redesigned entries. Sales of the aged Pilot were also down though the midsize SUV market in which it competes was up. Sales of the small, affordable Fit and HR-V skyrocketed, but not enough to make up for the loss of Accord sales.
Acura's highest-volume RDX SUV had sales down nearly 6%. The second-highest volume model, the MDX SUV, had a 3% sales increase. Sales of the Civic-based ILX soared close to 32%, but on a small base – just shy of 4,000 units for the quarter. TLX sedan sales were up barely 1%.
American Honda, which always offers among the lowest incentives in the industry, boosted them by a hefty 17.7% in the quarter to an average of $2,440 per vehicle, according to Kelley Blue Book. Though relatively low compared to the industry average, the automaker's incentives were the highest level in five years of its third quarters.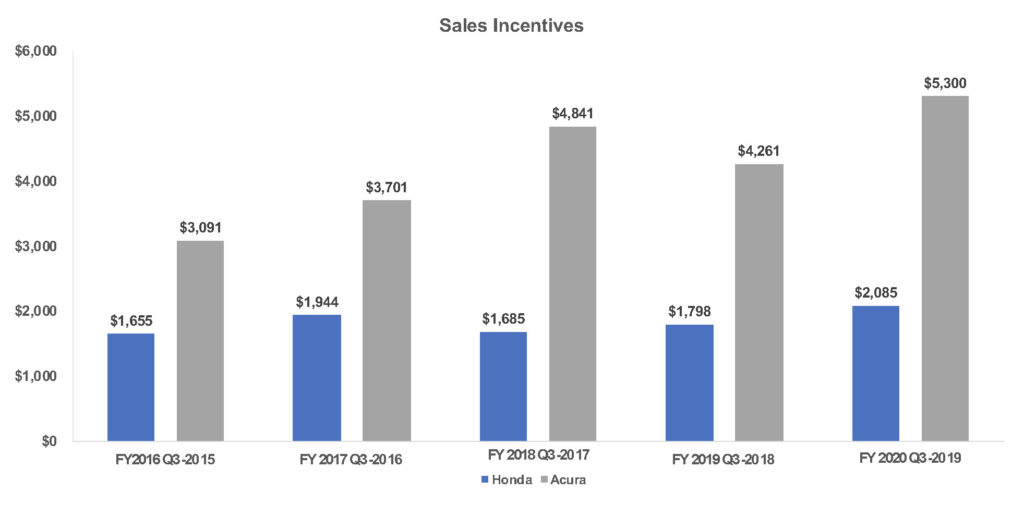 Acura hiked incentives a beefy 24% to an average of $5,300 per vehicle, the highest level in five years by nearly $500, according to Kelley Blue Book. Honda brand incentives also hit a five-year high for the quarter, up 16% to $2,085.
Acura's ATP dropped 5% to an average of $40,324 per vehicle, while Honda's ATP slipped 2% to an average of $27,676 per vehicle.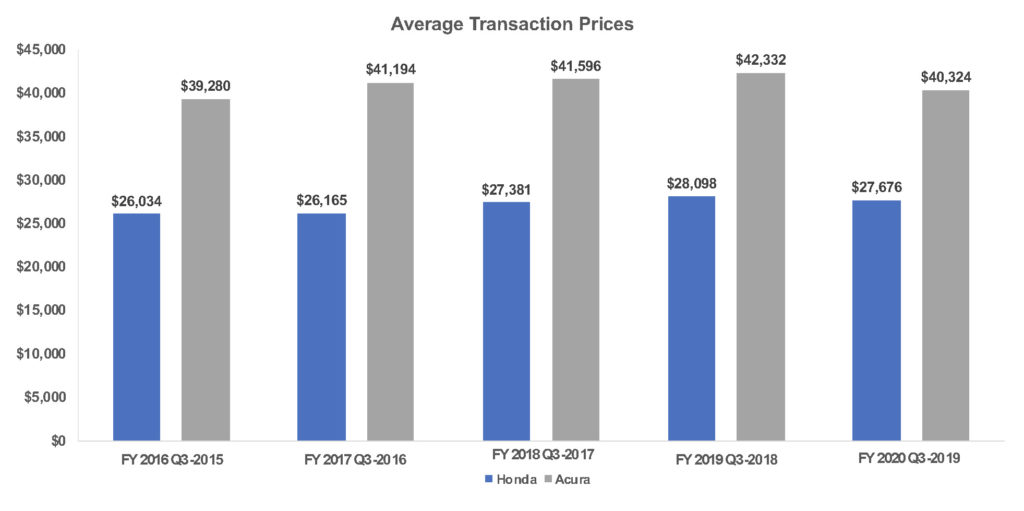 Combined, American Honda's overall Average Transaction Price (ATP) dipped 2% to an average of $29,071 per vehicle, according to Kelley Blue Book.