CAMIO
In 2022, Low Inventory and High Prices Contributed to Growing Frustration with Car Buying Process
Wednesday June 7, 2023
Results from the 2022 Car Buyer Journey Study provide a useful backdrop for much of the data and trends presented in the 2023 Cox Automotive Market Insight & Outlook (CAMIO) report. In other words, to better understand the 2022 data sets, it helps to understand how the data impacted the consumer experience.
Since 2009, Cox Automotive's annual Car Buyer Journey Study has offered a comprehensive look at the overall vehicle buying process in the United States. The annual study provides a holistic view – the journey through researching, shopping and the many purchase steps required to complete the deal – for both new- and used-vehicle buyers, and also includes research among dealership staff and management.
The 2022 Car Buyer Journey Study was created by surveying more than 10,000 consumers who were in the market for a vehicle in 2022 – 4,150 vehicle shoppers and 6,118 vehicle buyers. As part of the process, dealers were also surveyed. The average new-vehicle buyer in 2022 was well aligned with the population, about an even split of Female (51%) and Male (49%), and an average age of 50 years old – new buyers at 51 and used buyers at 49. However, most vehicle buyers in 2022 had household incomes above the population norm: 67% of new-vehicle buyers had incomes over $75,000, while 55% of used-vehicle buyers were in the over $75,000 bracket.
As apparent throughout the CAMIO report, inventory levels were a key driver of the market in 2022, and inventory levels impacted vehicle buyers as well. The research shows that satisfaction with the car buying process declined in 2022 for the second straight year.
Vehicle buyers were generally frustrated with high prices, limited availability, and the amount of time required to complete the process. Used-vehicle buyers, who are often more price sensitive and face higher interest rates, were particularly unsatisfied with the experience in 2022.
According to Cox Automotive research, 61% of vehicle buyers in 2022 were highly satisfied with the process, down from 66% the year earlier and well below the peak of 72% in 2020. Results in 2022 were generally in line with pre-pandemic levels. Satisfaction for new-vehicle buyers declined only modestly to 70%, down from 71% in 2021, while satisfaction among used-vehicle buyers fell significantly. In 2021, 65% of used-vehicle buyers noted they were highly satisfied with the process. In 2022, the percentage dropped to 58%.
Highly Satisfied with Overall Shopping Experience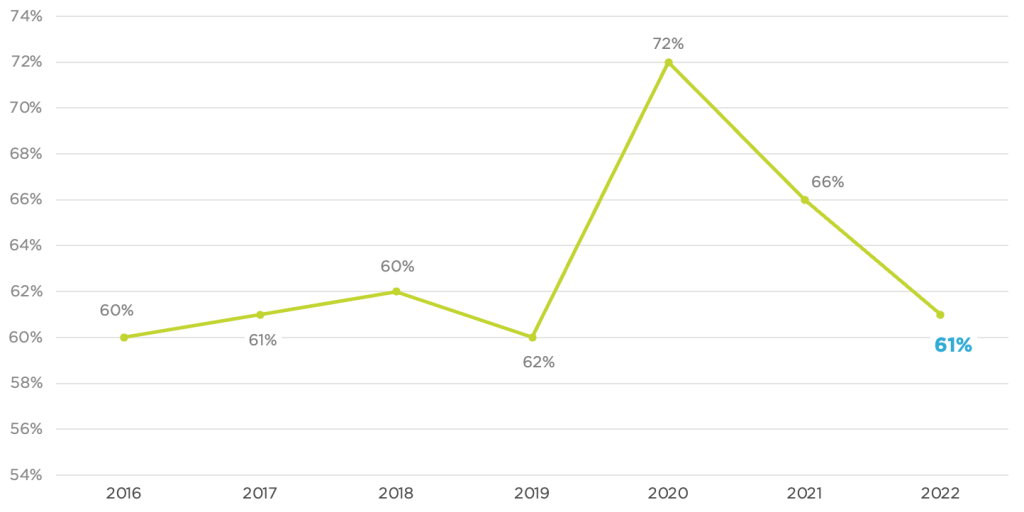 The drop in satisfaction was driven by three main factors:
Time spent: The time spent in the vehicle buying process jumped significantly in 2022, with the typical vehicle buyer reporting the process took 14 hours and 39 minutes, up from 12 hours and 27 minutes in 2021, an increase of 18%. Time spent online shopping and researching vehicles increased by more than 1 hour compared to 2021, while time at the dealership increased by approximately 20 minutes.

Limited inventory: In 2022, the shopping experience became less about finding the PERFECT vehicle and more about finding ANY vehicle. More than half of the vehicle buyers in 2022 who reported limited inventory said that was a key driver of the increased time spent researching and shopping online. A record share of shoppers also considered BOTH new and used vehicles last year: 64%, which is up significantly from 55% in 2021.

High prices: Record high prices were commonplace in 2022, and buyers were negatively impacted. In 2022, 54% of buyers found prices to be higher than expected, compared to only 31% in 2021. And 63% of these buyers paid more than they intended for a vehicle, compared to 48% the previous year. For all buyers, satisfaction with the price paid declined as well, to 48%, down from 63% in 2021.
Due mostly to new-vehicle inventory shortages, vehicle buyers were far more likely to have pre-ordered last year. Nearly 1 in 5 new vehicle sales in 2022 were pre-ordered vehicles, an 89% increase year over year. More dealers offered this solution, and 74% of consumers who pre-ordered indicated they chose that route to get the key features they wanted and exclude those they didn't. Further, most consumers (79%) who ordered vehicles were generally more satisfied with the experience compared to a previous experience of buying off the lot.
For more information about the 2022 Cox Automotive Car Buyer Journey Study, read the press release or contact a member of the Cox Automotive Corporate Communications team.