Commentary & Voices
Insights from Cox Automotive on Ford's Fourth Quarter Earnings
Tuesday January 22, 2019
Ford Motor Co. reports fourth-quarter and full-year 2018 earnings Wednesday after the stock market closes.
Late last year, Ford lowered its earnings guidance for 2018, in part, due to aluminum and steel tariffs adding $1 billion in cost. Ford has also had its own struggles with sales and market share declines.
In addition to examining financial results, we'll be listening on the analysts call for details regarding Ford's $11-billion restructuring as well as cost-cutting efforts in Europe and other overseas markets. We'll also pay attention to any details Ford shares on its recently announced collaboration with Volkswagen.
Here are some data points from Cox Automotive on Ford's fourth quarter.
Q4 sales and market share: The automaker's U.S. market share fell 1.2 percentage points from the year-earlier fourth quarter, with the decline coming exclusively from the Ford brand, which has an aged and shrinking product line.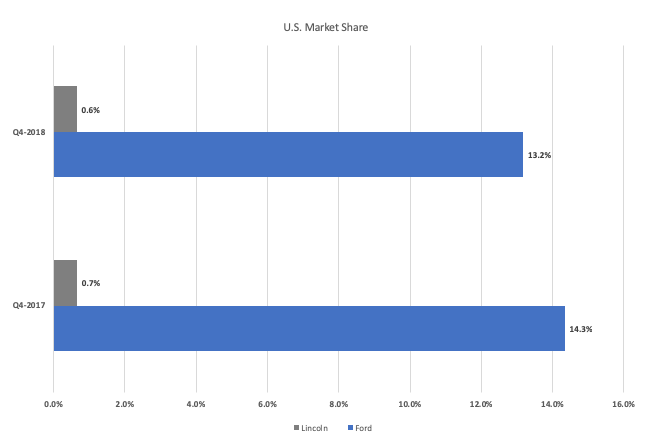 Ford announced in 2018 it would eliminate some car models. The Focus and C-Max ended production in 2018. The Ford Fusion sedan will be dropped from the mix though Ford has not announced an end date.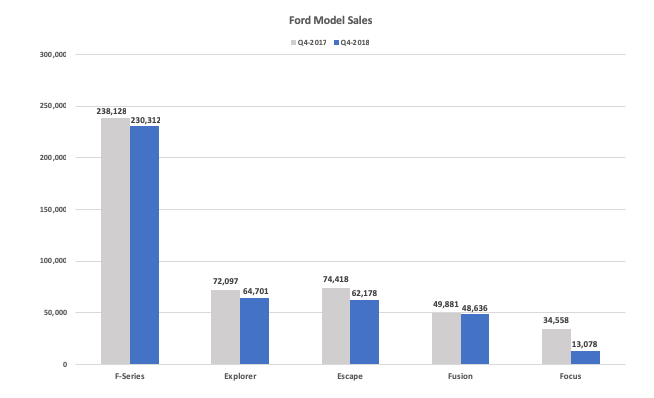 Q4 incentives and transaction prices: Ford's incentive spending at year-end was down from Q4 2017 but still elevated compared with earlier fourth quarters as it faces increased competition for its dated products. Ford's average transaction prices softened as well. The F-Series average transaction, while still near $50,000, dipped some, likely due to competition from freshened pickup trucks from General Motors and Ram. The bright spot for pricing was at Lincoln, where average transaction surged, due to the new Navigator and Nautilus, which have moved upscale and are in high demand.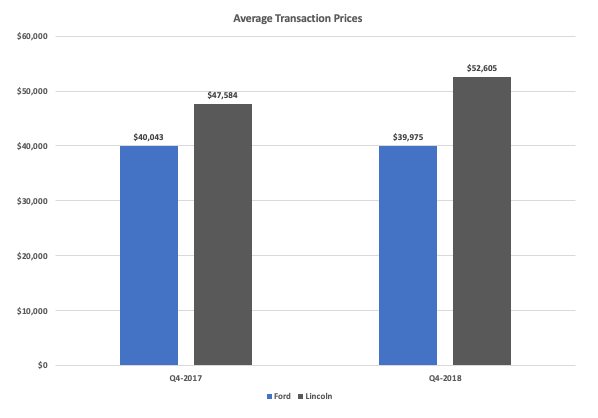 Looking ahead: Ford introduces some extremely important products in 2019. The midsize Ford Ranger pickup truck landed at dealerships this quarter after an eight-year hiatus. The new Ford Explorer and Ford Escape go on sale later this year. They are Ford's highest volume models after the F-Series pickup trucks, and sales of both utilities were down in the fourth quarter. Lincoln starts selling the Aviator after launching the Nautilus last year.