Data Point
Inventory Builds as Sales Slow, but List Prices Keep Climbing
Wednesday December 9, 2020
Article Highlights
New-vehicle inventory built to 2.87 million for a 75 days' supply.
Average list price is edging closer to $40,000.
Toyota, Lexus have the lowest inventories.
With factories back to nearly full production and sales slowing, new-vehicle inventory climbed during November though it remains below normal, according to a Cox Automotive analysis of vAuto Available Inventory data. List prices also rose.
---
$39,953
Average List Price
---
The total U.S. supply of available unsold new vehicles stood at 2.87 million as December opened. That is up from 2.67 million at the start of November but is well below last year's 3.56 million vehicles.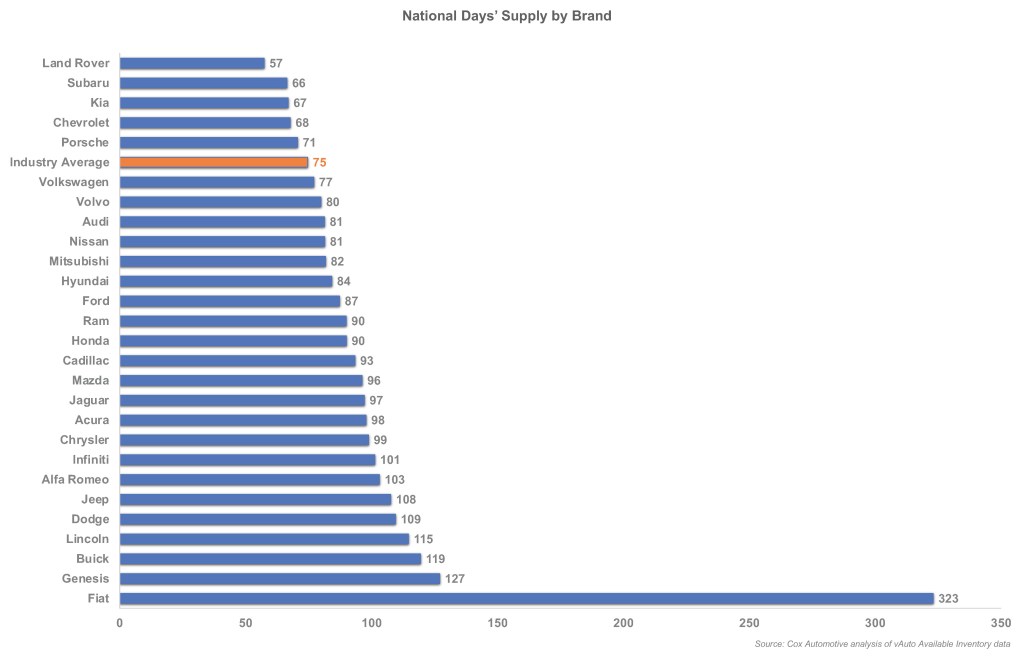 "The summer supply crunch has now passed, but inventory levels remain very tight compared to last year," said Charlie Chesbrough, Cox Automotive senior economist. "Total supply is up 18% from the early September low, but it still remains 19% below last year's volume level.
The month opened with a days' supply of 75, up from 65 in early November but off from last year's 88. Non-luxury vehicle inventory was at 75 days' supply. Luxury vehicle inventory was at 71 days' supply. The Cox Automotive days' supply is based on the daily sales rate for the most recent 30-day period.
Despite rising inventories and softening sales, list prices continued to climb, nearly hitting the $40,000 mark for the first time. To be precise, the average list price stood at a record $39,953, up from $39,346 in early November and 5.6% higher than the same week a year ago.
The year's low point was $37,211 in March, at the height of pandemic-triggered lockdowns. The average list price of a non-luxury new vehicle was $36,660 in November. The average list price of a luxury vehicle was $57,222.
"Vehicle list prices continue to rise and are likely to pass $40,000 before the year is up," said Chesbrough. "The sales mix of fewer cars and more utility vehicles is helping to lift the average list price. However, other factors are also contributing. The pandemic recession has impacted lower-income workers substantially, removing many of them as new-vehicle buyers this year, and leaving only higher-income shoppers who are buying more expensive models."
In addition, Chesbrough noted, the 2021 models are finally arriving at dealerships in significant numbers. "The model-year rollover was significantly disrupted over the spring and summer as factories and offices closed," he said. "However, the production and distribution of model year 2021 vehicles has since recovered and is now nearly at the same levels as last year."
Of all available inventory, 53% is model year 2021, which is close to the 54% of the new model year offerings available a year ago at this time, Cox Automotive data shows. The fresher models garner high prices, pushing the average list price higher.
Small, low price equals high inventory
The heftiest inventories once again were in the lower-priced categories. Vehicles priced under $20,000 had an 89 days' supply. Those priced between $20,000 and $30,000 had an 84 days' supply. In contrast, all other price segments had inventory levels below the total industry's 75 days' supply.
By segments, cars – subcompact, compact, midsize and full-size – had inventory above the industry's 75 days' supply. Subcompact utilities and minivans had higher-than-average inventory as well. EVs and other alternative energy vehicles, along with uber-luxury vehicles, had days' supply in the triple digits. However, those segments tend to be low volume, causing outsized swings in days' supply.
Pickup trucks as well as midsize and full-size SUVs – luxury and non-luxury – had the lowest inventories.
General Motors' just launched its redesigned large SUVs – Chevrolet Suburban and Tahoe, GMC Suburban and Yukon and Cadillac Escalade. They have among the lowest supplies in the full-size SUV segment. In the midsize SUV segment, Kia Telluride has about the lowest inventory at a 20 days' supply. Its sibling Hyundai Palisade has only a 36 days' supply.
Inventory of pickup truck remains below the industry average. Full-size pickup truck inventory was at a 64 days' supply, up from 56 going into November. Supplies of Toyota Tundra were particularly low at under 40 days. Chevrolet Silverado and GMC Sierra are around 50 days' supply or less, depending on the model. Ford has a decent supply of the F-150, which is about to go on sale in redesigned form, at a 79 days' supply. Ram has an overabundance of the 1500 Classic at 120 days' supply and 89 days' supply of the newest 1500. Ram's hefty supply could lead big incentives to move it.
Midsize pickups had a 53 days' supply, up from 46 days' supply. The segment-leading Toyota Tacoma had less than a 30 days' supply. The Chevrolet Colorado was at 45 days' supply and its sibling GMC Canyon at 56. Ford Ranger was at 69 days' supply. Jeep Gladiator pulls up the segment average with more than 100 days' supply.
Toyota, Lexus have lowest stock
Toyota and its Lexus luxury brand continued to have the lowest inventories among mainstream brands. Toyota and Lexus outperformed the industry in industry sales.
Toyota brand, which had November sales even with last November, was at 47 days' supply. Lexus had only 39 days' supply, which may account for the 7% sales dip in November. Across all models, the brand just didn't have much inventory to sell.
Other luxury brands continued to be low on stock as well, notably Mercedes-Benz, BMW and Land Rover.
Fiat, which sold a scant 1,100 vehicles in the entire third quarter, had a whopping 323 days' supply, the most of any brand by a long shot. A number of other brands had triple-digit inventories, including Buick, Dodge, Infiniti, Jeep and Lincoln. Inventory of pickup truck remains tight, well below the industry average.
Tags