Commentary & Voices
Inventory Isn't the Only Challenge in Automotive Right Now
Tuesday July 13, 2021
We find ourselves right in the middle of one of the most unusual automotive markets any of us can remember. Inventory shortages on the new and used car sides, along with the corresponding price increases, have been dominating the headlines. However, there's one area that's been deeply affected by COVID-19 that hasn't gotten a lot of ink: the cost and time it takes to transport vehicles.
Finished vehicle logistics is an integral part of the automotive ecosystem. In this case, finished vehicle logistics refers to getting new vehicles from manufacturers to dealer lots, as well as moving used vehicles between dealerships and wholesale auction locations, touching nearly two-thirds of all wholesale transactions. At Cox Automotive, our Manheim Logistics team touches approximately 10 million used vehicle moves each year between our Ready Logistics and Central Dispatch brands. And because of this, we're deep into analyzing the trends and solving the issues facing dealers and transporters today.
One of the biggest challenges with vehicle logistics right now is the smaller supply of carriers. Unlike in the freight space, where large transportation companies account for much of the business, vehicle logistics companies are typically smaller "mom-and-pop shops" with less than five vehicle carriers. Low volumes in the early part of the pandemic drove many of these shops out of business, and most of those haven't returned. While many of the larger transportation companies are attracting more drivers with higher wages, most of that talent is going to freight shipping/consumer goods since the driver's job is easier when delivering packages instead of vehicles.
Another major challenge is that the cost of transporting vehicles has noticeably increased. This is due to the limited carrier supply and higher (though still lower than average) volumes of vehicles that need to be transported right now. Add in the fact that short supply in the used car market is driving dealers to buy vehicles from further away via digital wholesale channels, and the recipe for logistics challenges keeps getting more complicated.
In 2021, we've seen the average distance of vehicle moves by dealers double, going from 225 miles in Q1 2020 to 455 miles on average in Q1 2021 and hitting 500 average miles in Q2 2021. And, a lot of the moves are smaller loads, with one or two vehicles per order, challenging carriers to build full loads and efficient routes. So that means that the cost of transporting vehicles is higher, and the time it takes for vehicles to get to their intended locations is lengthening.
Average Dealer Distance in Miles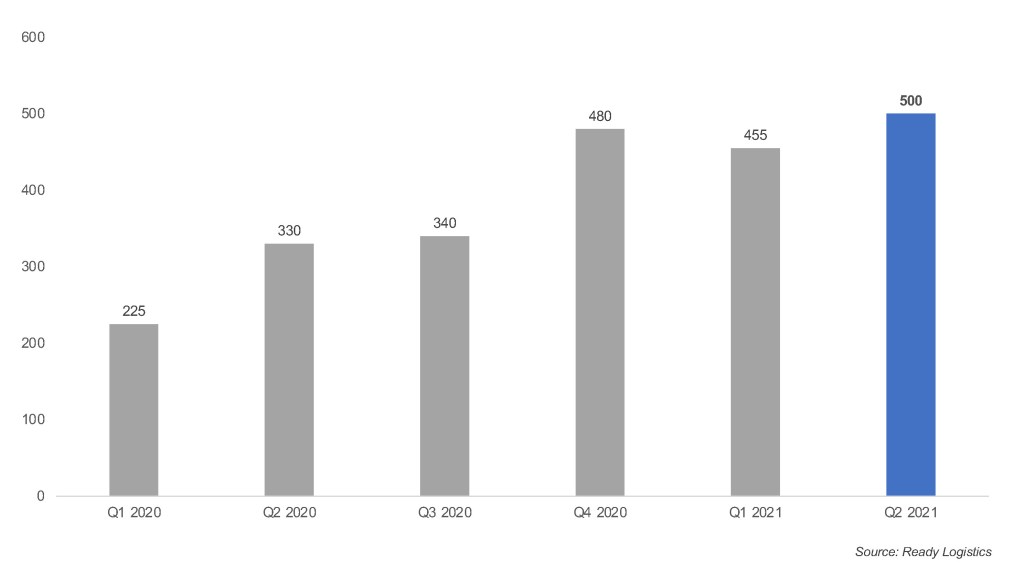 Top all of this off with higher diesel prices, which have increased more than 35%1 in the last year, and you can see why inventory shortages aren't the only challenges in automotive right now.
All of this is happening when volumes are suppressed because of the larger factors in the market, which is why Manheim Logistics is working hard to solve for them through digitizing the vehicle logistics process in partnership with DHL. We're building technology that can help transporters build fuller loads and better routes, so they can move more cars, more cost-effectively – and help keep dealer and auction lots stocked to meet demand.
---
Joe Kichler, vice president of Manheim Logistics, is responsible for overseeing business strategy and operations for Ready Logistics, a full-service transportation service, and Central Dispatch, a self-managed transportation solution. Together, these two leading brands offer Manheim clients a full range of transportation services to help them move vehicles more efficiently. Hear more from Kichler by listening to the Manheim Used Vehicle Value Index call replay.
---
1 U.S. Energy Information Administration data, https://www.eia.gov/petroleum/gasdiesel/