Data Point
New-Vehicle Prices Surge to Record Highs for Fifth Straight Month, According to Kelley Blue Book
Tuesday September 14, 2021
According to a new report from Kelley Blue Book, new-vehicle prices hit another all-time high in August 2021, marking the fifth straight record-setting month. At $43,355, the average transaction price (ATP) for a new vehicle was up nearly 10% ($3,789) from one year ago in August 2020, and up 1.6% ($685) from July 2021.
Yet the all-time-high prices also accompanied the fourth straight month of a slowed sales pace. After a frenzy of strong sales in the spring, the pace of automobile sales slowed again in August 2021 as car shoppers faced limited inventory, high prices and historically low incentives. In fact, total sales last month numbered just 1,092,302 – among the lowest monthly total in a decade – and at the lowest volume since April 2020, when the global COVID pandemic initially shut down U.S. businesses.
Incentive spending continued to fall as well, dropping to 5.6% of ATP last month, a decrease from 5.9% in July 2021 and well below the 10.1% of ATP recorded in August 2020. Porsche, Genesis, Land Rover and Subaru had among the lowest incentive spend last month, all less than 4% of ATP. On the other hand, Alfa Romeo, Buick and Infiniti each had incentive levels at more than twice the industry average.
Industry Average Transaction Price versus
Industry Average Incentive Spend as % of ATP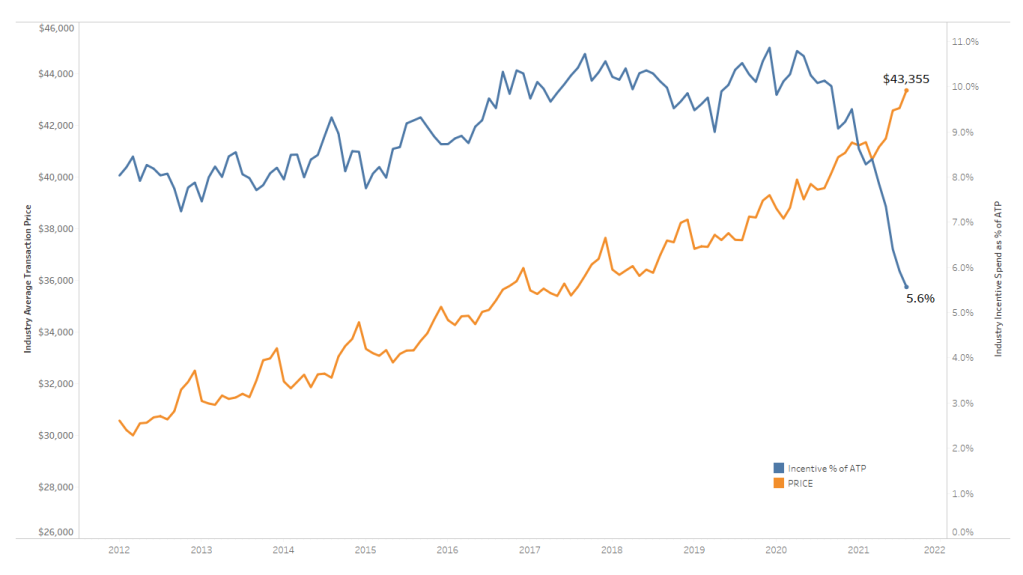 "The automotive industry is still reeling from the extraordinary circumstances of the last year and a half, setting new records seemingly left and right," said Kayla Reynolds, analyst for Cox Automotive. "With the ongoing inventory challenges that auto manufacturers are facing across the board, coupled with historically low incentive spending, car shoppers end up being the ones paying the price, quite literally. New-car prices just continue to climb, month after month."
ATPs in August were driven higher in part by strong luxury vehicle sales. Luxury sales accounted for 16.2% of the total market, up from 14.4% of total sales in August 2020. Car shoppers paid an average of $58,766 for a luxury vehicle last month. Further, many luxury brands, notably Acura, Cadillac, Genesis and Mercedes-Benz, achieved year-over-year ATP gains in excess of 20%. Cadillac, for example, saw ATPs jump up more than 32% last month, reaching $74,332. Consumers continue to pay near $100,000 for a new Cadillac Escalade, and more than 2,000 new Escalades were sold in August.
Tags