Data Point
New-Vehicle Prices Retreat From Record Highs But Remain Well Above MSRP, According to Kelley Blue Book
Tuesday February 8, 2022
New-vehicle average transaction prices (ATPs) decreased to $46,404 in January 2022, according to new data released today by Kelley Blue Book, after reaching a record high in December 2021. Prices fell 1.8% ($839) month over month mostly due to fewer luxury vehicles being sold in January, but prices remain elevated compared to one year ago, up 12.5% ($5,155) from January 2021. With new-vehicle supply holding steady at the same level since Thanksgiving and customer demand remaining strong, dealers continue to hold prices at or above the manufacturer's suggested retail price (MSRP).
NEW-VEHICLE AVERAGE TRANSACTION PRICE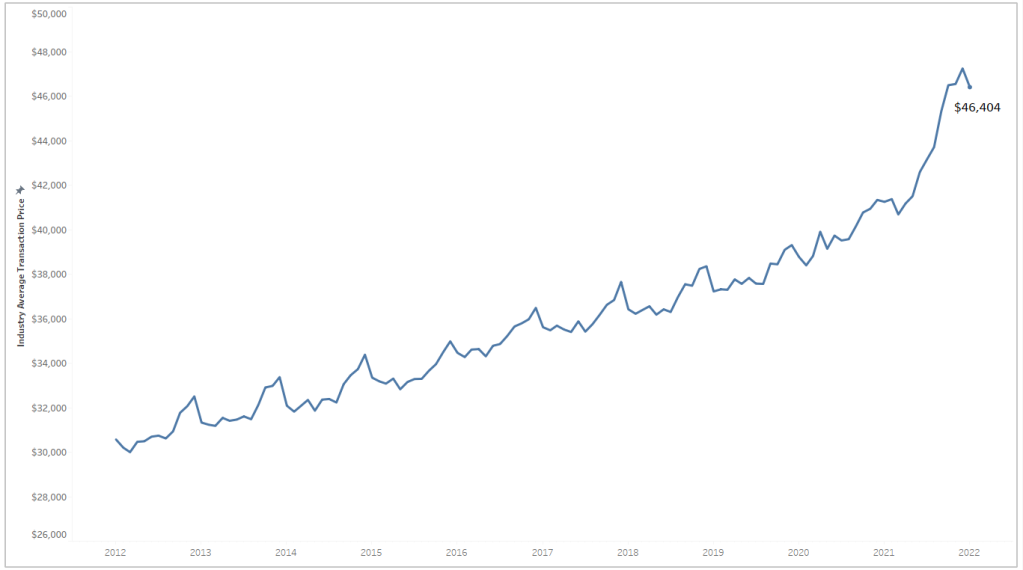 "The surge in new-car prices appears to have peaked," said Michelle Krebs, executive analyst for Cox Automotive. "Yet, while we expect vehicle supply to improve, it will continue to be tight particularly through the first half of the year. Because of this, we expect prices to remain high for the foreseeable future, but car shoppers can rest assured, we don't anticipate a rapid increase in prices similar to 2021. Prices will likely remain elevated, but the relentless increases are in the rearview mirror."
PRICE CHANGE PERCENTAGE BY AUTOMAKER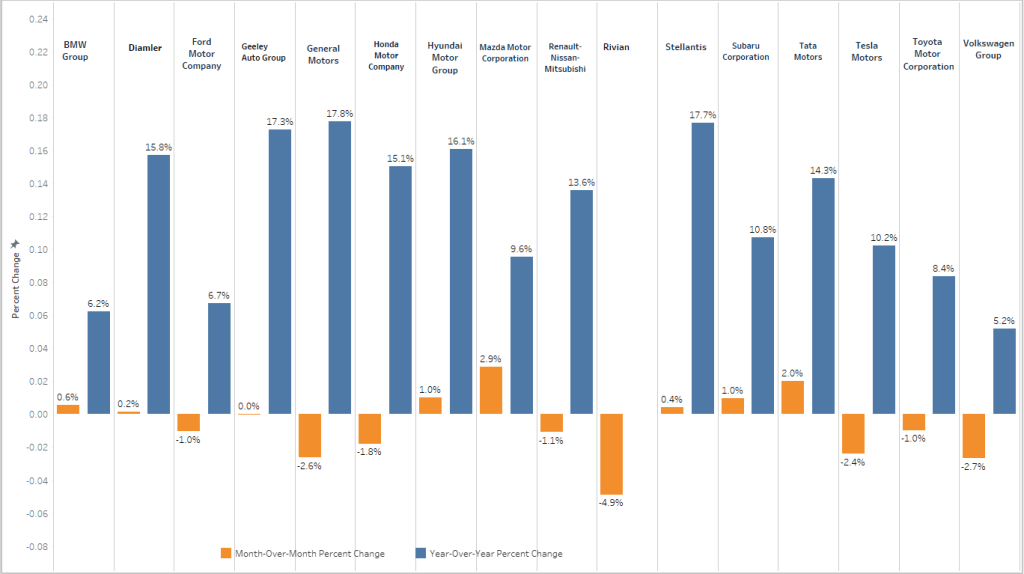 The average price paid for a new non-luxury vehicle last month was $42,859, down $294 and marking the third consecutive monthly decrease. However, while the average MSRP on a non-luxury vehicle has decreased over the past four months, car shoppers still are paying on average more than $900 above sticker price. Consumers have paid more than MSRP for each of the last eight months, whereas one year ago, non-luxury vehicles were selling for more than $1,600 under MSRP.
Luxury vehicle sales fell to 16.3% of total sales in January, down from 18.4% of total sales in December 2021, which helped to drive overall ATPs to a record high at the end of last year. In January 2022, the average luxury buyer paid $64,635 for a new vehicle, down $804 month over month but still more than $1,300 above sticker price. For comparison, luxury vehicles were selling for more than $2,400 under MSRP one year ago.
New-vehicle average transaction prices dropped in all segments except vans in January 2022. With an ATP of $41,169, cars saw the largest price decrease of $1,263, followed by SUVs ($45,512 ATP) with a decrease of $913 and trucks ($54,331 ATP) with a $483 decrease. Meanwhile, vans increased by $1,308 to reach an average transaction price of $48,207 and had the lowest incentives (expressed as a percent of ATP) at 1.7%. Overall incentives continued to hold at the record low level of 3.9% set in December 2021.
INDUSTRY AVERAGE TRANSACTION PRICE VERSUS INDUSTRY AVERAGE INCENTIVE SPEND AS % OF ATP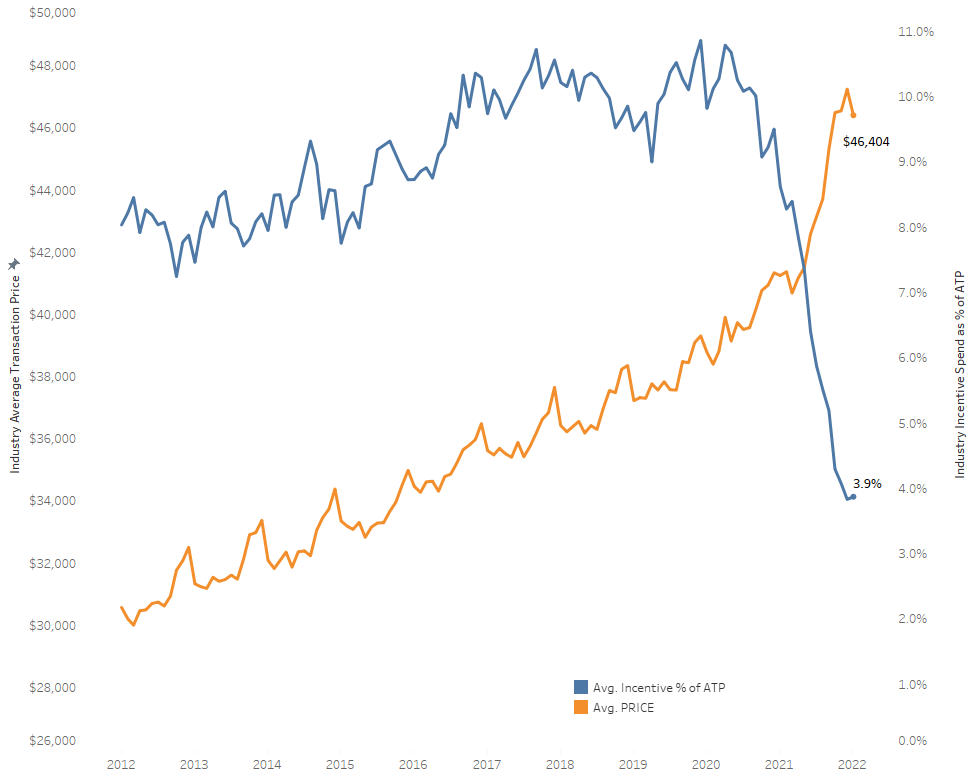 Tags