Data Point
Consumers Pay More for Both Non-Luxury and Luxury New Vehicles in October, According to Latest Kelley Blue Book Average Transaction Price Data
Wednesday November 9, 2022
Article Highlights
October 2022 average new-vehicle transaction prices (ATPs) increased from September and remain elevated at well above sticker price.
Luxury share remains at nearly 18% of total sales, pushing up the overall industry ATP.
On average, non-luxury vehicle buyers paid $690 above sticker price in October, a decrease from September.
ATLANTA, Nov. 9, 2022 – The average price paid for a new vehicle in the United States in October 2022 was up from September and remains above the $48,000 mark, according to data released today by Kelley Blue Book, a Cox Automotive company.
The Kelley Blue Book new-vehicle average transaction price (ATP) increased to $48,281 in October, slightly lower than the revised all-time high of $48,301 set in August. October 2022 prices rose 0.2% ($187) month over month from September and were up 3.8% ($1,775) year over year from October 2021.
NEW-VEHICLE AVERAGE TRANSACTION PRICE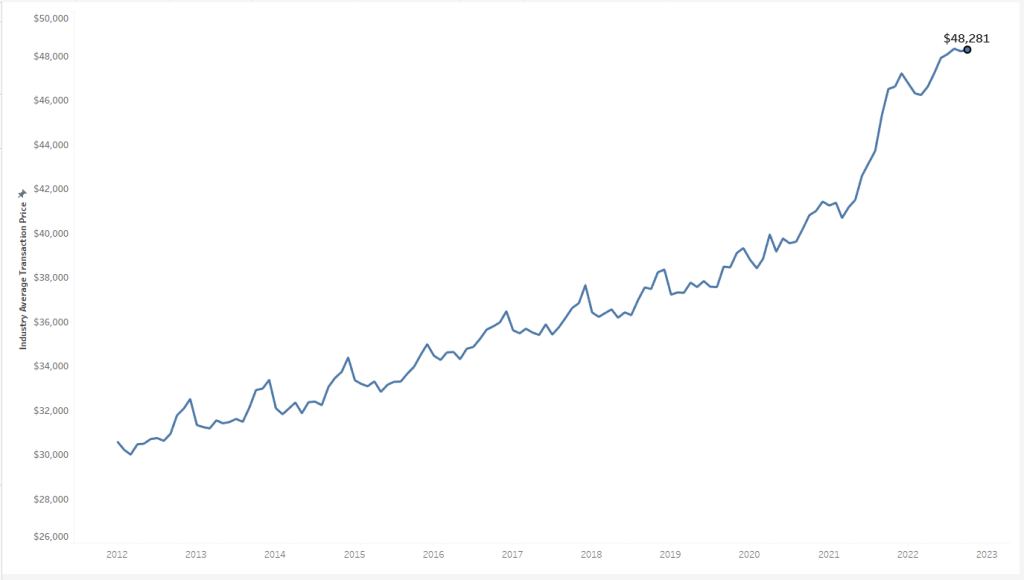 According to Kelley Blue Book calculations, October marks a record 17th straight month that new-vehicle ATPs were higher than the average manufacturer's suggested retail price (MSRP), also known as the sticker price.
"The sales and transaction data from October clearly indicates that there are plenty of flush-with-cash buyers with strong credit still in the market and paying top dollar for new vehicles," said Rebecca Rydzewski, research manager of economic and industry insights for Cox Automotive. "Automakers and dealers continue to hold back on incentives as well. In all, inventory is improving, but prices remain stubbornly high."
According to Cox Automotive estimates, new-vehicle inventory is steadily improving, though some brands have a noticeably larger supply than others. "If consumers are flexible on make and model, it will be possible to find a good deal at year-end sales events," added Rydzewski.
Average Prices for Luxury Cars Increase from September
Strong luxury vehicle sales have been a primary reason for overall elevated new-vehicle prices. Luxury vehicle share remains historically high, slightly decreasing to 17.8% of total sales in October from 17.9% in September. The high share of luxury sales helps to push the overall industry ATP higher.
In October 2022, the average luxury buyer paid $66,645 for a new vehicle, up $331 from September when luxury ATPs reached $66,314. Buyers continue to pay more than MSRP for new luxury vehicles, although prices are trending closer to or below sticker prices in some luxury segments.
BMW and Porsche showed the most price strength in the luxury market, transacting between 3% to 5.5% over sticker price last month. Luxury brands Acura, Cadillac and Mercedes-Benz showed the least price strength, selling 1% or more below MSRP in October.
Average Non-Luxury Car Prices Increase and Remain Above Sticker
The average price paid for a new non-luxury vehicle in October was $44,288, up $142 month over month. On average, car shoppers in the non-luxury segment paid $690 above sticker price, a slight decrease from September.
Most non-luxury brands had stable pricing or declines in October. Honda, Hyundai and Kia showed the most price strength in the non-luxury market, transacting between 4% to 8% over sticker price last month. Meanwhile, Buick showed the least price strength, selling 1% or more below MSRP in October.
PRICE CHANGE PERCENTAGE BY AUTOMAKER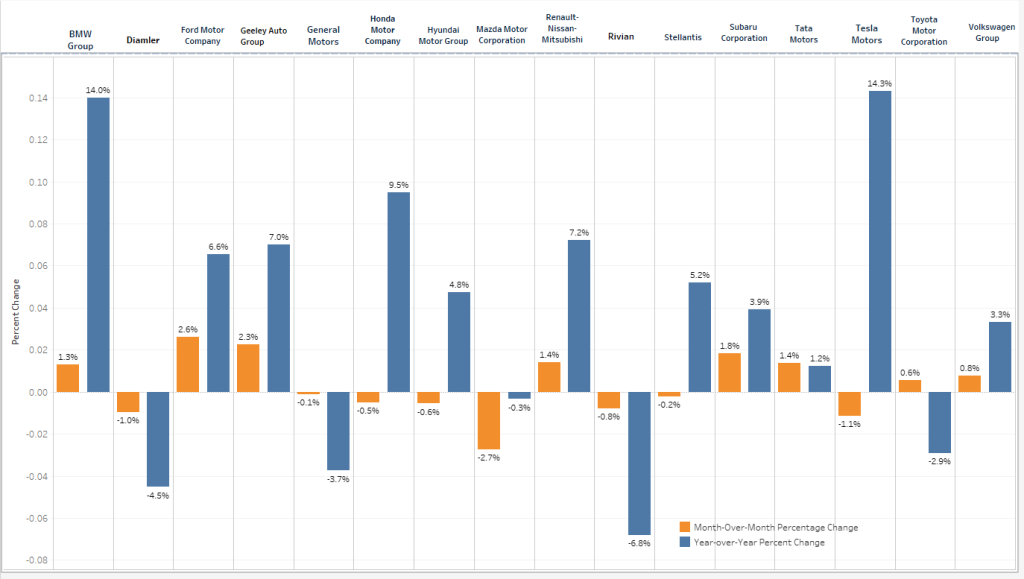 Electric Vehicle Prices Declined in October but Remained Up Compared to One Year Ago
The average price paid for a new EV declined in October by $2,286 (or down 2.3%) compared to September but was up by 7% compared to a year ago in October 2021. The average new EV price was $64,249, according to Kelley Blue Book estimates, well above the industry average and aligning more with luxury prices versus mainstream prices.
Auto Incentives Offered by Manufacturers Remain Historically Low
Incentives remained stable in October 2022 at 2.1% of the average transaction price. One year ago in October 2021, incentives averaged 4.3% of ATP. Luxury cars had the highest incentives in October at 4.4% of ATP. Meanwhile, high-performance cars, vans, minivans and luxury full-size SUVs/crossovers had the lowest incentives, all less than 1% of ATP.
INDUSTRY AVERAGE TRANSACTION PRICE VERSUS INDUSTRY AVERAGE INCENTIVE SPEND AS % OF ATP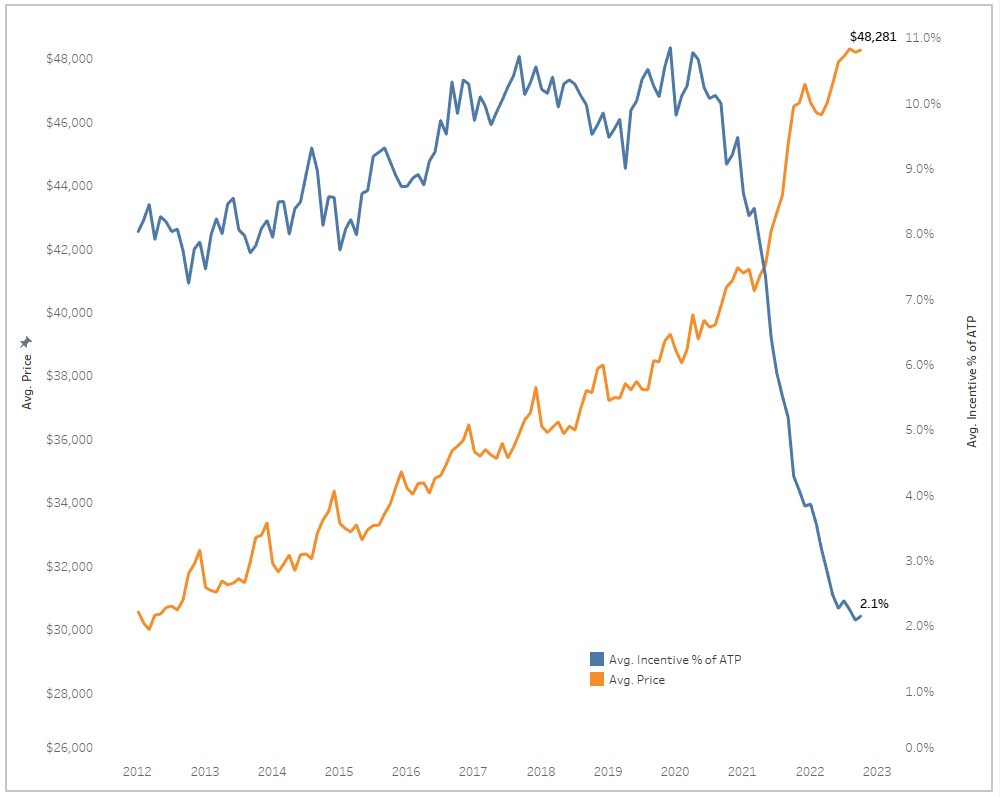 Tags