CAMIO
Loan Defaults and Repossessions Returned to Historical Norms in 2022
Wednesday June 7, 2023
In 2022, the Federal Reserve's efforts to combat inflation by raising rates put significant pressure on households, particularly those with lower incomes. The impact of higher interest rates on credit-card balances and adjustable-rate loans was felt by those already struggling with rising costs of energy, food, and shelter. As expected in a typical economic cycle, auto loan delinquencies, defaults, and repossessions increased during this time.
Despite the increase in auto loan delinquencies, the overall default rates in 2022 remained low compared to 2019. This was partly due to the high value of used vehicles, which provided consumers with more options to catch up on their payments. Additionally, the share of subprime and deep subprime loans, which are considered the riskiest and account for the majority of repossessions, has decreased in recent years, further reducing the risk of defaults and repossessions. Overall, the current loan portfolio is relatively healthy, reflecting a higher average credit consumer in the mix. As interest rates rose last year, fewer parties took out a loan to finance a vehicle purchase, keeping the overall loan base in line with levels seen over the last few years. These factors indicate that the industry is not facing an unprecedented wave of defaults and repossessions.
While the volume of repossessed vehicles at Manheim auctions increased by nearly 11% in 2022 compared to the previous year, it still remained below the levels seen in 2020 and was more than 25% lower than the volume in 2019. Considering that repo check-ins were at an all-time low in 2021, the increase in 2022 was expected and not alarming.
REPO CHECK-IN INDEX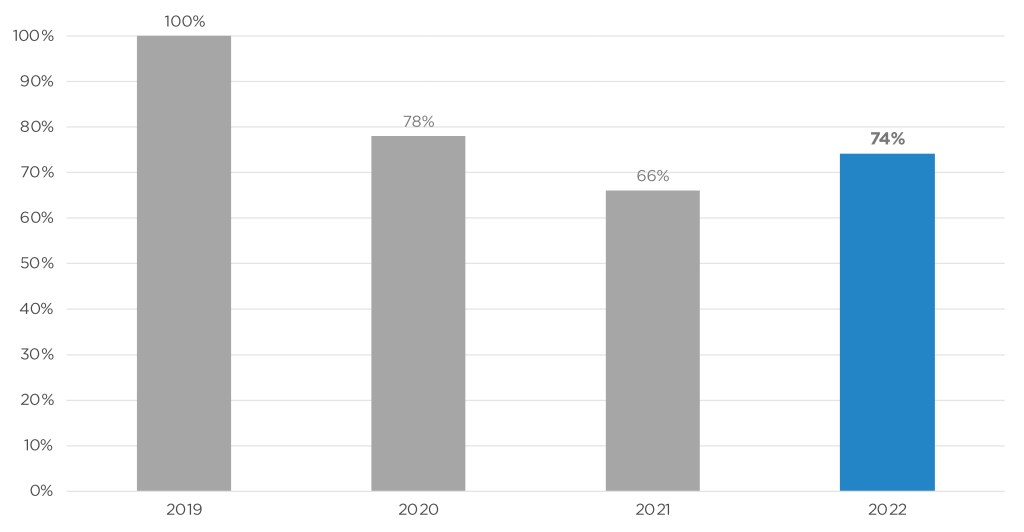 Historical data reveals that auto loan defaults have generally been higher than repossession volumes, with around 20% of defaulted loans not resulting in repossession. Despite higher loan delinquency rates during 2022, the overall default rates in the year were still lower compared to 2019.
AUTO LOAN DEFAULT AND REPOSSESSION RATES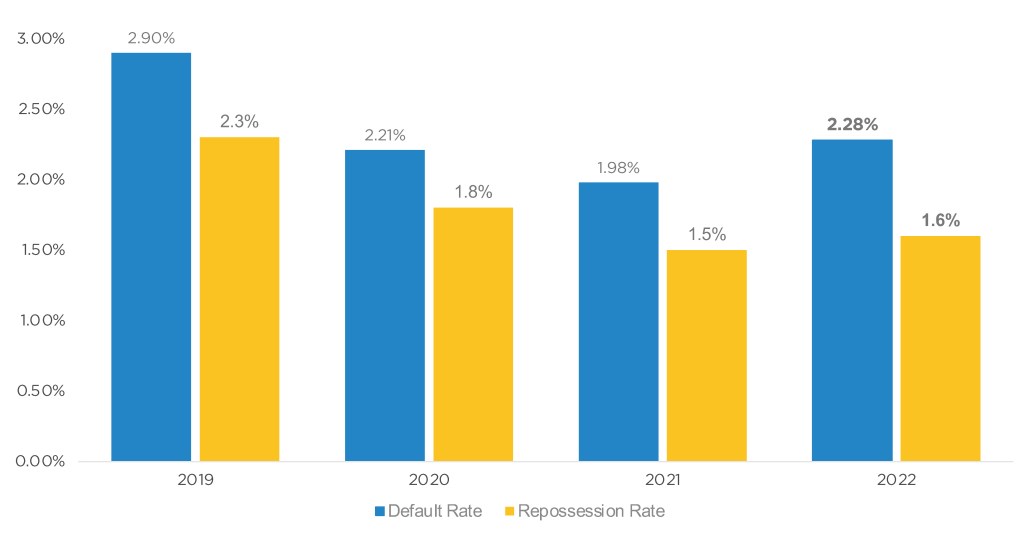 When analyzing and forecasting auto loan defaults and repossessions, it is crucial to consider the unemployment rate and changes in household incomes. During the Great Recession, rising unemployment, falling incomes, and declining home values led to a sharp increase in loan defaults. In contrast, the initial rise in unemployment during the early months of the pandemic coincided with significant income gains and a decline in the auto loan default rate. In 2022, despite high inflation, the job market remained strong with unemployment very low, and household income experienced steady year-over-year growth. These factors helped keep loan defaults and repossessions below historic norms, even as volumes of both increased as the auto market normalized.
2022 MONTHLY REPOSSESSION VOLUME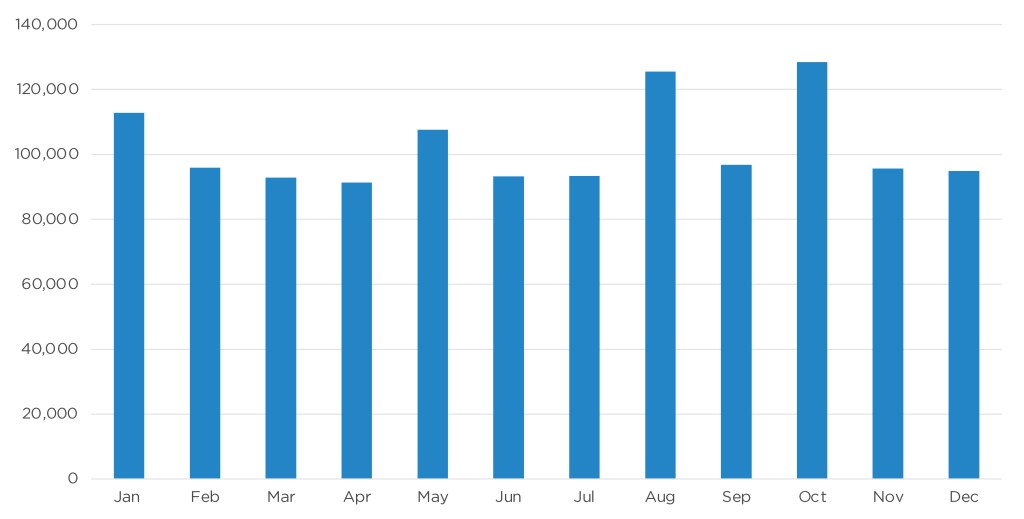 The Outlook: It is expected that defaults and repossessions in 2023 will continue to increase compared to 2022 but will not reach red-alert levels. The healthy job market, coupled with stronger consumer balance sheets and relatively stable vehicle values are expected to keep defaults and repossessions at relatively low levels. Long-term expectations through mid-decade (2025) suggest that defaults and repossessions will increase but remain within expected norms, especially as subprime share of the loan market stays lower.