Data Point
Low Inventories May Hamper June Vehicle Sales
Thursday June 11, 2020
Article Highlights
Vehicle inventory is far below last month and last year.
Low vehicle inventories could temper June-July sales.
Subaru, Kia, Toyota, GMC and Chevrolet have among the lowest stocks.
Another surprisingly strong month of sales in May, combined with the fact that auto assembly plants around the globe are still ramping up and not all are at full production, has left inventories low, especially for trucks and specific automotive brands, notably Toyota, according to a Cox Automotive analysis.
June sales have been relatively strong, according to Cox Automotive metrics, and low inventories could hamper June sales.
"Vehicle sales have been recovering since hitting bottom at the end of March," said Charlie Chesbrough Cox Automotive senior economist. "However, the recovery may be interrupted in June and July due to low inventory levels."
Chesbrough added: "Plants are just now getting up and running, yet demand has been improving for weeks. Sales might suffer if products aren't available to shoppers. At a minimum, buyers may not be able to be too picky about colors or trims."
The total number of unsold new vehicles in inventory closed May at about 2.6 million vehicles, down about 20% from 3.3 million in April and down 32% from last May's 3.9 million vehicles.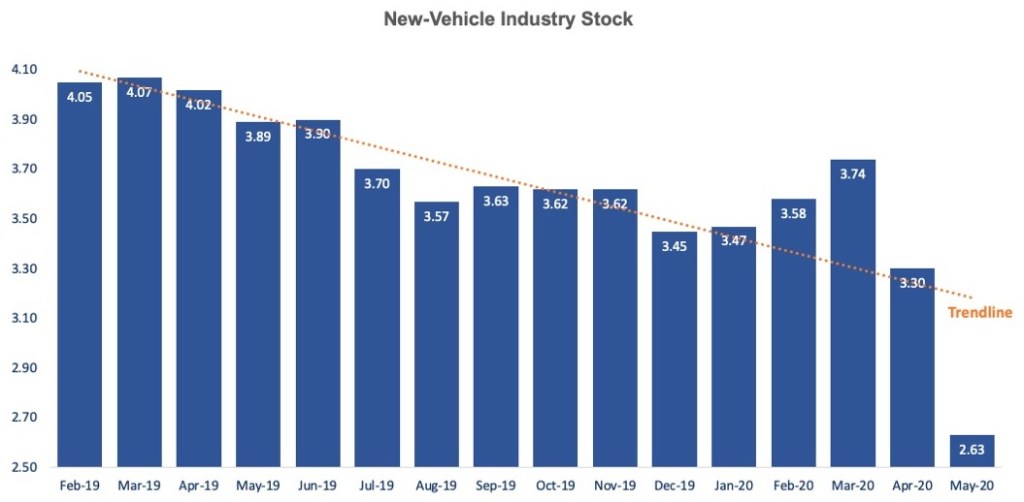 In terms of days' supply, which is calculated based on raw inventory and the daily selling rate, the month of May closed with 62 days' supply across the industry, with 60 to 70 days' supply considered ideal. That was down from 121 days' supply in April, which saw historically low sales, and 64 days' supply a year ago, according to a Cox Automotive analysis.
U.S. auto sales finished May at 1.1 million vehicles, Cox Automotive estimates. That was down 30% from a year ago, but up 57% from April.
Fleet sales, down 83%, accounted for the biggest hit in overall sales. Retail sales were down 16%.Fleet sales, down 83%, accounted for the biggest hit in overall sales. Retail sales were down 16%.
Trucks and SUVs accounted for an all-time high of 77% of all vehicle sales in May. That left inventory of light trucks – pickup trucks and SUVs combined – depleted. Combined, they were down to 61 days' supply, far less than ideal as automakers prefer a days' supply somewhat higher than the overall average for pickup trucks, because they come in so many configurations.
Every truck brand entered June with a skimpy supply. Toyota had the lowest. The Tacoma, never overabundant in inventory and always the sales leader among midsize trucks, was down to a minuscule 13 days' supply. The full-size Tundra was down to only 33 days.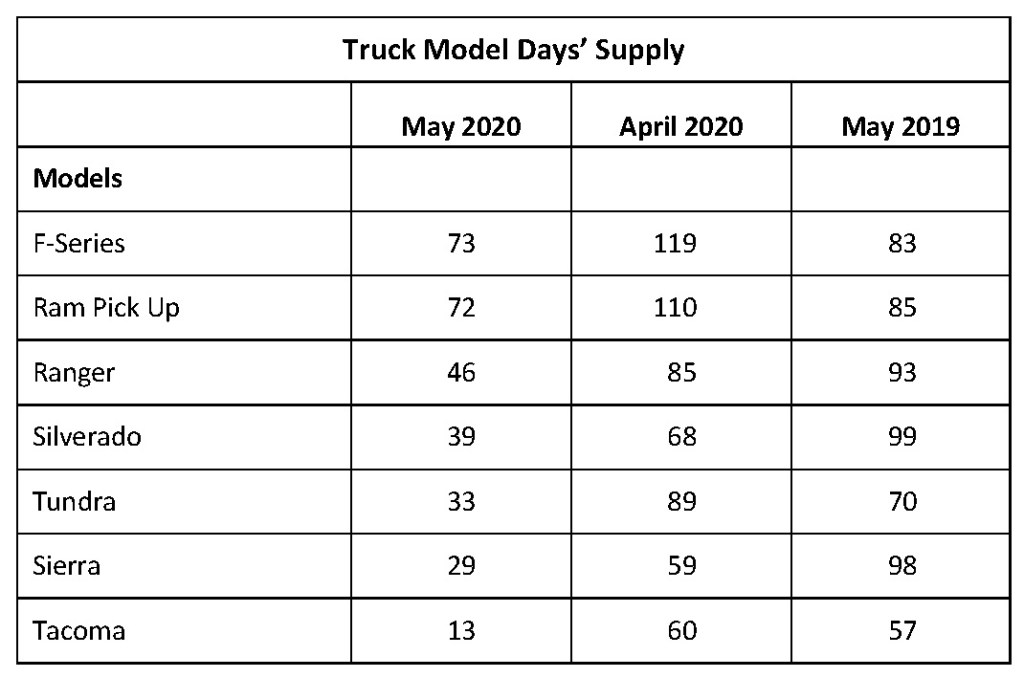 GM had booming truck sales in Q1, with the zero percent for 84 months financing promotion proving popular. It depleted GM's supply of the GMC Sierra, down to 29 days' supply at the end of May, and Chevrolet Silverado, down to 39 days' supply
Ram and Ford had days' supply just over 70, hardly abundant.
Truck supplies are likely to be tight for the short-term future. GM's plant in Mexico that makes pickup trucks has been slow to launch and remains on only one shift. Fiat Chrysler will be stopping a truck plant to add Jeep SUVs to the mix. Ford will be changing over to a redesigned F-Series, which will be unveiled next week and on sale by year-end.
In contrast, sales of cars in May accounted for a record low 23% of the total. That caused inventory of cars to edge higher to 65 days from last year's 54.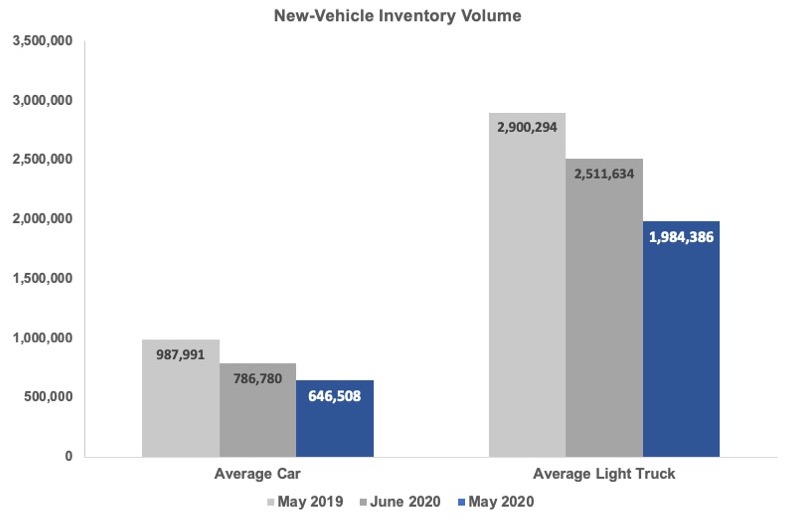 Generally, brands with a rich mix of pickup trucks and SUVs saw their inventories drained.
In May, Subaru returned to its traditional spot at the bottom in terms of inventory at a scant 37 days' supply, edging out Kia, after having the least amount of stock for the past two months, which had 41 days.
Toyota was the big surprise. Its days' supply stood at a mere 42 at the end of May. Toyota is ramping up production with some hiccups but is improving. Still, for every two vehicles Toyota sells, only one new one is being produced at the current rate of production. Toyota will provide an update on its production ramp-up next week.
In addition to scant supplies of trucks, Toyota is low on SUVs, including the newly redesigned Highlander and 4Runner. Even the supply of its high-volume cars, the Camry and Corolla, are low. Supplies are hefty of the Prius hybrid, celebrating its 20th anniversary this year, and Mirai, a low-volume fuel-cell car sold only in California.
The top-selling luxury brands – Mercedes-Benz, Lexus, BMW and Audi – all had very light inventory of vehicles. Many of their vehicles come from Europe, or, in the case of Lexus, Japan, where assembly plants produce vehicles for the whole world yet have been slow to ramp up. This year's much-coveted luxury sales crown could depend on which brand can produce vehicles to keep up with demand.
Of luxury brands, Cadillac and Jaguar had triple-digit days' supply.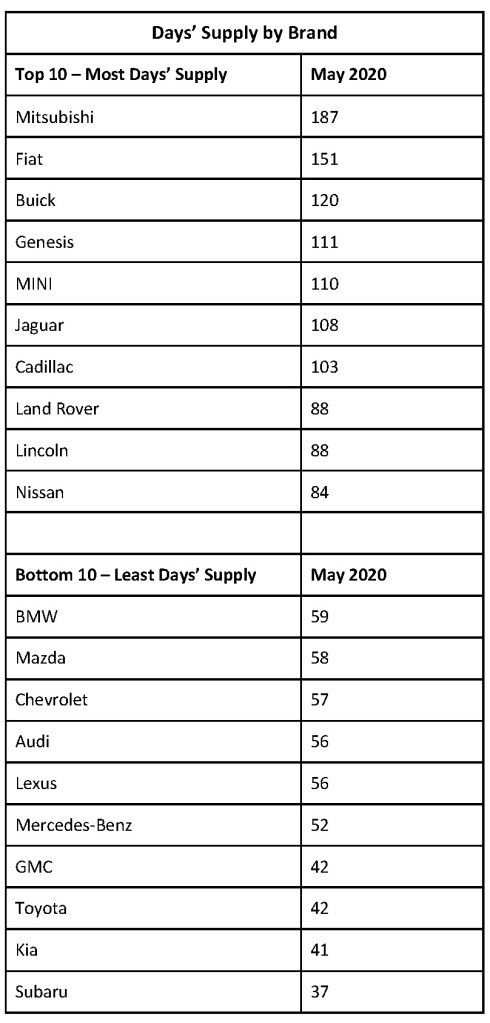 In total, only seven brands had days' supply in the triple digits, far fewer than in April. The brands with hefty inventories are the ones that have had slow sales and heavy inventories even before the pandemic: Mitsubishi, Fiat, Buick and Mini.
Tags