Commentary & Voices
New Form Online Retailers See Significant Rise in Shoppers
Monday February 28, 2022
The new used-car online retailers like Carvana, Vroom and Shift reported explosive revenue growth in the last quarter and for the full year of 2021. That comes as no surprise in that these so-called New Form Online Retailers (NFORs) also have experienced a steady and substantial rise in the number of shoppers visiting their websites.
One in four vehicle buyers visited a site like Carvana, Vroom and Shift in 2021, up dramatically from 17% in 2020 and only 3% five years ago when it all began, according to the most recent Cox Automotive Car Buyer Journey Study, which has tracked consumer attitudes toward the car-buying process.
Website Category Usage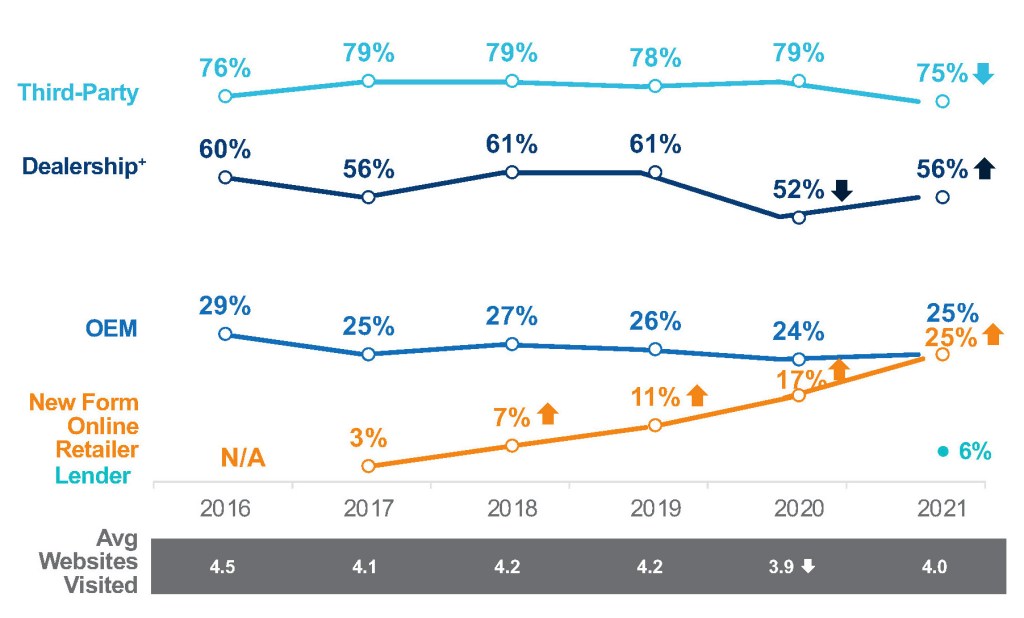 Among shoppers of only used vehicles, 29% visited these sites in 2021, a hefty gain from 20% in 2020. New-vehicle buyers also used the site as they looked at both new and used vehicles last year because of new-vehicle inventory shortages caused by the chip shortage. According to the Cox Automotive research, 56% of vehicle buyers looked at both new and used vehicles while shopping last year, virtually unchanged from 57% in 2020. Of new-vehicle buyers, 12% spent time on NFOR sites during their vehicle shopping time, up from 8% in 2020.
The reason for the growth in shopping and subsequent hefty revenues is the fact that the new form online retailers are delivering a car-buying process that consumers have wanted for years, based on the Car Buyer Journey Study done annually for the past 12 years. Their business models promise a completely digital transaction, which is the route more buyers want to take. In fact, it is the direction the entire industry is moving and, as a result, all vehicle buyers have been more satisfied with the car-buying process over the past two years than ever, according to the Cox Automotive Car Buyer Journey Study.
The success of the new form online retailers coupled with the pandemic, which forced more online shopping, has prompted new-vehicle dealers to accelerate their digital retailing effort. It has also caused automakers to develop their own used-vehicle online sites. General Motors recently announced CarBravo, which pull together used-vehicle inventory from participating dealers into a single, easy-to-navigate used-vehicle marketplace. The tagline: "A brand new way to buy used cars." Ford launched a similar initiative in 2021: Ford Blue Advantage, powered by Autotrader.
The skyrocketing growth of NFORs has not been without speed bumps, however. They have been hit with customer complaints and disciplinary action by some state regulators for paperwork issues.
They are taking action to address problems and keep up with growing demand. In reporting its 2021 financial results, Carvana, which launched in January 2013, announced the purchase of ADESA's auto auctions in a $2.2 billion deal. That gives Carvana access to used-vehicle inventory as well as additional reconditioning centers across the U.S. In another sign of growth, Carvana earlier announced a major expansion in Atlanta, home to one of its largest operations, where it plans to add 3,500 employees to the 1,500 people already working there.
---
Michelle Krebs is executive analyst at Cox Automotive.
Tags