Data Point
New-Vehicle Inventory, Especially Luxury, in Freefall
Thursday September 10, 2020
Article Highlights
New-vehicle inventory falls further; 58 days' supply.
Luxury-vehicle inventory plummets to 56 days' supply.
Average listing price hit a high of $38,293.
The supply of new vehicles is in freefall as the inventory of unsold new vehicles fell again in August with luxury inventory plummeting, according to a Cox Automotive analysis of vAuto Available Inventory data.
The total U.S. supply of unsold new vehicles stood at 2.26 million units as of Aug. 31, down from 2.33 million at the end of July and down from 3.13 million at the end of August 2019. That put the national days' supply at 58, down from 62 at the end of July and 74 at the end of August 2019.
---
$38,293
Average Listing Price
---
The Cox Automotive days' supply is based on the daily sales rate for the most recent 30-day period that ended Aug 31. The volume of inventory and days' supply is the lowest in recent years and has been declining in recent months, according to Cox Automotive data.
August's new-vehicle sales are estimated to have fallen 19% from a year ago. Sales momentum appears to be stalled as new-vehicle sales in July were down 12% from the year-earlier month.
Luxury stock plummets
Luxury vehicle inventory is seeing the quickest, steepest decline. The days' supply of luxury vehicles dropped to 56, from 65 days in July and 79 days in June.
Luxury-vehicle sales had been lagging non-luxury sales in the spring but have rapidly picked up the pace. At the same time, many luxury models are imported from Europe and Japan, making for a slow pipeline to replenish stock. The shortages are most severe in luxury SUVs. Full-size SUVs have the lowest supplies.
"The current recession is likely not impacting the typical luxury buyer too severely," said Charlie Chesbrough, Cox Automotive senior economist. "Hourly workers have seen huge job losses but not higher income salary workers, the key constituent of expensive vehicles. As the recession drags on though, higher incomes are likely going to start feeling the pinch."
Among mainstream luxury makes, Land Rover, which only sells SUVs, had the lowest inventory at the end of August with only a 19 days' supply. Lexus, again, was among the lowest with 29 days' supply. BMW wasn't far behind with 32 days' supply.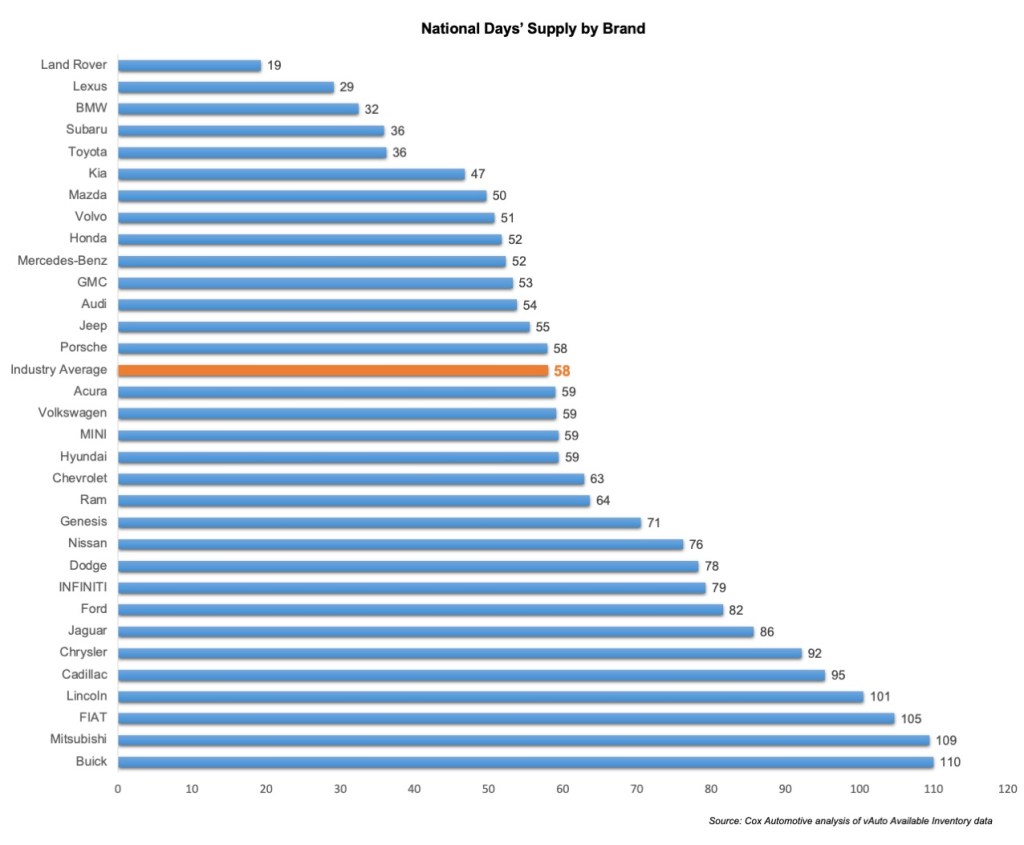 BMW's SUVs are running on fumes, with days' supply in the low 20s at month-end. Lexus' NX utility has a 20 days' supply. Lexus' volume-leading RX SUV had only a 34 days' supply.
Acura, Audi, Mercedes-Benz and Volvo were in a little better shape entering September with days' supply over 50. Luxury brands with bloated inventories include Buick, Cadillac, Infiniti, Jaguar and Lincoln.
2021 model year rolls in slowly
The 2021 model year is rolling in very slowly this year. Only 2.5% of new-vehicle inventory consists of 2021 models. At the same time a year ago, the new models represented 19% of new-vehicle inventory.
"The model year rollover is way behind normal with only a few 2021 model year vehicles in the market, and luxury makers are even further behind non-luxury brands in next-year inventory in the marketplace," noted Chesbrough. "This may become a problem for vehicle buyers this fall. Those expecting to see the latest and greatest products may be disappointed as production delays are keeping new product introductions on the back burner."
Toyota, Subaru, Kia have lowest non-luxury stock
Inventory of new non-luxury vehicles was down to a new low of only a 58 days' supply, down from 62 at the end of July and 68 at the end of June.
The biggest shortages have been in pickup trucks. Midsize pickup trucks had a scant 38 days' supply at the end of August. Full-size trucks had only a 58 days' supply when a heftier inventory is more desirable due to the many configurations of pickups.
Again, Subaru and Toyota had the lowest inventory of mainstream non-luxury brands, each with a days' supply of only 36. Subaru had almost no inventory of the Crosstrek at nine days' supply and Ascent at 11. Toyota had particularly low supplies of the Tacoma and Tundra pickups, down to between 10 to 20 days' supply, depending on the version.
Kia had only a 47 days' supply, with the popular Telluride having the lowest inventory of all Kia models at 24 days' supply. The counterpart Hyundai Palisade was down to a 17 days' supply.
In full-size trucks, Ram and Ford were in better shape entering September than Chevrolet and GMC. However, Ram and Ford have manufacturing disruptions occurring.
Ram has a line down until the end of September to make room for a new Jeep at its Michigan plant. Ram had a day's supply of 58 of the 1500 and 76 for the 1500 Classic.
Ford is alternating plant renovations in the next few months to make way for the next-generation F-150. It had an 82 days' supply of F-150 models, but far lower supplies of the Super Duty versions.
Chevrolet, in total, had a 63 days' supply. GMC has only 53 days' supply. The full-size Chevrolet Silverado and GMC Sierra had a supply of between 30 and 50 days, depending on the version.
Due to production problems and high absenteeism at the Missouri plant that makes them, the midsize Colorado pickup had only 16 days' supply. Its counterpart, the GMC Canyon, had a 55 days' supply. Chevrolet also has shortages of the Corvette – only nine days' supply – and Suburban, Trailblazer and Blazer SUVs.
Prices rise as inventory falls
The average listing price continued to rise, according to a Cox Automotive analysis of vAuto data. At the end of August, the average listing price stood at $38,293, the highest.
At the end of July, the average listing price was $37,917; at the end of July 2019, it was $36,527. This year's low point was in mid-March when the average was $37,211.
Breaking it down, the average listing price for non-luxury vehicles was $35,049; for luxury, it was $57,091.
"The low percentage of 2021 models on the market means that the price increases we're seeing are absent the normal model-year inflation factor," said Cox Automotive Chief Economist Jonathan Smoke. "In other words, it will get worse."
The rising list prices of new vehicles, especially luxury ones, explains why used prices of luxury vehicles are holding up so well, even better than non-luxury vehicles, because of the low supply. High new prices combined with low supply and lack of selection means used is an attractive alternative.
Smoke added: "If you want a luxury SUV, a certified pre-owned that has attractive financing is a good option."
Tags