Data Point
New-Vehicle Inventory Falls Below 1 Million in September, Prices Hit All-Time High
Thursday October 14, 2021
Article Highlights
New-vehicle inventory slumped below 1 million units during September.
Average Listing Price climbed to a new high, exceeding $43,000.
Toyota and Honda ranked lowest for days' supply on deep production cuts.
Revised Nov. 17, 2021 – New-vehicle supply fell in September to new lows – fewer than a million vehicles were available for sale – and the average listing price set another record, surpassing $43,000, according to a Cox Automotive analysis of vAuto Available Inventory data.
---
885,773
Total Inventory
as of Sept. 20, 2021
$43,425
Average Listing Price
---
The total U.S. supply of available unsold new vehicles stood at 885,773 vehicles as September drew to a close. That was down from 1.01 million vehicles a month earlier. Inventory nearing the end of September was 63% below a year ago, according to a Cox Automotive analysis. In raw numbers, the under 1-million vehicle supply compares with nearly 2.5 million in 2020 and 3.5 million in 2019.
The days' supply of unsold new vehicles was 31 as October opened. The days' supply has hovered in the range of 29 to 31 since mid-July. Still, the days' supply in September was 47% below the same timeframe in 2020.
The Cox Automotive days' supply is based on the daily sales rate for the most recent 30-day period. New-vehicle sales have been losing momentum since June. The September sales pace, or seasonally adjusted annual rate (SAAR), dropped to 12.1 million, compared with more than 16 million and 17 million in 2020 and 2019, respectively. The sales pace has been slowing since June.
---
The following commentary, while directionally correct, is unrevised from the original publication on Oct. 14, 2021.
Average Price Climbed Past $43,000
As October opened, the average listing price for new vehicles set another record, surpassing $43,000 for the first time. It rose to $43,103, up from $42,392 a month earlier. That put it 12% higher than year-ago levels and 17% higher than 2019.
In addition to the simple economics of high demand and low supply, prices rose due to the mix of vehicles. Normally, at this time of year, automakers and dealers are selling down old inventory at discounted prices to make room for the new model year vehicles. This year, no old inventory exists. Incentives are at a 20-year low.
Toyota, Honda Had Lowest Supply
Toyota and Honda, both of which made drastic production cuts, had the lowest inventory, each with 17 days of supply. Lexus had the lowest supply among luxury brands at 19 days. Most of Toyota's volume models, like RAV4, Camry, Corolla, Highlander, Prius and Tacoma, had days' supply under 20. Lexus' volume model, the RX sport utility, had a scant 10 days' supply.
Despite the lowest inventories, Toyota still outsold General Motors for the second consecutive quarter. Some analysts forecast Toyota will outsell GM for the year and possibly in 2022.
Similarly, Honda had only 17 days' supply. Its volume models that make up the bulk of the brand's sales – Accord, Civic and CR-V – had days' supply in the teens. The best-selling CR-V utility had less than 10 days' supply.
National Days' Supply By Brand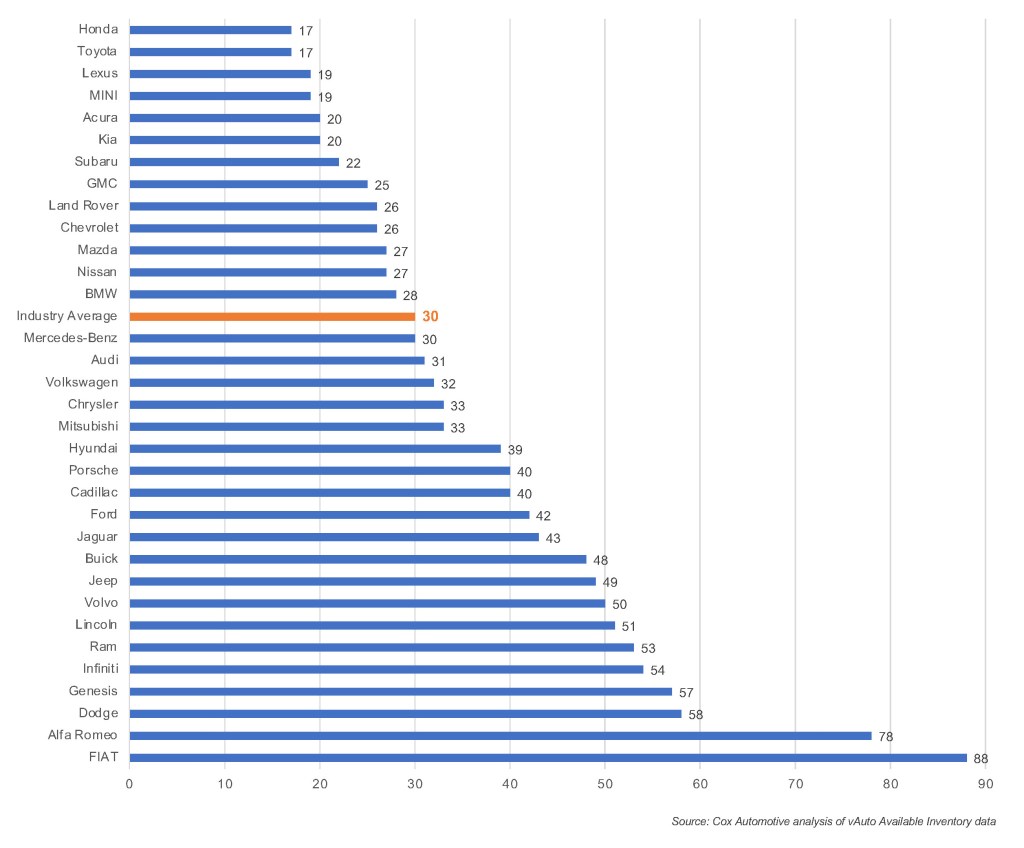 Perhaps, for Toyota and Lexus, the worst is behind it. The automaker plans to resume full production and make up as much as a third of the lost production. Toyota had cut its production target through the rest of its fiscal year, which ends March 31, 2022, by 300,000 vehicles to 9 million units globally. It plans an additional 97,000 vehicles between December and the end of March by scheduling weekend shifts. COVID-19 infection rates in southeast Asia, where the supply bottlenecks occurred, are declining and concerns about production risks are easing.
Kia had only a 20 days' supply with the new Carnival minivan and popular Telluride SUV having days' supply in the teens. Subaru had a 22 days' supply with its best-selling Forester and Outback each having only a 14 days' supply.
GMC and Chevrolet brands were at the low end of the inventory spectrum with a days' supply of 25 and 26, respectively. Perhaps the worst is behind GM as well. The automaker confirmed production restart dates for several plants that make various models in North America after months of downtime. That would mean almost all of its plants would be up and running at full production in November.
---
More insights are available from Cox Automotive on new-vehicle inventory, using a 30-day rolling sales methodology to calculate days' supply.
Tags