Data Point
New-Vehicle Inventory Holds Steady as Asking Prices Retreat at Month's End
Thursday July 14, 2022
Article Highlights
Average new-vehicle listing price began to retreat by the end of June.
Stellantis brands' inventory build; Dodge and Ram have the highest supply.
Fuel-sipping Asian imports have the lowest supply on high gas prices.
The average listing price for new vehicles rose throughout June but began to retreat by the end of the month, while inventory held relatively steady, according to Cox Automotive's analysis of vAuto Available Inventory data.
---
1.12M
Total Inventory
as of July 25, 2022
$46,001
Average Listing Price
---
The total U.S. supply of available unsold new vehicles stood at 1.12 million units at the end of June, just off from the revised end-of-May available supply of 1.13 million. Inventory has hovered in that range since the start of the year, though supply is far below 2020 and 2019 levels.
Available supply at the end of June was down 6% from the same period in 2021. In raw numbers, that amounts to about 75,000 vehicles less than a year ago. The percentage difference and the raw volume difference in supply between this year and last is narrowing, but only because it was at this time a year ago that the chip shortage began severely hitting production, inventory and sales.
Charlie Chesbrough, Cox Automotive senior economist, warns not to see the comparisons from this year to last as a sign that the supply situation has improved because it has not. "Production and inventory are stuck in low gear, far below historical levels, with no end in sight," he said. Indeed, AutoForecast Solutions, which tracks global vehicle production cuts due to the chip shortage, recently increased its estimate of vehicle output cut from automakers' 2022 plans to 3.3 million vehicles.
For comparison, in the same period in 2020, inventory stood at 2.65 million vehicles for a 70 days' supply. For 2019, the difference is more dramatic, with inventory of 3.73 million for a days' supply of 86.
At the end of June, the days' supply of unsold new vehicles was 38, up from the revised 35 days' supply at the end of May. That is the same general range days' supply has been in since mid-January. Days' supply at the end of June was 39% above the end of June a year ago when the chip shortage began to take its toll.
The Cox Automotive days' supply is based on the daily sales rate for the most recent 30-day period, in this case, ended June 27. For the calendar month of June, new-light-vehicle sales fell 13.5% from a year ago, though they were up 1.7% from May. The June SAAR was 13.0 million compared with 15.5 million in June a year ago.
Non-luxury inventory totaled 936,867 units entering July for a 37 days' supply. That compares with 845,738 units entering June for a 34 days' supply. Luxury supply stood at 179,981 units for a 43 days' supply at the start of July compared with 138,550 units for a 38 days' supply.
Asking prices start to retreat by month-end
The average listing price – or the asking price – climbed throughout June but by the last week of the month began to retreat slightly. The average listing price was $45,976 at the end of June, still above the revised $45,504 at the end of May. The asking price began dropping in mid-February but started edging higher in April and continued through June until the final days of the month. The listing price still is running 11% above June 2021, when it was $41,589.
"We've been expecting prices to fall as the anniversary of the chip shortage passed. This had been happening for used, but not new, until the last days of June," said Chesbrough. "This minor downward move in new price growth may suggest the inflation period is starting to ease."
However, prices are expected to remain elevated due to continued high demand, low inventory and record low incentives. In addition, luxury vehicles are accounting for a larger – record – percentage of share of new vehicle sales at 18%. Automakers still are prioritizing available computer chips to high-end, high-margin models instead of entry-level vehicles.
The average transaction price – the price people paid – set a record in June, surpassing $48,000 for the first time. The average transaction price (ATP) increased to $48,043 in June, according to Kelley Blue Book, a Cox Automotive company, exceeding the previous record of $47,202 set in December 2021. The June ATP rose 1.9%, or $895, from May and up 12.7% or $5,410 from June 2021.
Incentives in June averaged a record-low level of 2.3% of the average transaction price. That amounted to an average of $1,083 per vehicle in June, down 6.8% from May and down 60.3% from a year ago.
According to Cox Automotive data, the average listing price for luxury vehicles was $64,734 at the end of June. The non-luxury average list price was $42,740 at the end of June.
Stellantis inventory building; fuel-efficient models have low supply
Stellantis brands are at the top end of the inventory spectrum. In fact, Dodge and Ram inventories are high even compared with levels pre-COVID and before the chip shortage. Dodge closed June with a hefty 90 days' supply. Ram followed with an 81 days' supply. Jeep had a 62 days' supply. Stellantis brands have had higher inventories throughout the chip shortage crisis compared with other brands.
On the opposite end, Asian non-luxury brands and European luxury brands had the lowest inventories. Non-luxury brands with the lowest inventories were Kia, Toyota, Honda, Subaru and Hyundai. Luxury brands with the lowest inventories were Land Rover, Lexus, Porsche and BMW. Mercedes-Benz was in a better supply situation, which allowed it to surpass BMW in sales. In contrast, luxury brands with high the highest inventories were Volvo, Audi, Lincoln, Buick and Infiniti.
Once again in June, as was the case in May, segments with the lowest inventories were those of small, fuel-efficient vehicles. As gas prices rose, hybrids were at rock bottom for inventory, followed by midsize cars, compact cars and minivans. Toyota sells the most hybrid and plug-in hybrid models. Most had less than 20 days' supply. Another popular model, the Honda CR-V hybrid, had a mere 20 days' supply.
Days' Supply of Inventory by Segment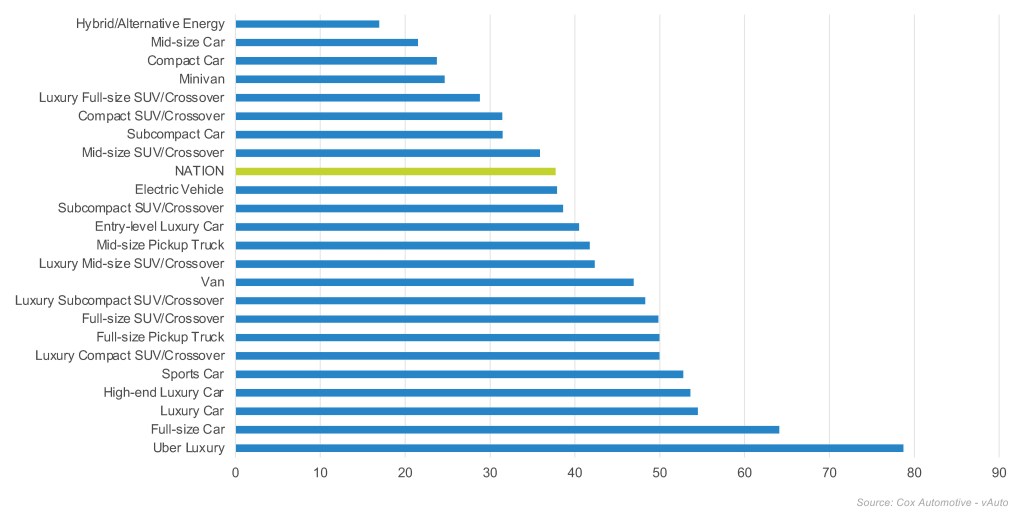 Of the 30 highest-selling models in the 30 days ended June 27, Toyota, Kia and Hyundai models dominated the low end of inventories. The lowest were Toyota Corolla, Kia Telluride, Toyota Camry, Hyundai Palisade and Kia Sportage. Of the 30 top-selling models in the 30 days, domestic trucks and SUVs had the most inventory, starting with Ram 1500 at 79 days' supply, Ford Escape with 69 days' supply, Jeep Compass, Ford F-150 and Chevrolet Silverado HD.
Of the 30 highest-selling models, which account for the bulk of vehicle sales in the U.S., the 14 models with the lowest inventories were from Asian automakers: Toyota Corolla, Honda Accord, Toyota RAV4, Kia Forte and Toyota Camry. Of the 30 top-selling models, full-size trucks, including Ram 1500, Chevrolet Silverado and Ford F-150. Also at the higher end were Ford Escape and Ford Explorer SUVs.
In terms of price categories, the lower the price, generally, the lower the supply. Price categories under $40,000 had a days' supply of 30 or less. The price segments between $40,000 and $50,000 had inventory in the low 40 days' supply. The $60,000 to $80,000 segments had a 50 days' supply.
---
More insights are available from Cox Automotive on new-vehicle inventory, using a 30-day rolling sales methodology to calculate days' supply.
---
Michelle Krebs is executive analyst at Cox Automotive.
Tags