Data Point
New-Vehicle Inventory Climbs in November; Prices Stay High
Wednesday December 14, 2022
Revised, Jan. 12, 2023 – New-vehicle inventory volume continued to climb through November as production increased and sales slowed, according to Cox Automotive's analysis of vAuto Available Inventory data. Unfortunately for shoppers, prices climbed in November as well.
"Timing is everything," said Charlie Chesbrough, Cox Automotive's senior economist. "Production is finally ramping up after being stymied by the chip shortage just as demand started to waiver and vehicle sales slowed down."
---
1.62M
Total Inventory
as of Nov. 28, 2022
$46,659
Average Listing Price
---
The highest since May 2021, total U.S. supply of available unsold new vehicles stood at 1.62 million units at the end of November, compared with a downwardly revised 1.55 million vehicles at the end of October. Supply at the end of November was 81%, or 740,000 units, higher than a year ago.
Days' supply climbed throughout the month to 52, increasing from an upwardly revised 50 days at the end of October and up 10 days since the end of September. Days' supply at the end of November was 77% higher than at the same time a year ago and the highest since March 2021.
While inventory is up substantially from recent levels, it remains low by historical standards. At the end of November 2020, supply stood at 2.77 million vehicles, or 70 days' supply. For pre-pandemic November 2019, supply hit 3.55 million vehicles, or 86 days' supply.
Closing November, the industry had non-luxury vehicle inventory totaling nearly 1.40 million vehicles for a 53 days' supply. That was up from 1.32 million vehicles for a 49 days' supply at the end of October. The inventory of luxury vehicles (excluding uber luxury models) stood at 244,104 units for a 57 days' supply. That compares with 222,469 vehicles for a 51 days' supply a month earlier.
The Cox Automotive days' supply is based on the daily sales rate for the most recent 30-day period, which ended November 28, when an estimated 925,048 vehicles were sold. "Sales had been showing slight gains since September," noted Chesbrough. "But they slowed some in November, dropping 22,000 units week-to-week in the most recent data. At the end of November, sales were up only 3% from a year ago."
For the full calendar month of November, total new light-vehicle sales, buoyed by a significant bump in fleet sales, rose 10% from a year ago. That was down 4% from October. It put the November seasonally adjusted annual rate (SAAR), or sales pace, at 14.1 million, up from 13.1 million a year ago but down from 15.1 million in October. Through November, the SAAR is 13.8 million. Cox Automotive forecasts 2022 sales at 13.7 million.
Supply Shows Wide Variation by Brand
November continued to show wide variation in supply by brand and segment.
"A real dichotomy has emerged," said Chesbrough. "Asian brands have super tight inventories while not so much for domestic brands. In 2023, we'll be looking for heftier incentives to kick in for some brands and in some segments – particularly pickup trucks."
Asian and European luxury and non-luxury brands continued to have the lowest inventories as measured by days' supply, according to Cox Automotive's analysis of vAuto Available Inventory data.
As measured by days of supply, non-luxury brands with the lowest inventories – all below the national average – were Toyota, Kia, Honda, Subaru, Volkswagen and Hyundai, respectively. Toyota and Kia had 26 days' supply, which is an improvement from earlier in the year, when days' supply dropped to 20 and lower.
Luxury brands with the lowest inventories, below the national average, were Lexus, Land Rover, BMW and Acura, in that order. Lexus has been the lowest for months, but even its supply has edged higher recently to 26 days' supply.
November Days' Supply of Inventory By Brand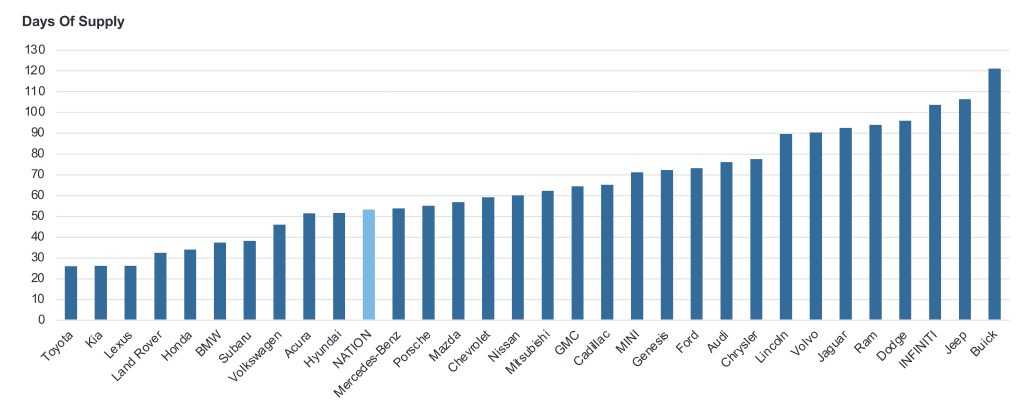 At the opposite end of the spectrum were mostly domestic brands, some of which are reaching pre-pandemic inventory levels. Among all brands, Buick had the highest inventory as measured by days' supply at an astounding 121. It was followed by Jeep and Infiniti, also with triple-digit days' supply. Dodge, Ram, Jaguar, Volvo and Lincoln had 90 to 100 days' supply, a glut even by pre-pandemic standards.
Aside from low-volume high-performance cars, vehicles popular with middle-class Americans had the lowest supply, including compact, subcompact and midsize cars as well as minivans. All had less than 36 days' supply. High prices and rising interest rates are squeezing mainstream Americans, and automakers continue to focus on expensive models that generate bigger profit margins.
Both large and expensive luxury cars had the highest inventory, along with domestic SUVs and pickup trucks. Full-size cars, of which there are not many offered anymore, had a whopping 93 days' supply. Uber luxury and luxury cars had more than 80 days of supply. Pickup trucks were at 77 days' supply, which is not outsized since inventory typically is higher for trucks because they come in so many different configurations.
"Usually, the fourth quarter is a brisk selling season for luxury vehicles and big trucks," said Chesbrough. "This year the inventory is avaialble to continue the tradition, but those sales may not materialize due to economic headwinds."
Of the 30 highest-selling models in the 30 days that ended November 28, 11 with the lowest inventories were Asian brands, specifically Kia, Toyota, Honda and Subaru. At the bottom were Kia Sportage, Toyota Corolla, Honda CR-V and Toyota 4Runner, all with days' supply below 22.
Of the 30 top-selling models, full-size domestic pickup trucks and SUVs had the most inventory, with Ram 1500 having the most at an outsized 118 days' supply, followed by Ford Escape, with 105 days' supply. The Chevrolet Silverado, Ford Explorer and Ford F-150 fell in behind Ram and Escape at 90 days' supply or more.
As has been the case for months, the lower the price category, the tighter the supply. Under $20,000, days' supply was a scant 21, even less than the month earlier. Between $20,000 and $30,000, days' supply was up to 35. All other price categories had 45 days' supply and higher.
Prices Stay High but Stabilize
The average listing price – or the asking price – was $46,659 at the end of November, up from a downwardly revised $46,277 at the end of October, according to Cox Automotive's analysis of vAuto Available Inventory data. The listing price still is running only 4% ahead of a year ago and remains elevated from years past.
The average transaction price – or the price paid – hit a record of $48,681 in November, surpassing the previous high set in August, according to Kelley Blue Book, a Cox Automotive company.
---
More insights are available from Cox Automotive on new-vehicle inventory, using a 30-day rolling sales methodology to calculate days' supply.
---
Michelle Krebs is executive analyst at Cox Automotive.
Tags