Data Point
New-Vehicle Inventory Slumps Even Lower
Thursday August 13, 2020
Article Highlights
New-vehicle inventory falls to new lows; 62 days' supply.
New model-year rollover is way behind schedule.
Smallest, cheapest vehicles have highest inventories.
The supply of new vehicles is falling well below demand as the inventory of unsold new vehicles fell again, closing July even lower than June, according to a Cox Automotive analysis of vAuto Available Inventory data.
The total U.S. supply of unsold new vehicles stood at 2.33 million units at the end of July, down from 2.55 million units at the end of June and down from 3.12 million at the end of July 2019. That put the national days' supply at 62 days, down from 70 at the end of June and down from 79 in July a year ago.
---
$37,917
Average Listing Price
---
The Cox Automotive days' supply is based on the daily sales rate for the most recent 30-day period that ended Aug. 3. Sheer volume of inventory and days' supply is the lowest in recent years, according to Cox Automotive data.
Even though factories have been running for a few months now, demand is outstripping their output. New vehicle sales posted gains in July from earlier months, with help from the Fourth of July holiday that fell on a weekend and the close of the month that also fell on a weekend. Sales during that 30-day period hit their highest point since mid-January.
"The result is a marketplace that is very thin on product availability, and shoppers may be unable to get the color or trim they want," said Charlie Chesbrough, Cox Automotive senior economist. "Over the summer, the industry may end up exactly where it started when Henry Ford said of the Model T – you can buy any color you want, as long as it is black."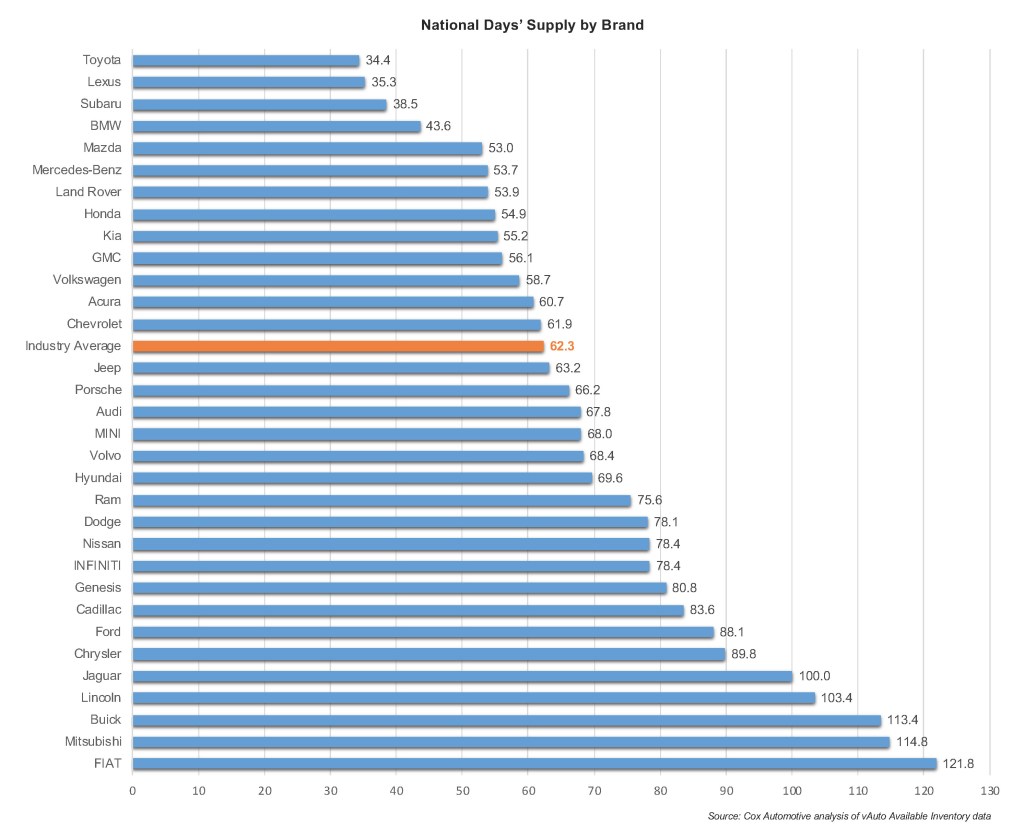 2021 Models Almost Non-Existent
Indeed, buyers may postpone their purchase or take what they can get, and that may not be the newest model. At this time during the summer, the model year rollover is taking place, but this year it is way behind the normal schedule. Very few next-model year vehicles – model year 2021 – are in the market. Only .5% of the current inventory of unsold new vehicles is 2021 models, according to a Cox Automotive analysis. During the same week last year, more than 9% of dealer stock was the new model year, then model year 2020.
Non-luxury inventory dropped further to 62 days' supply at the end of July, down from 68 days' supply at the end of June. But luxury inventory saw the biggest decline at 65 days, down from 79 the month before, as luxury vehicle sales, which had been lagging non-luxury, have picked up.
Among luxury brands, the three who annually vie for the luxury sales crown had the lowest inventories. Lexus had the lowest of all major luxury brands and the second-lowest overall with 35 days' supply. BMW wasn't far behind with only 44 days' supply. Mercedes-Benz had 54 days' supply. The winner of the 2020 luxury vehicle sales crown may well be the make that has the most vehicles available for sale.
Toyota, Subaru Still Struggle With Lowest Inventory
Toyota had the lowest inventory of all major brands at a scant 34 days' supply at the end of July. For June, it had the second-lowest, behind Subaru, at 39 days' supply. Subaru, which typically has the lowest inventory, had only 39 days' supply, down from 41 last month.
Most other mainstream volume brands had days' supply between 50 to mid-50s, still below the industry average.
Ford had a hefty supply of vehicles – 88 days' supply for the Ford brand and more than a 100 days' supply for Lincoln. Nissan had a 78 days' supply.
Mainstream brands with bloated inventories continued to be Buick, Fiat and Mitsubishi, all with days' supply over 100. Buick's new Encore GX had a 145 days' supply; the Envision had 121.
Smallest, Cheapest Vehicles Have Biggest Supply
By segment, hot-selling mid-size trucks had the lowest inventory at 37 days' supply. Toyota Tacoma pulled down the average with under 20 days' supply. Chevrolet Colorado and GMC Canyon had days' supply of 21 and 29, respectively. The Ranger, at 76 days' supply, was the only mid-size truck with a better-than-average inventory.
Full-size trucks have more at a 62 days' supply, but manufacturers like to have bigger inventories of big trucks since they come in so many configurations. Toyota Tundra had less than a 26 days' supply. The Chevrolet Silverado had between 27- and 55-days' supply, depending on the version; GMC Sierra had between 40- and 44-days' supply, depending on the model. The Ram 1500 and Ford F-150 had close to 90 days' supply. Ford will be revamping its plant this fall to convert to the next-generation F-150, so it needs extra inventory.
Other categories popular with consumers had below-average supplies, including compact cars and SUVs and midsize SUVs. The Kia Telluride has virtually no inventory, with only a 5-day supply. Its cousin, the Hyundai Palisade, has little as well at 20 days' supply.
The average listing price in July was $37,917. Every price category has a below industry average supply, except for the least expensive segments. Vehicles that cost under $20,000 had a hefty 81 days' supply. Vehicles in the $20,000 to $30,000 range had a 70 days' supply. Within those price categories, subcompact cars and SUVs had the most bloated inventories. Vehicles like the Fiat 500X and Ford EcoSport had triple-digit days' supply. Sales in those categories have been down as the buyers of those vehicles are likely the most hard-hit by the pandemic-caused recession, job losses and more credit challenged.
Tags