Data Point
New-Vehicle Inventory Stabilizes While Average Listing Price Soars Past $40,000
Thursday January 14, 2021
Article Highlights
New-vehicle inventory holding steady; 70 days' supply in December.
Average new-vehicle listing price surpassed $40,000 in December.
Toyota/Lexus have lowest inventory; Chevrolet/GMC supply tightening.
New-vehicle inventory held steady heading into the new year, while the average listing price soared past the $40,000 mark throughout December, according to a Cox Automotive analysis of vAuto Available Inventory data.
---
$40,684
Average List Price
---
The total U.S. supply of available unsold new vehicles stood at 3 million vehicles in December, marking the first time that supply hit 3 million vehicles since last May after vehicle sales plummeted due to business lockdowns caused by the COVID-19 pandemic. The December number compares with 2.87 million vehicles in November inventory. Still, inventory remains well below year-ago levels when it was 3.59 million vehicles.
"Inventory levels appear to be stabilizing over recent weeks as days' supply has been nearly unchanged since late November," said Charlie Chesbrough, Cox Automotive senior economist. "Available supply has been rising, but so have sales. The combination keeps days' supply stable."
The days' supply stood at 70, down from 75 the month earlier and well off the 85 days' supply of a year ago. Luxury vehicles had lower than the industry average at 65 days' supply. For months, luxury vehicle inventory has run particularly low for Toyota's Lexus brand, and German makes BMW and Mercedes-Benz. Non-luxury inventory stood at 71 days' supply. The Cox Automotive days' supply is based on the daily sales rate for the most recent 30-day period.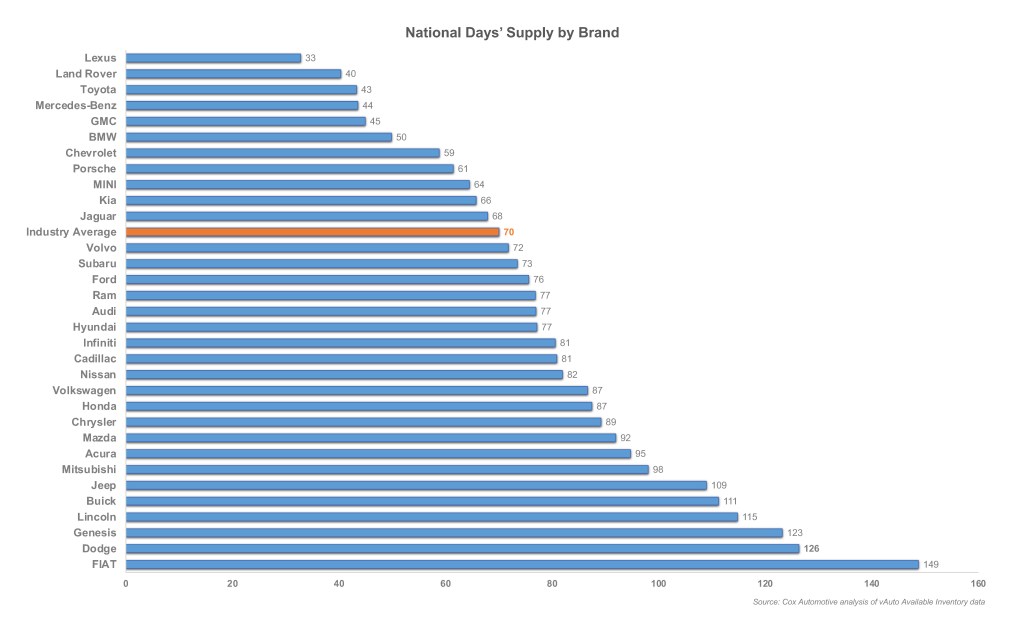 "December sales activity showed stronger activity later in the month after early post-Thanksgiving weakness," said Chesbrough. "With additional stimulus coming, and supply not an immediate headwind, the market is on sound footing to start 2021."
Computer chip shortage hits production
Potential supply chain disruptions are the wild card in 2021. Just as parts and assembly plants were getting back up to speed, a global shortage of computer chips has forced automakers across the globe to cut production.
Ford idled its Louisville, Ky., plant that makes Ford Escape and Lincoln Corsair SUVs. Honda cut production of the Civic and Accord. Fiat Chrysler delayed the restart of its Mexico plant that makes the Jeep Compass and idled its Canadian plant that builds the Chrysler 300, Dodge Charger and Dodge Challenger. All of those models have ample inventory, so curtailing production won't hurt in the short term.
However, it's a different story with Toyota. The automaker was forced to trim production of its Tundra pickup truck, which has been running at less than 30 days' supply for months in a red-hot selling market for trucks.
Other automakers, including Nissan and Honda, have slashed production at their overseas plants. Volkswagen has said it will be forced to do the same at plants in Europe, China and the U.S.
List Prices soar past $40,000
Stabilizing inventories have led to some increase in incentive spending. Still, list prices continued to climb to record highs. The average listing price surpassed $40,000 every week after Thanksgiving, hitting a record of $40,684 by year's end, according to a Cox Automotive analysis of vAuto Available Inventory data. The average listing price has been steadily on the rise since hitting 2020's low point of $37,211 in March, at the height of pandemic-triggered lockdowns.
For luxury vehicles in December, the average listing price was $59,137, up from $57,222 the month earlier. For non-luxury, it was $37,006, up from $36,660.
Few makes have below-average stock
Toyota and Lexus continued to have the lowest inventories among mainstream brands. Lexus dropped to 33 days' supply from 39. The luxury brand does not have a single model with more than a 50-day supply.
Less than 10 mainstream brands have inventory lower than the industry average. Aside from Lexus and Toyota, others among them are Mercedes-Benz. BMW, Chevrolet, GMC and Kia. Normally low-inventory Subaru climbed out of the cellar with a 73 days' supply.
The rest of the mainstream brands have above-average inventory. Except for Ram and Alfa Romeo, Fiat Chrysler's brands have a substantial overabundance of inventory. Buick, Lincoln, Jeep and Dodge had days' supply in the triple digits.
Trucks, big SUVs low on inventory
Trucks and large sport utilities had below industry average stock. Midsize pickup trucks had a 49 days' supply, down from 53 days' supply in November. Full-size trucks were at 53 days' supply, down from 64 days' supply a month earlier. Trucks normally have more inventory than other vehicles because of their many configurations.
Toyota continues to have extremely low inventories, under 30 days' supply for the full-size Tundra and midsize Tacoma pickups. Chevrolet and GMC have skimpy inventories of their midsize and full-size pickups as well. Ford doesn't have an overabundance of trucks, as it tries to launch the new F-150, down to 71 days' supply. Ford Ranger has only a 59-day supply. Ram is in better shape with 77 days' supply of its most modern 1500 but a massive 140 days' supply of the older version.
Large SUVs – non-luxury and luxury – also have low inventory. General Motors' recently launched redesigned large SUVs – Chevrolet Suburban and Tahoe, GMC Yukon and Yukon XL and Cadillac Escalade – have minimal inventory. All have under 45 days' supply.
The midsize Telluride SUV, again, is the mainstream model with the lowest inventory, down to 16 days' supply from 20 the month earlier.
As has been the case for months, the most abundant inventory in terms of day's supply is small, low priced vehicles. Vehicles priced under $20,000 had an 85 days' supply, down only slightly from 89 the previous month. Those priced between $20,000 and $30,000 had an 82 days' supply, also down only a bit from 84 a month earlier. All other price segments had inventory levels below the total industry's 70 days' supply.
By segments, cars had inventory levels above the industry's average of 70 days' supply average. In particular, subcompact and full-size cars were bountiful with triple-digit days' supply. Likewise, the same was the case for subcompact sport utilities. Electric vehicles and hybrid/alternative energy vehicles also had high days' supply.
Tags