New-Vehicle Market
New-Vehicle Sales Reach 17.3 million; 2019 Less Rosy
Friday February 1, 2019
U.S. sales of new, light vehicles reached nearly 17.2 million vehicles in 2018, marking the fourth best year ever and the fourth consecutive year of 17-million plus sales.
Many forecasts, including that of Cox Automotive, predicted year-over-year sales would be slightly lower in 2018 from 2017 due to higher interest rates. Indeed, higher interest rates did hamper retail sales. However, fleet sales offset the retail drop and rose more than forecasted due to a lift from tax reform.
Cox Automotive forecasts 2019 new-vehicle sales to decline modestly to 16.8 million vehicles. The market has reached near saturation levels with 86 million new vehicles sold in the last five years. The recession-created pent-up demand is largely filled. Buying conditions are worsening. Fleet sales, though, should remain strong again due to tax reform.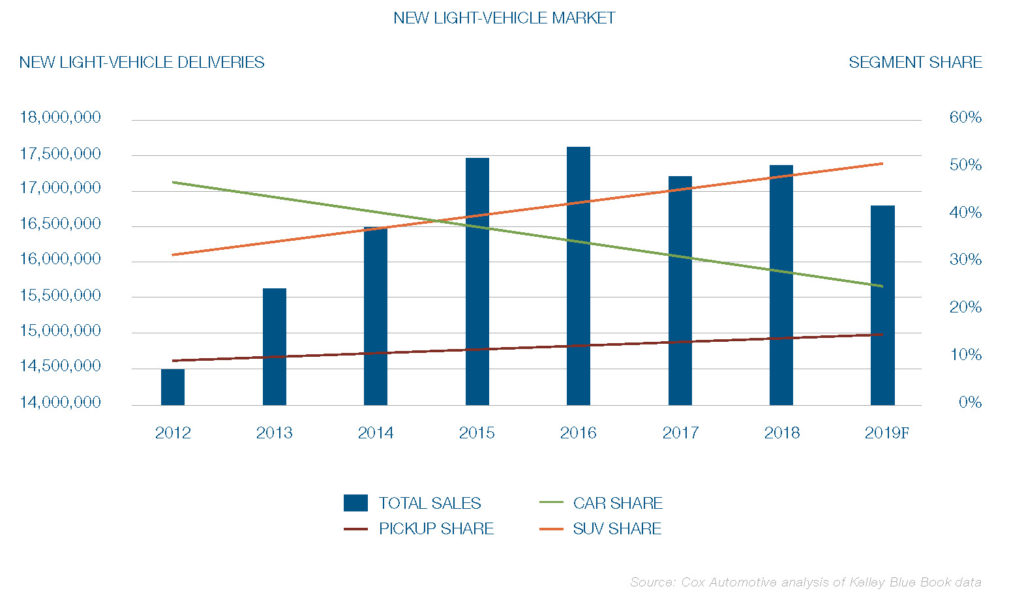 The market transition from traditional cars to crossovers and sport utilities has been dramatic, but it is not complete. Car share finished 2018 near 31 percent, though in some months of the later part of the year, it fell below 30 percent for the first time ever. Further decline in traditional car share is expected. The elimination of some car models from automakers will result in further share declines until inventories are depleted and the contraction is completed by 2020.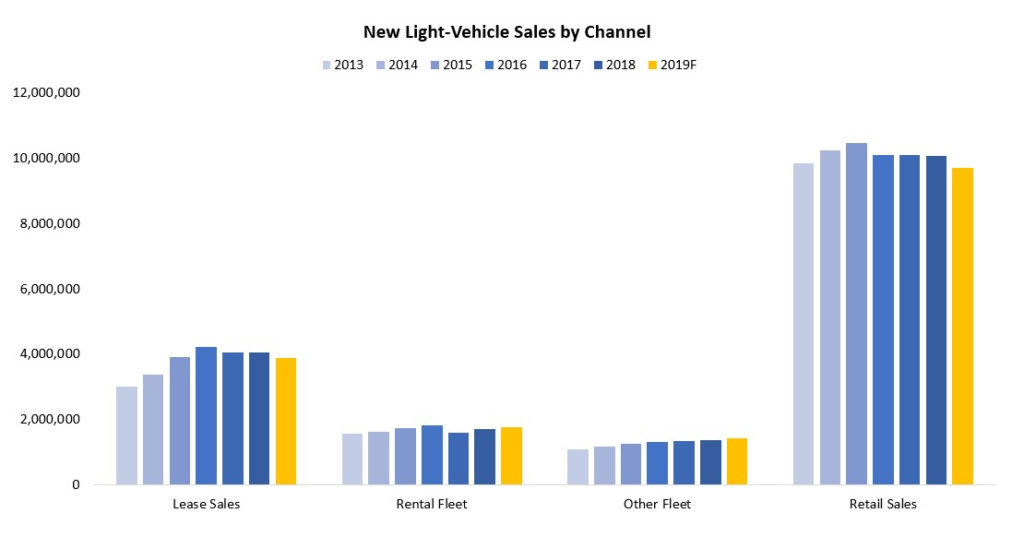 New Retail Sales Trend Down from 2015 Peak; Fleet Sales Rise
Sales by channel varied greatly in 2018 with fleet sales rising significantly and retail sales edging downward due to the impact of monetary and fiscal policy.
Retail purchases remain the main contributor to new-vehicle sales, accounting for nearly 56% of total sales. Still, it is lower than in previous years. Leasing is another key channel but bottomed at about 25% of all new-vehicle sales in 2018 and is likely to rebound somewhat in 2019.
Higher interest rates are impacting vehicle affordability, triggering the modest decline in retail lease and purchases in 2018.
Fleet sales generated the growth in total vehicle sales in 2018. Tax reform provided a surprise to the market this year, and its impact, including the benefit to businesses buying vehicles for commercial fleets, was underestimated. Fleet sales in 2018 rose nearly 8% from 2017.
Retail sales in 2019 will face continued challenges with affordability, pricing and interest rates. However, fleet sales are expected to increase again in 2019 thanks to tax reform.
Tags