Data Point
New-Vehicle Supply Edges Higher Suggesting Worst of Shortages Over
Wednesday November 17, 2021
Article Highlights
New-vehicle inventory remains historically low but improved.
Average Listing Price set another record, approaching $45,000.
Asian brands rank lowest for supply on fall production cuts.
Revised Dec. 15, 2021 – Still low by historical standards, new-vehicle supply closed higher at the end of October than a month earlier, while the average listing price hit another record high, closing in on $45,000, according to a Cox Automotive analysis of vAuto Available Inventory data.
---
920,959
Total Inventory
as of Oct. 25, 2021
$44,681
Average Listing Price
---
"The higher inventory suggests the worst of the inventory shortage caused production cuts due to the global computer chip crisis may be over, or, at the very least, not worsening," said Cox Automotive Senior Economist Charlie Chesbrough.
The total U.S. supply of available unsold new vehicles remained below 1 million at 920,959 vehicles at the end of October, but that was up from the 885,7731 vehicles at the end of September.
The days' supply of unsold new vehicles was 31 as November opened, the same as the start of October. The total days' supply has hovered in the range of 29 to 33 since mid-July. Still, the days' supply in October was 50% below a year ago.
New-vehicle inventory in October 2020 was nearly 2.6 million units for a 65 days' supply. In pre-pandemic October 2019, supply was nearly 3.5 million vehicles for an 86 days' supply, according to Cox Automotive data.
The Cox Automotive days' supply is based on the daily sales rate for the most recent 30-day period. New-vehicle sales had lost momentum since June, but the October sales pace picked up. The seasonally adjusted annual rate (SAAR) rose to 13.0 million from the year's low point of 12.2 million in September. Still, with October sales still down 23% from a year ago, the SAAR was far lower than October 2020's 16.4 million and October 2019's 16.7 million.
Average Price Nearing $45,000
The average listing price – or asking price – for new vehicles set another record and is approaching $45,000. The average listing price of $44,681 heading into November was up from $43,425 at the start of October. By comparison, at the end of October 2020, the average listing price was $39,314. In October 2019, it was $37,457.
---
The following commentary, while directionally correct, is unrevised from the original publication on Nov. 17, 2021.
Average transaction prices – the price buyers actually paid – also set a record, surpassing $46,000 for the first time, according to a Kelley Blue Book report. October marked the seventh straight month of ATP increases.
In addition to the economics law of high demand and low supply, prices are record-breaking because of the rich mix of vehicles. Price gains are being driven by luxury vehicles, large SUVs and pickup trucks. In addition, no inventory of leftover models, typically deeply discounted at this time of year, are part of the mix. Further, incentives remain at a 20-year low.
The average listing price for luxury vehicles was $63,726 in October. The non-luxury average list price was $41,700, according to Cox Automotive data. The lowest days' supply are in the price categories below $40,000.
"We expect prices to remain high until the inventory pipeline is refilled, which may take another year to return to more normal levels," said Chesbrough.
Asian brands had lowest supply
Asian brands took the bottom half-dozen spots for the lowest days' supply.
Kia and Honda were at the very bottom with a scant 17 days of supply. Kia's popular Carnival minivan tied with the Chevrolet Corvette for lowest inventory with 10 days' supply. Its Telluride SUV wasn't much better at 14. Kia's sibling brand, Hyundai, however, had much improved inventories in October, ranking above average for supply.
National Days' Supply By Brand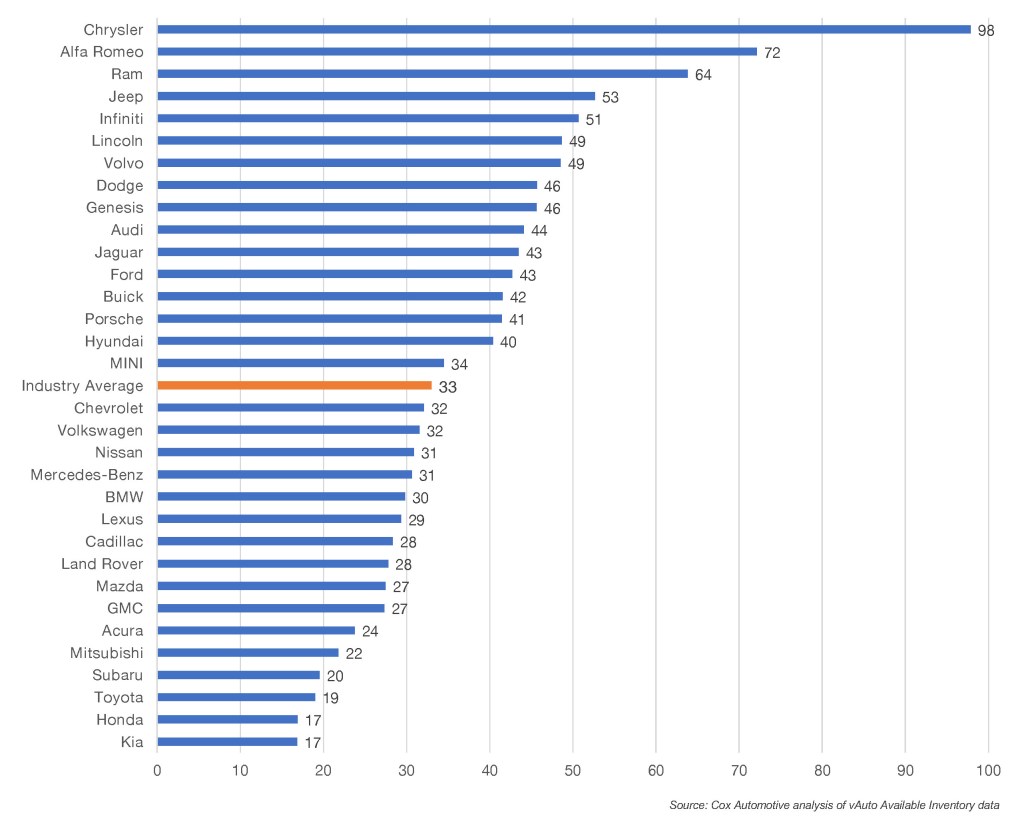 Honda has extremely low inventories of the three models that make up the bulk of the brand's sales – Accord, Civic and CR-V. All had days' supplies in the teens. Acura fell to the lowest supply among luxury brands, a spot that had been held by Toyota's Lexus for months. The race for the U.S. luxury crown may depend on which brands have inventories. Lexus and its rivals, BMW and Mercedes-Benz, are running neck and neck in that regard.
Toyota brand inventory was third from bottom at 19 days' supply. Its popular models – Corolla, Highlander, Prius, RAV 4 and trucks Tundra and Tacoma – had supplies under 20 days. However, it appears Toyota prioritized Lexus production since luxury vehicles do well in the year's last quarter. Lexus supply climbed throughout October as did its volume-leading RX SUV. Toyota said all plants will return to normal production and even begin making up lost production in December.
Because Asian brands dominate traditional car categories, the inventory for compact, subcompact and midsize cars as well as hybrids were at the low end. Supplies of pickup trucks are increasing. The categories of SUVs and crossovers are mixed.
GM brands GMC, Cadillac and Chevrolet improved inventory levels, but they still were below average as the automaker cut production in recent months. GM said all North American plants will be running in December. Ford and Lincoln inventory picked up. Stellantis' brands had the highest days' supply.
---
More insights are available from Cox Automotive on new-vehicle inventory, using a 30-day rolling sales methodology to calculate days' supply.
1The September new-vehicle inventory figure originally reported as of Sept. 20, 2021, was 915,089.
Tags