Commentary & Voices
Nissan: U.S. Sales Plummet as Incentives Rise in Latest Quarter
Wednesday February 12, 2020
Article Highlights
Sales plummet; Infiniti sales slashed by a third for FY 2020 Q3 2019.
Incentive spending rose for latest quarter.
Market share slumped to a five-year low for the quarter.
UPDATED, Feb. 14, 2020 – Nissan reported worse than expected earnings and further cut its forecast for operating profit for the full year, which ends March 31. Nissan already has announced aggressive cost cuts.
_________________________________________________________________________
Nissan Motor Co. in Japan reports earnings on Thursday, Feb. 13, for the quarter that closed at year-end. In the U.S., Nissan's sales plummeted as its incentives rose in the October-December quarter, Nissan's third as the fiscal year for Japanese automakers ends March 31, 2020.
Nissan's sales have been in a slump all year in the U.S. and Europe, hit by delays in new model introductions. In China, concerns are growing regarding automotive demand following the spread of the coronavirus.
In the U.S., a major market for Nissan, the automaker's sales, which include Nissan and Infiniti brand sales, fell 18% to just above 300,000 units, its lowest level for the October-December quarter in at least five years, according to Cox Automotive.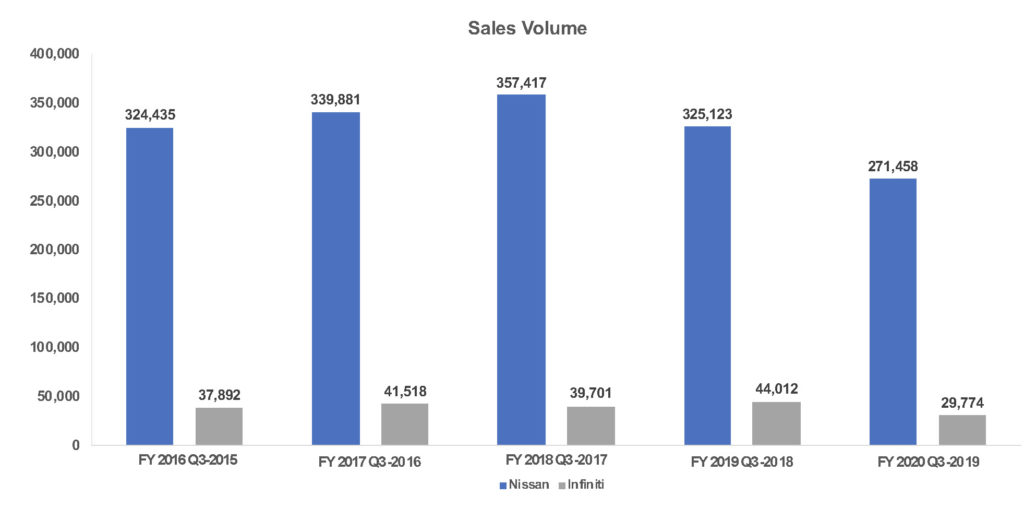 Despite luxury vehicle sales outpacing non-luxury vehicle sales in 2019, Infiniti sales fell by nearly a third to under 30,000 units for the quarter, a five-year low. Not one Infiniti model posted a sales gain. Rather, every Infiniti model recorded hefty double-digit sales declines in the quarter.
Nissan brand sales dropped 17% to 271,458 units, its lowest level by a wide margin for the quarter over the past five years, according to Cox Automotive. Nissan sold nearly 50,000 Altima sedan models, a gain of 16% from the year-ago quarter but well off the quarterly high of more than 78,000 in 2014. The Altima's gain was likely due to fleet sales as it is generally one of the highest-volume vehicles for fleets. Only two other Nissan brand models – the large Armada SUV and NV200 cargo van – eked out small sales gains.
Nissan's overall sales decline pushed the automaker's market share to a five-year low of 7.14% for the quarter. Under the management of former Nissan-Renault CEO Carlos Ghosn, the company's U.S. arm aspired to deliver 10% market share, a number it flirted with at times. However, this aspiration led to some bad habits, including high fleet sales and hefty incentives at a time the rest of the industry was dialing back on them. High incentives and fleet sales hurt Nissan's residual values, while consumers became used to shopping for a Nissan largely on price alone.
While it appears Nissan has, indeed, scaled back fleet sales overall, it has not dialed back incentives, as the entire industry increases them. Incentives for the quarter rose nearly 5% to an average of $4,585 per vehicle, a five-year high for the quarter, according to Kelley Blue Book.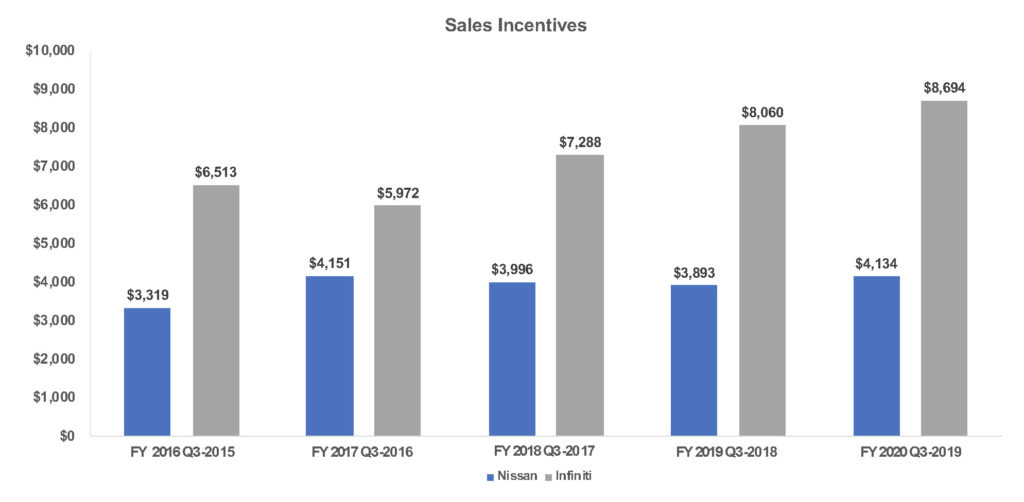 Infiniti incentives rose the most – 8% – to an average of $8,694 per vehicle, a five-year high for the quarter by a wide margin, according to Kelley Blue Book. Nissan's incentives also rose – up 6% to an average of $4,134, the second highest for the quarter in the past five years.
Infiniti's average transaction price (ATP) was flat at $47,738 per vehicle while Nissan's ATP rose 4% to an average of $29,114 per vehicle.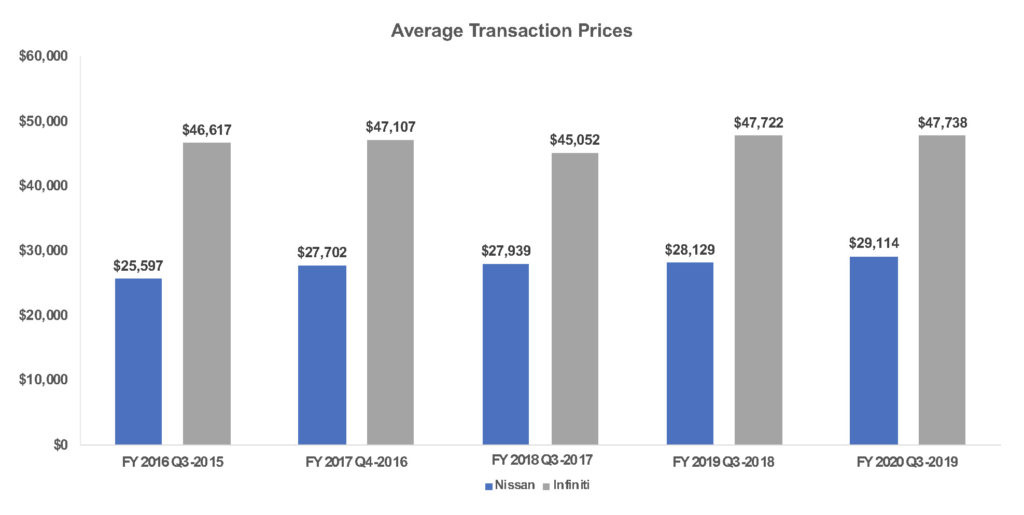 Combined, Nissan's ATP edged 2% higher to an average of $30,954 per vehicle, according to Kelley Blue Book.
Looking ahead, Nissan's cost-cutting will continue. After a round of buyouts last year, Nissan in the U.S. just offered another round to anyone at the company age 52 and older. Nissan has given employees until March 11 to accept a buyout. It is not clear if there will be layoffs if not enough people voluntarily leave. Globally, Nissan announced late last year, that it will cut 12,500 jobs by 2022 and eliminate some products. Nissan expects a nearly 30% drop in profits for this fiscal year, its weakest in more than a decade.