Commentary & Voices
Nissan Wants to Wean Itself From Discounts, but Can It?
Wednesday February 13, 2019
Warning global sales, including those in the United Sates, and profits will fall below expectations this year, Nissan Motor announced it would take actions to improve its financial results.
Nissan CEO Hiroto Saikawa said, for one thing, Nissan would avoid meeting sales targets by using discounts, a strategy that admittedly has hurt its profitability in North America, its second largest market. He said he wants Nissan to improve the quality of its sales.
Kicking the Incentives Habit
But kicking the incentives habit will not be easy, especially at this point in the automotive cycle. Nissan would be bucking the trend and risking further sales erosion if it backs off incentives now when everyone else is expected to boost incentives. Further, Japanese automakers, typically at this time of year, ramp up promotions to finish their fiscal year, which ends March 31, on a high note.
Under former chairman Carlos Ghosn, now jailed in Japan for alleged financial misdeeds, Nissan had a goal to achieve 10 percent market share in the U.S. The automaker pursued that goal by pumping large numbers of vehicles into daily rental car fleets and by lathering rich incentives on its vehicles at a time when other automakers kept incentives in check as they took advantage of rising vehicle sales and higher average transaction prices.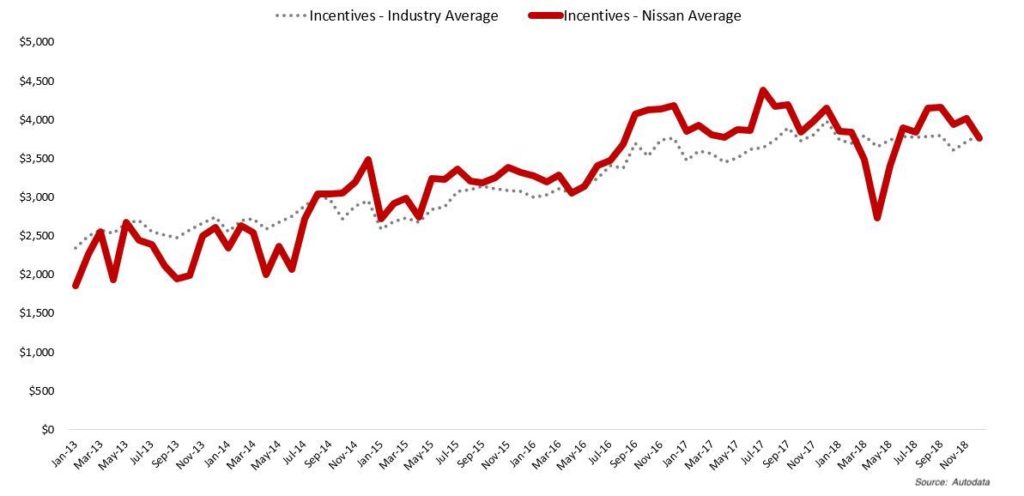 Since fall of 2014, Nissan has been running above the industry average for incentives in the U.S., with the exception of last April when it pulled back on fleet sales and incentives and sales collapsed. Its market share, which includes the Nissan and Infiniti brands, has approached 10 percent in some months but sales in 2018 were down, though the industry was slightly up. Nissan's calendar 2019 got off to a rocky start with sales dropping in January.
Total U.S. vehicle sales are expected to be down in 2019. Cox Automotive forecasts sales of 16.8 million for the year, below 17 million for the first time in four years. January retail sales were down, inventories were up, and incentives are expected to rise.
Nissan Incentive Dial Back Unclear
It is not clear if Nissan has yet dialed back incentives. In January, according to Cox Automotive incentives data, Infiniti offered $10,000 in dealer cash on its Q70. Nissan offered $7,500 on some versions of the 2018 Titan pickup truck and $10,200 on its 2018 Leaf electric car.
Wantalease.com, an online marketplace for car leases, reported this week that most automakers held monthly lease prices steady in February from January – except for Nissan and Volkswagen. The service listed the Sentra, at $129 a month, as the most affordable vehicle. Indeed, the Sentra is in sell-down mode as a revamped one arrives soon. However, lease prices were down double-digit percentage points from January on the Altima, redesigned last year, ($179 a month) and Pathfinder at $262 a month.
Nissan cut its annual global retail vehicle sales forecast by nearly 6 percent, projecting weaker sales in the U.S. and its largest market, China. Nissan expects to sell 5.6 million vehicles worldwide for its fiscal year ending March 31, versus the previous target for 5.93 million. Net profit is expected to be 20 percent less than previously projected. Nissan's results were negatively impacted by charges related to the Ghosn scandal.