Commentary & Voices
Observations from Chicago: Are Auto Shows Still Relevant?
Tuesday February 12, 2019
We spent last week at press week for the Chicago Auto Show, which is billed as the largest auto show for consumers in the country. It is open to the public through Feb. 18.
While there were no earth-shattering debuts of new vehicles, we did have some observations about the Chicago show.
Relevancy of auto shows: The Chicago show has long held the unenviable spot of being sandwiched between shows in Detroit in January and New York in spring. After losing its thunder to the Consumer Electronics Show held in early January and losing some major exhibitors, notably the German luxury brands, Detroit has opted to move its show to June in 2020. Maybe that will play to Chicago's advantage.
In Chicago, as has been the case with nearly every auto show in recent years, the subject of the relevance of auto shows, at least in terms of the media, came up. Automakers are balking at spending immense amounts of money to introduce a vehicle only to compete with another automaker premiering its vehicle down the aisle. Many don't see auto shows returning their investment, at least in terms of media.
Undoubtedly, auto shows are valuable for consumers shopping one vehicle against the other without being pestered by a salesperson. The Chicago Automobile Trade Association, which puts on the Chicago show, says 70 percent of people at the show will be in the market for a new car within the year, and 36 percent will learn so much on the show floor that they will add a new brand of vehicle to their consideration list.
So that leaves us where we began: Are auto shows still relevant? We believe they are, for an important sector of consumers – those in market – but we also believe auto shows, like the rest of the industry, are ripe for transformational moments. The Chicago Auto Show is a great example of a traditional auto show, and it still works for some people, but not for all. Other shows, like the one in Detroit, have already started the search for a new formula. We're anxious to see what they come up with.
Trucks, small to XL: Chicago has long been a show where automakers introduce new trucks or new versions of trucks. This year was no exception. Indeed, 2019 is shaping up to be Chapter 2 of Truck Wars with the launch of a number of new trucks, small to really large.
In Chicago, Toyota introduced a freshened Tacoma, the dominate player in the increasingly crowded midsize truck segment. It is challenged this year by a new Ford Ranger and Jeep Gladiator, which is arguably the hottest new thing in the product world right now.
Ford showed a freshened version of the F-Series Super Duty, which goes against new heavy-duty versions of the GMC Sierra, Chevrolet Silverado and Ram. An $85,000, limited-run Harley-Davidson Ford F-150 made its debut in Chicago.
With the influx of ever-more trucks on the market and increasingly higher prices, there must be a point at which sales and prices hit a ceiling. Indeed, last year, truck sales got a boost from tax reform. Commercial sales rose as businesses found it beneficial tax-wise to replace or add to their fleets. Those same benefits will not be in place this year. Beyond 2019, we have to wonder what will put the brakes on truck sales and prices – soaring gas prices, an economic downturn, or something else.
Trip down memory lane: Two automakers used the Chicago Auto Show to celebrate the 30th anniversaries for ground-breaking sports cars. The Acura NSX and Mazda Miata were designed to take on established sports car makers, mostly of the European variety. Both were affordable compared with the competition. Both were comfortable enough and more reliable than their European counterparts to be daily drivers. Both made their debuts in Chicago 30 years ago.
The Acura NSX sports car was a mid-engine, mostly aluminum exotic from a Japanese maker, not a European one. At the time, it was an absolutely blockbuster in terms of new technology and helped cement Japan's image as automotive innovation factory. Acura built the NSX from 1991 through 2005. After a hiatus, Acura brought back a new version of the NSX in 2017. The new NSX is a technology showcase in its own right but has had only limited impact in the market. When the first NSX was launched, there was literally nothing like it on the planet. In today's world, the current NSX is just another amazing hypercar. And we've got plenty of those.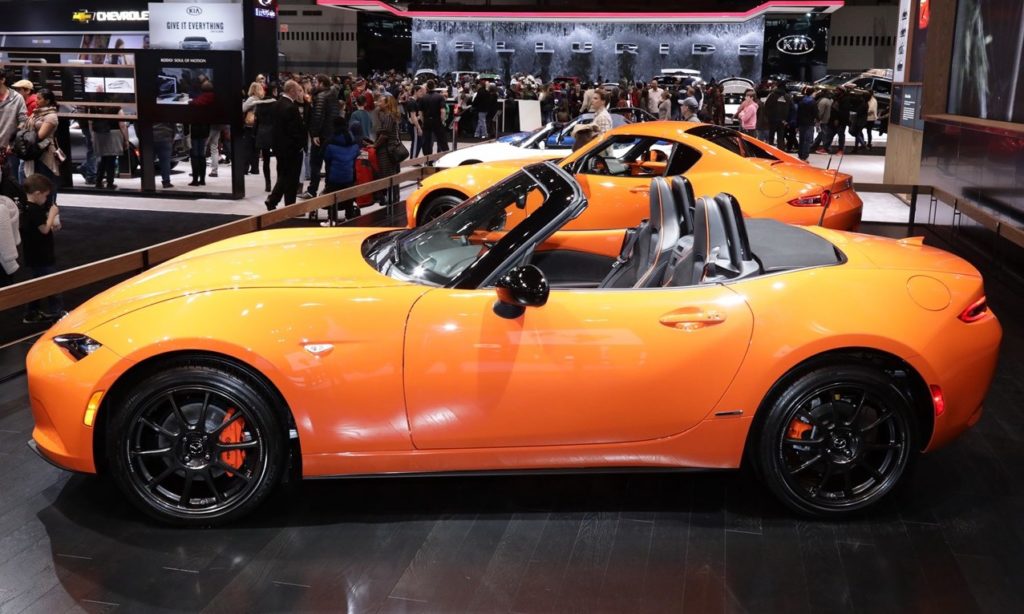 The Mazda MX-5 Miata, inspired by British roadsters of the 1950s and 1960s, proved that fun didn't necessarily mean massive horsepower or expensive price tags. It was a winning formula. More than a million have been sold in the past three decades. It is still popular today, by some measure, and the limited-edition 30th Anniversary models sold out in about 4 hours when they went on sale. But it's hardly a vehicle that matters to 98 percent of the world. But for the 2 percent – it's still pure joy.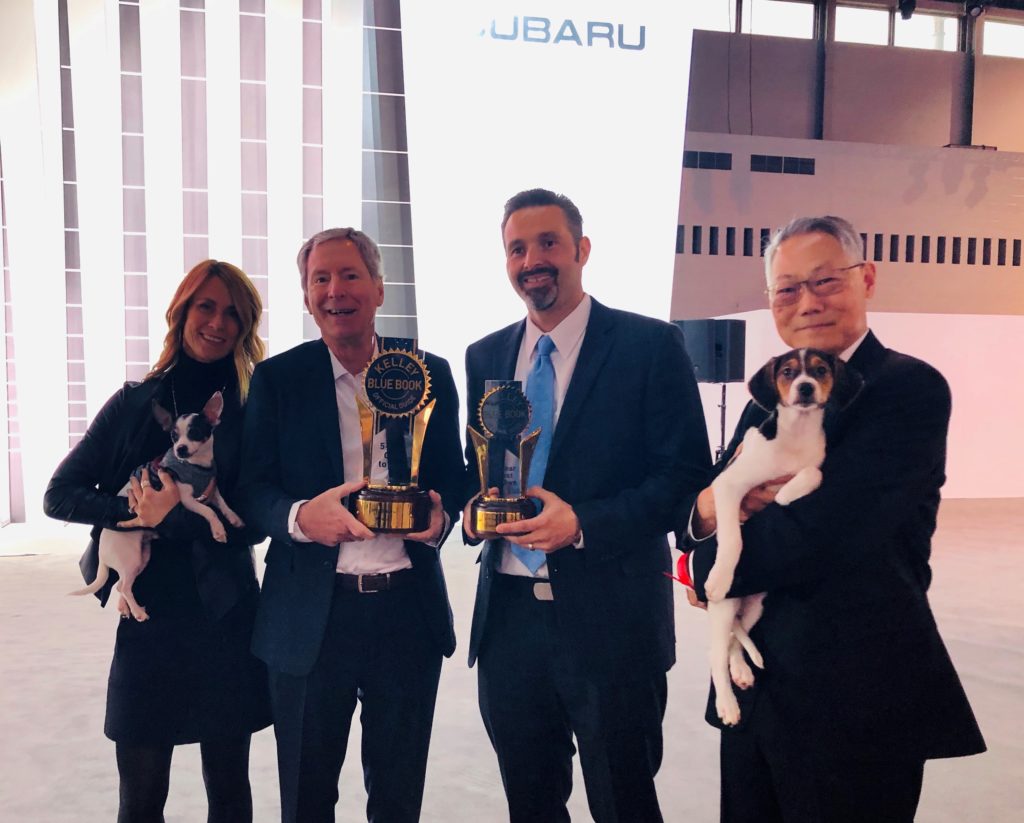 Beyond the nostalgia, the only other significant car to premiere was the new 2020 Subaru Legacy.
Puppy love: Puppies draw the crowds. Subaru, famous for its commercials starring dogs, had a pen of frisky puppies available for adoption. Ditto for Volvo. And those puppies were the talk of the show during the media preview days. Which tells you a little something about what media really care about.
Playing to the local crowd: Ford announced it was investing $1 billion in its Chicago plant and adding 500 jobs to build the new Ford Explorer and Lincoln Aviator that go on sale in 2019 and the Explorer-based Interceptor police vehicle. Chicago Mayor Rahm Emanuel was on hand for the announcement.