Data Point
Pickup Trucks Take Hit from Parts Shortages
Wednesday March 24, 2021
Article Highlights
Pickup truck inventory declines with production adjustments.
Production cuts due to parts shortages mostly hit vehicles with plenty of inventory.
Toyota, Lexus continue to be squeezed with the lowest inventories.
Tight new-vehicle inventory has been an issue for the industry for nearly a year now, as inventory levels have not fully recovered from production losses in Q2 2020 caused by the pandemic. More recently, in North America, about 30 models are battling production cuts caused by an ongoing global shortage of computer chips. The industry has been dealing with the chip shortage through the first quarter of this year, but things got worse on Friday, March 19, when a fire damaged a clean room at a major computer chipmaking plant in Japan. Reports indicate production there may be down for up to a month.
In addition to the factory fire, other supply chain issues have cropped up. Port blockages have delayed delivery of parts from ships to land. Severe storms, notably the February freeze in Texas, temporarily idled production of petrochemicals used in such things as seat foam.
Despite the multitude of production problems, vehicle models affected are generally those with healthy – and even hefty – supplies, according to a Cox Automotive analysis of vAuto Available Inventory data from early March.
The notable exceptions are Toyota and Lexus models as well as pickup trucks. Until now, automakers had managed to strategically allocate computer chips to maintain the production of the most popular and most profitable vehicles, particularly trucks. Now they've run out of moves – and chips.
Ford has said it expects to cut its global output by up to 20% in the first quarter, costing the company $1 billion to $2.5 billion in annual earnings. GM said the lost production around the world could reduce earnings by $1.5 billion to $2 billion this year. Stock prices of many automakers that cut production fell this week in anticipation of the expected profit damage.
High-volume, high-profit trucks taking a hit
Automakers tried for as long as possible to protect their cash cows – high-volume, high-profit full-size pickup trucks. But they no longer could avoid production adjustments to them.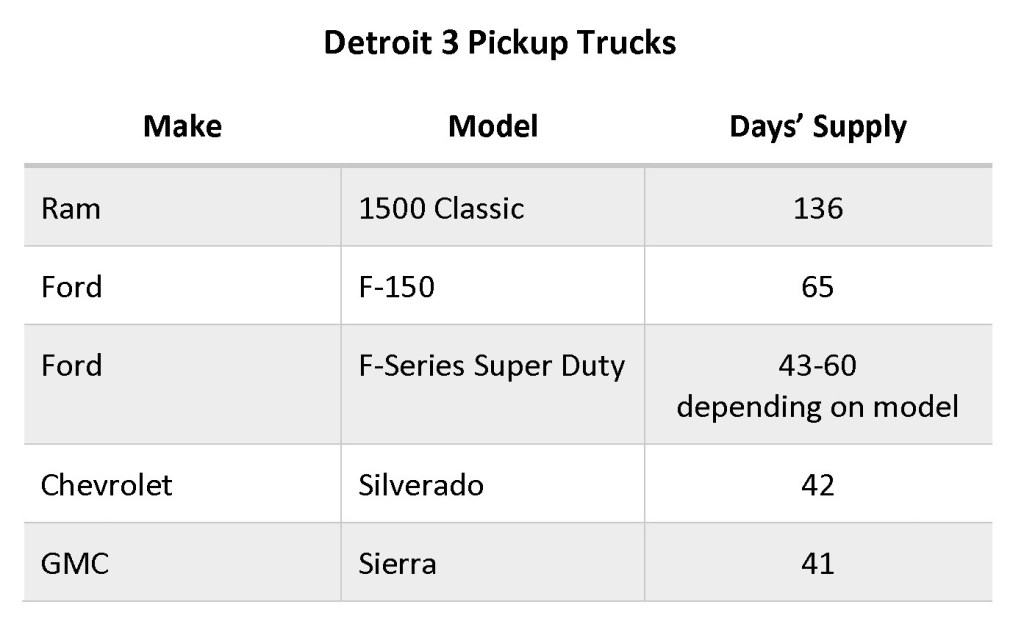 GM said it is building pickup trucks without the fuel management module for which it does not have the computer chips. GM will sell those vehicles, noting that fuel economy will be diminished.
GM has had extremely tight inventory on its full-size Chevrolet Silverado and GMC Sierra pickup trucks for months. They were running at about a 41 days' supply, far below the national industry average of 71 days' supply, according to a Cox Automotive analysis of vAuto Available Inventory data in early March. Cox Automotive calculates days' supply based on the daily sales rate for the most recent 30-day period.
GM's medium- and heavy-duty versions of its full-size trucks were running at even lower inventory levels. So too were its midsize trucks, the Chevrolet Colorado and GMC Canyon, at under 40 days' supply.
Ford will also build its F-150 pickup, which was just introduced in late 2020 in its new form, without the modules. However, it is parking them and not selling them until the chips are available. Ford had a 65 days' supply of the F-150, below the national average in early March. Super Duty models were running lean as well.
Like Ford, Stellantis, formerly Fiat Chrysler, is building but holding Ram 1500 Classic pickup trucks at its Michigan and Mexico assembly plants until the chips are available. Ram had a bloated inventory of 136 days' supply of the 1500 Classic, likely because it is mostly purchased by fleets, which have been slow to recover from the pandemic.
Early on, Toyota intentionally slowed production of the full-size Toyota Tundra pickup truck to use its chips elsewhere since this model is undergoing a redesign later this year. Its days' supply was at a meager 27 to 33, depending on the version. The midsize Tacoma, which now has been affected by a parts shortage, had less than a 25 days' supply.
Toyota, Lexus Have Lowest Inventories
Toyota and its Lexus division have been operating for months with the lowest inventories in the business. Now, Toyota has idled lines, eliminated shifts and temporarily closed plants in Kentucky, West Virginia and Mexico. Toyota cited not just the chip shortage but disruptions in petrochemical products.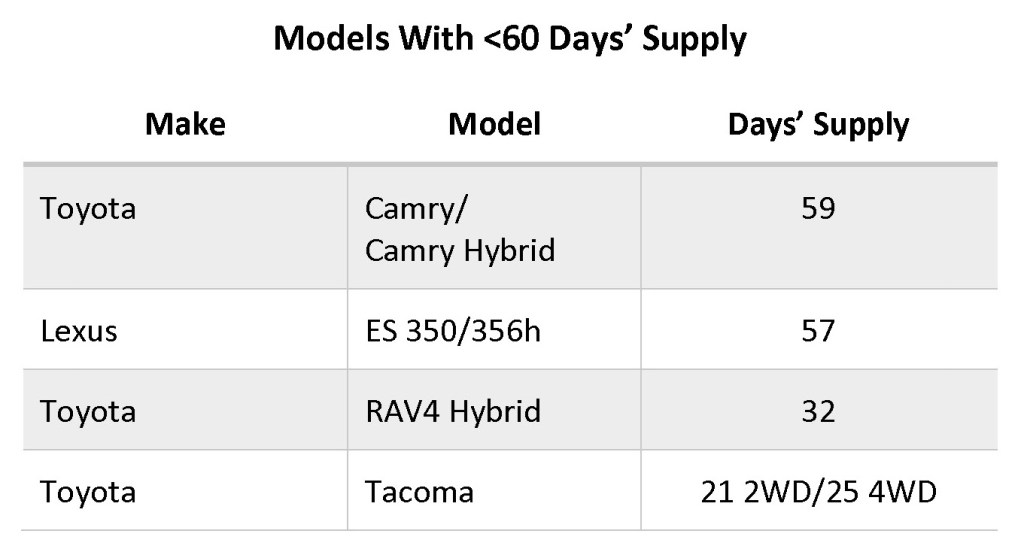 The only affected Toyota model with an abundant supply was the Avalon sedan, at 103 days' supply. Every other vehicle – Camry, Corolla, RAV4 and Lexus ES350 along with their popular hybrid versions – had less than a 60 days' supply. The RAV4, Toyota's best-seller, was down to 32 days' supply.
GM adjusted production at a number of plants in the U.S., Canada and Mexico. Except for trucks, every model affected by the production change had inventory levels higher than the industry average. Days' supply of affected Chevrolet models were: Camaro, 74; Equinox, 79; Malibu, 86; Trax, 111. Cadillac models affected have extremely high inventories: CT4, 170; CT5, 96; and XT4, 97. The only GMC model affected, besides trucks, is the Terrain with a 77 days' supply.
As it is doing with the F-150, Ford is building the Edge SUV without the module but not selling them. The Edge had a 74 days' supply early in the month, only a bit over the national average.
Other Ford models affected are the large SUVs – the Ford Expedition with 107 days' supply and Lincoln Navigator with 78 days' supply. The E-Series vans are also affected and had a 77 days' supply.
Honda suspended production at plants in the U.S. and Canada due to the chip shortage but also because the weather disrupted other parts of its supply chain. Honda plants affected were its main ones in Marysville and East Liberty, Ohio, as well as those in Indiana, Alabama and Ontario, Canada.
The vehicles most affected are the Honda CR-V, which had less than the industry average stock at a 68 days' supply. The Honda Accord had a bit more at 75 days' supply. The Honda Civic, which is in launch mode in its new form, had a bloated inventory – 118 days' supply for the sedan and 94 days' supply for the hatchback.
Nissan suspended production at three N.A. factories: in Tennessee where it makes the Rogue and Altima; in Mississippi where it makes the Murano; and Mexico, where it makes the Versa and Kicks.
The affordable Kicks was the only one of the Nissan models affected that had less than the industry average of inventory at a 65 days' supply. Altima and Versa, both sedans, had days' supply of over 100. Rogue, which was just launched in redesigned form, and Murano, both crossovers, had days' supply of 83 and 99, respectively.
Volvo halted production temporarily in the U.S. and China. It makes the S60 sedan in South Carolina, which had an overabundance of inventory at 137 days' supply.
Opinions vary widely as to when the chip shortage will end. Some auto executives say in the second quarter. Others think it could spill into next year.
Tags