Data Point
New-Vehicle Supply Edged Higher; Prices Dipped Again
Wednesday March 16, 2022
Article Highlights
New-vehicle inventory edged higher in the last two weeks of February.
Average new-vehicle listing price retreated from its peak, falling below $45,000.
Import ranked lowest for supply; domestic inventory improves.
Revised, April 13, 2022 – New-vehicle inventory edged higher in the last two weeks of February, though days' supply fell from January, according to a Cox Automotive analysis of vAuto Available Inventory data. Prices slipped again, staying below $45,000.
---
1.07M
Total Inventory
as of Feb. 28, 2022
$44,661
Average Listing Price
---
The total U.S. supply of available unsold new vehicles stood at 1.07 million units at the start of March. That compared with the revised January available supply of 1.06 million vehicles.
Still, available supply was down 59% from the same period in 2021. In raw numbers, the supply of unsold new vehicles as March opened was about 1.5 million vehicles less than the stock of a year ago and 2.4 million less than in 2020.
"Supply has improved in recent weeks, but only marginally," said Charlie Chesbrough, Cox Automotive senior economist. "Sales in March will be higher than February, but that will be due to three more selling days and not a significant change in availability."
The days' supply of unsold new vehicles was 35 at the start of March, down from 37 in early February. The total days' supply bottomed out at the end of September at 25. Still, the day's supply at the start of March remained 50% below the end of February 2021.
The Cox Automotive days' supply is based on the daily sales rate for the most recent 30-day period. New-vehicle sales have been losing momentum since June. The September sales pace, or seasonally adjusted annual rate (SAAR), dropped to 12.1 million, compared with more than 16 million and 17 million in 2020 and 2019, respectively. The sales pace has been slowing since June.
---
The following commentary, while directionally correct, is unrevised from the original publication on March 16, 2022.
The Cox Automotive days' supply is based on the daily sales rate for the most recent 30-day period, in this case, ended March 1. Total light new vehicle sales in February were down 12% from a year ago with the same number of selling days compared to last year. By volume, February new-vehicle sales were up 6% over January, but the February light vehicle seasonally adjusted annual rate (SAAR) was 14.1 million, which was down from last year's 15.9 million and 6% lower than January's 15.0 million rate.
Lower sales are due to a lack of inventory, not a lack of demand, which remains robust. In fact, if not for near-record prices, demand might even be higher.
The auto industry is contending with multiple problems that are disrupting the supply chain: the stubborn and continued chip shortage; a surge in COVID-19 in Asia, specifically China, that has prompted lockdowns and plant closures; and now Russia's invasion of Ukraine. They have combined to cause the number of vehicles cut from automakers' production schedules to surge, especially in Europe and Asia.
Prices slip again
The average listing price – or the asking price – dropped by the end of February to $44,704, a decrease from the revised end-of-January price of $44,814. Still, that price was 12% above February 2021. The average listing price for luxury vehicles was $65,044, according to Cox Automotive data. The non-luxury average listing price was down to $41,572.
The average transaction price – the price people paid – also decreased again in February to $46,085, according to data from Kelley Blue Book, after reaching a record in December 2021. Prices fell due to fewer luxury vehicles being sold in February. Still, prices are elevated, with the average transaction price was about $5,000 higher in February than it was a year ago.
Import brands have lowest supply
Non-luxury vehicles had a supply of 929,371 vehicles, for a 34 days' supply. Available luxury vehicles totaled 141,501 vehicles for a 35 days' supply.
All brands with the below-average inventories were imports. Brands with the very lowest inventories held the same rankings as the previous week: Kia, Lexus, Toyota, Subaru, Land Rover and Honda. Brands with higher inventory were Ram, Volvo, Audi, Jeep, Buick and Lincoln.
National Days' Supply By Brand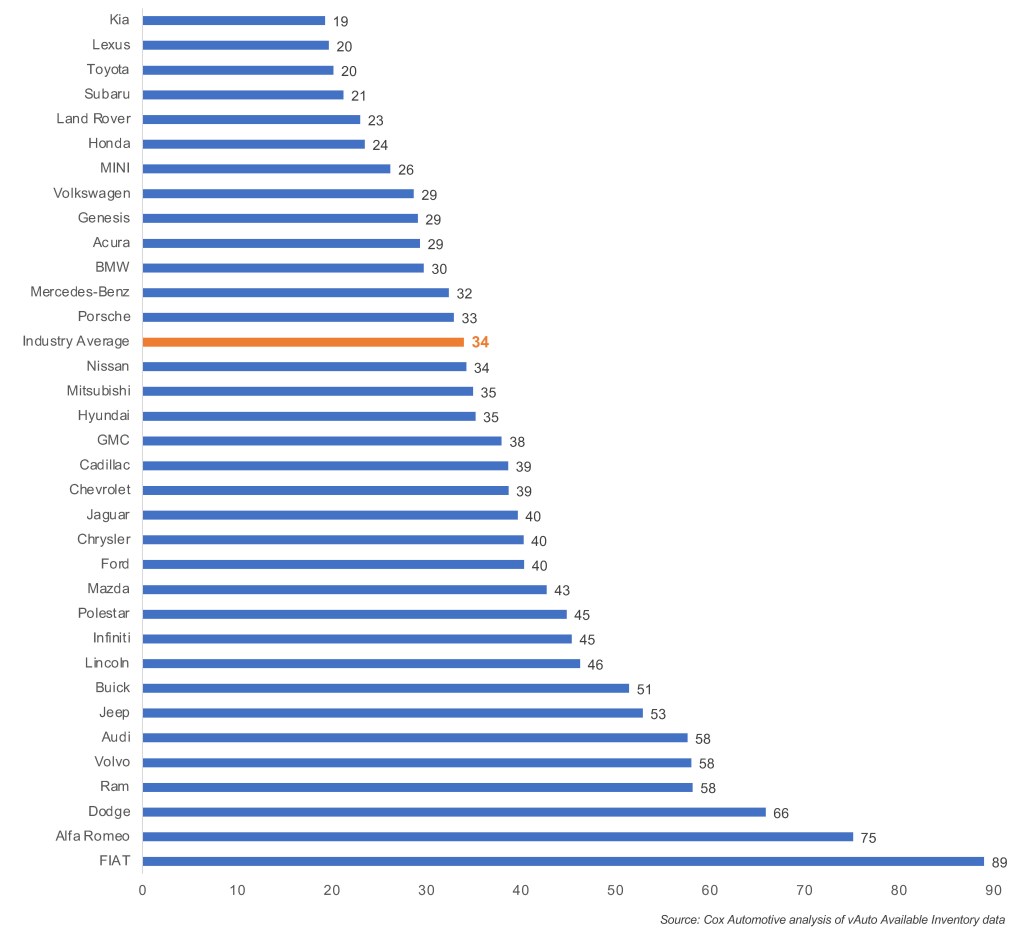 Among segments, the lowest inventories were for high performance cars, minivans, compact and midsize cars, luxury crossovers and midsize SUVS. Of the six segments with the highest inventories, five were cars – luxury and larger cars. Full-size trucks, which require more inventory due to the large number of configurations, also were at the higher end.
The 16 most popular models with the lowest inventories were imports from Toyota, Honda, Kia, Lexus and Subaru. At the bottom, again, was the Subaru Forester followed by the Honda Civic.
Popular models with the highest inventory were mostly domestic trucks and SUVs. Popular models with the highest inventory were Ram 1500, Ford Escape, Chevrolet Silverado, Mazda CX-5 and Jeep Grand Cherokee L.
In terms of price categories, the highest days' supply was for vehicles priced between $50,000 and $60,000 and above $80,000. Less expensive vehicles had the lowest days' supply. Vehicles priced between $20,000 to $30,000 had the lowest days' supply at 28.
---
More insights are available from Cox Automotive on new-vehicle inventory, using a 30-day rolling sales methodology to calculate days' supply.
---
Michelle Krebs is executive analyst at Cox Automotive.
Tags