Commentary & Voices
Q1 2020 Kelley Blue Book Brand Watch Report: Pickup Truck Shopping Hit New Highs
Friday May 8, 2020
Article Highlights
Pickup truck, SUV shopping set records.
New Toyota Highlander, Ford Explorer gain traction.
Toyota dominates shopping consideration.
Any hope for a sales rebound for traditional cars was dashed as shopping consideration for SUVs and pickups climbed to new highs, according to the Kelley Blue Book Brand Watch Report for Q1 2020.
The Brand Watch Report is a consumer perception survey that also weaves in consumer shopping behavior to determine how a brand or model stacks up with its segment competitors on a dozen factors key to a consumer's buying decision. Kelley Blue Book produces a separate Brand Watch Report for non-luxury and luxury brands each quarter.
Of new-vehicle shoppers, 30% considered a pickup truck during Q1, a new high, up from 29% in Q4 2019 and 24% in Q1 2019. The higher shopping was driven by full-size pickup trucks, which has continued throughout the COVID-19 pandemic crisis. The shopping has translated into sales, with pickups becoming the No. 1 selling segment in March.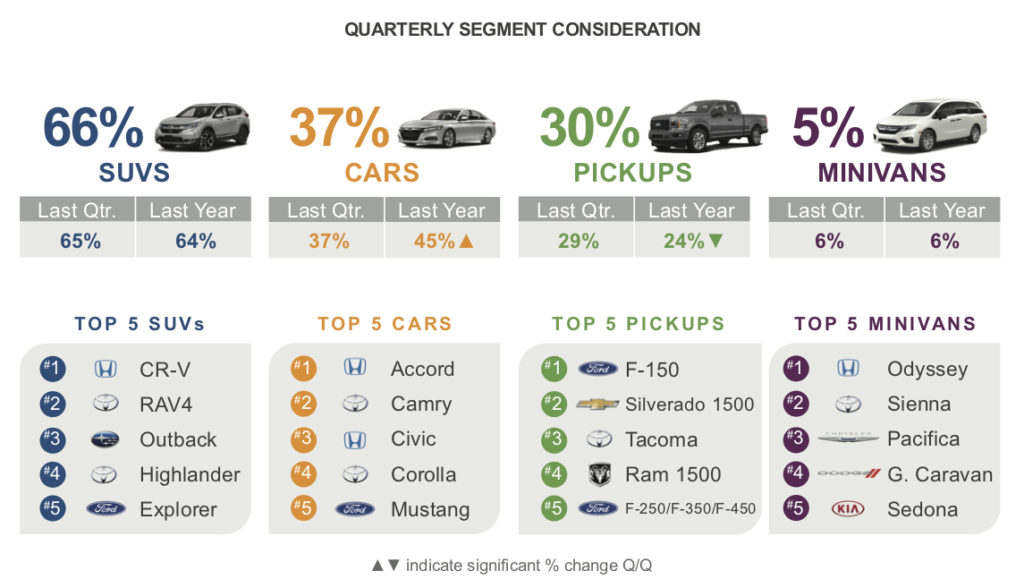 Ford F-150, which undergoes a redesign later this year, remained the most-shopped and top-selling pickup truck model. But, in the year-over-year comparison, F-150 appears to be losing its luster relative to the new Chevrolet Silverado and Ram. Those two have been in a back-and-forth battle for second place for sales.
Similarly, SUV shopping edged higher in Q1 2020. Of new-vehicle shoppers, 66% considered an SUV, up from 65% in Q4 2019 and 64% a year ago. Higher consideration for midsize SUVs drove the increase as they did sales. SUV consideration held strong with Honda CR-V and Toyota RAV4 firmly in the top positions since Q2 2017.
In contrast, only 37% of new-vehicle shoppers considered a traditional car, the same level as Q4 2019 but down significantly from 45% a year ago. Sales for traditional cars is down even more, well below 30%. Indeed, as automakers have trimmed car offerings, fewer cars are available for shopping.
The percentage of new-vehicle shoppers who considered a minivan edged downward to 5% from 6% in the previous as well as the year-ago quarter.
Toyota Dominated Leaderboard
Toyota continued to dominate non-luxury shopper consideration in Q1. Toyota has been the most considered non-luxury brand since Q2 2018 when it grabbed the top spot from Honda.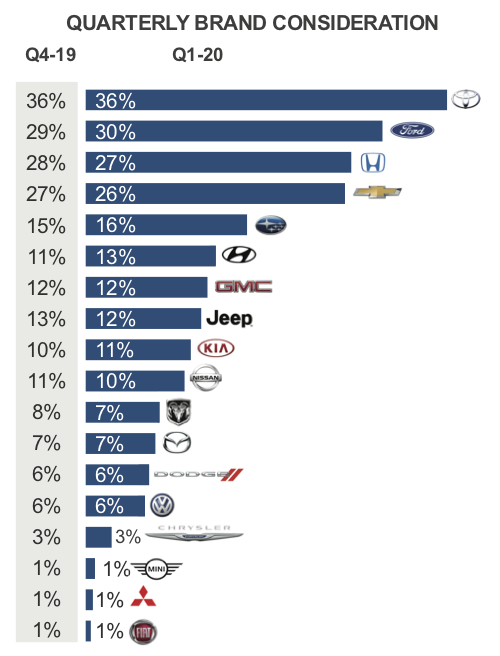 Four Toyota models ranked among the top 10 most-considered models by shoppers. Toyota's strength is its dominance in the SUV and Midsize Truck segments. Consideration for the new Highlander soared by 30%, more than any other model. Toyota, which sells the full-size Tundra and midsize Tacoma, recently won the 2020 Kelley Blue Book Best Overall Truck Brand.
Brand consideration shares remained similar to Q4 2019, except for Hyundai, which moved to 6th from the 8th position in the quarter, on the strength of the popular Palisade SUV.
Ford's one-point increase in share is due to consideration for the F-150 and now the new Explorer, which had the second-highest increase in shopping consideration. Ford had production challenges with the new Explorer, but it is gaining traction.
Honda has experienced ebb and flow for the past couple of years. It recently won the 2020 Kelley Blue Book Award for Best Value Brand. However, its consideration is the lowest in four years.
The Top 10 Most Shopped Vehicles
Three new SUV entrants – the Toyota Highlander, Ford Explorer and Subaru Forester – made the list of the top 10 most-shopped vehicles.
The Ford F-150 reclaimed the top spot from Honda CR-V in Q1, but the race with CR-V and Chevrolet Silverado was tight.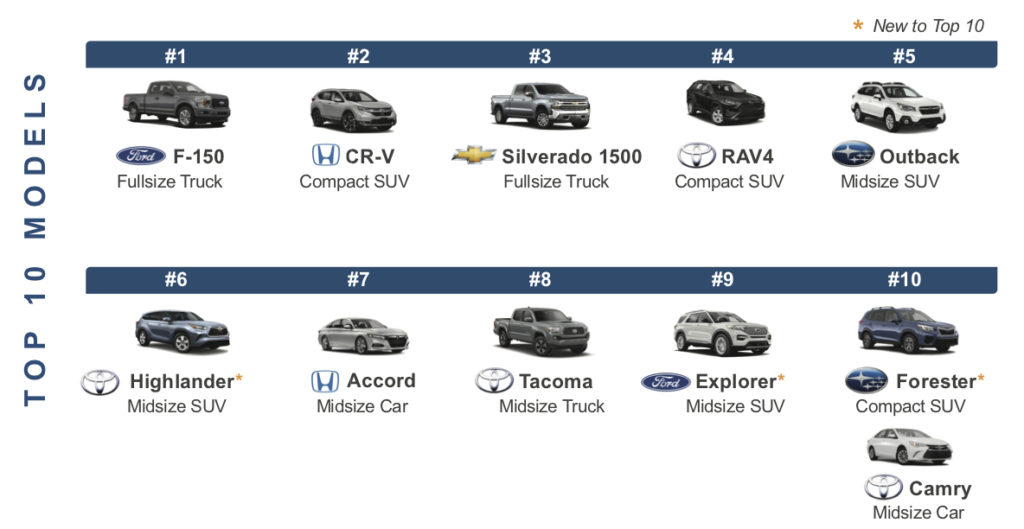 Detroit Three models lost ground on the top 10 list compared to Q4 2019. The Jeep Grand Cherokee, being replaced in early 2021, and Ram 1500 waned in consideration. However, domestics may well regain ground in the next quarterly Brand Watch, because, when COVID-19 hit, they were out early and aggressively with zero percent financing up to 84 months with deferred first payments across their lines. This early and aggressive move paid off with sales.
Technology gains importance with buyers
In terms of the 12 factors most important to non-luxury buyers, Reliability/Durability always is most important by a wide margin followed by Safety. The ranking of the factors has changed little in the past five years. Affordability and Driving Comfort swapped places again with Driving Comfort edging out Affordability.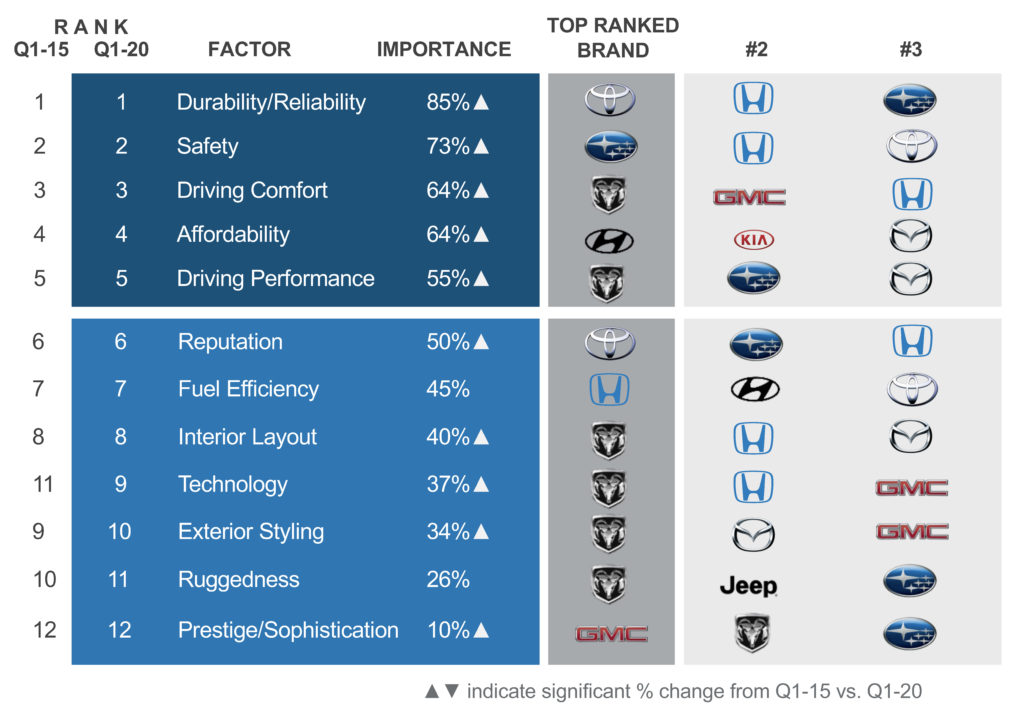 The one exception is technology, which moved up to 9th most important in Q1 2020 from 11th most important in Q1 2015 to 9th spot. Driver-assist, safety and connectivity features now have more sway in shoppers' purchase decisions.
Toyota has held the top spot for Durability/Reliability since Q4 2018 when it grabbed No. 1 from Honda.
Ram again ranked first in half of the dozen "importance" factors.
Subaru continues to dominate in safety. Subaru also garnered three 2020 Kelley Blue Book Brand Image Awards for Best Overall Brand, Most Trusted Brand and Best Performance Brand, with a nod to its driving dynamics for both sports cars and SUV handling.
GMC's sleek styling, comfort and technology in its model line earned it the 2020 Kelley Blue Book Brand Image Award for Most Refined Brand.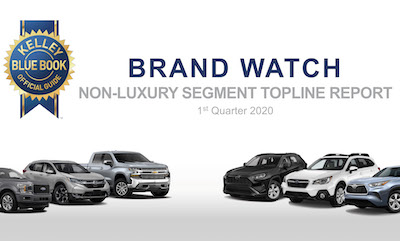 Download Q1 2020 Kelley Blue Book Brand Watch - Non-Luxury
Read the full report.
Download