Commentary & Voices
Q1 2023 Kelley Blue Book Brand Watch Non-Luxury Report: Chevrolet Gains on Toyota in Shopping; Truck Consideration Soars
Tuesday May 16, 2023
Article Highlights
Chevrolet and Ford, helped by improved inventory, gained on Toyota in shopping consideration in the first quarter.
Consideration for pickup trucks set a record, with 36% of non-luxury vehicle shoppers considering a truck.
Ram captured top honors in seven of the 12 factors most important to non-luxury vehicle shoppers.
Chevrolet gained on Toyota in shopping, and pickup truck consideration soared to record highs, according to Kelley Blue Book Brand Watch™ report on non-luxury shopping for the first quarter of 2023.
The Kelley Blue Book Brand Watch report is a consumer perception survey that also weaves in shopping behavior to determine how a brand or model stacks up with its segment competitors on a dozen factors key to a consumer's buying decision. Kelley Blue Book produces the quarterly Brand Watch reports for non-luxury and luxury brands and assesses shopping for electrified vehicles.
Chevrolet and Ford, Helped by Improved Inventory, Gained on Toyota
Toyota reigned as the most shopped non-luxury brand for the fifth consecutive quarter. However, Chevrolet as well as Ford gained, closing in on Toyota.
Of all non-luxury vehicle shoppers, 32% considered a Toyota, down a percentage point from the fourth quarter of 2022. Tight inventory may be causing shoppers to turn to other brands. Shopping for popular hybrids – Prius Prime, RAV4 Hybrid, Highlander Hybrid – posted the largest declines among Toyota models. Shopping for the midsize Tacoma pickup truck, which is being replaced soon by a fresh 2024 version, also fell. All Toyota models that lost shopping share are in extremely low supply.
Quarterly Brand Consideration
Chevrolet increased its shopping percentage to 31% of all non-luxury shoppers on large gains by the Suburban and Trailblazer SUVs as well as the midsize Colorado pickup, just now launching in its redesigned form. It was the highest-ever share of shopping for Chevrolet.
Ford, ranked No. 3 in shopping, also gained a percentage point to 30% on increased interest in the Escape Hybrid, Maverick Hybrid and Explorer.
Honda, ranked No. 4, lost a percentage point of shopping share to 21% of non-luxury buyers considering the brand – an all-time low for the brand. Like Toyota, Honda has one of the lowest inventories among non-luxury brands. Shopping consideration fell for the CR-V, CR-V Hybrid and Civic, all with among the lowest inventories in the industry. Shopping for the Odyssey also fell in the first quarter, as minivan supply, in general, has been at the low end, along with small to midsize cars. On a positive note, despite declines in shopping levels, Honda closed the first quarter with an uptick in sales versus Q4 2022 and year-ago levels.
Ram gained a percentage point of consideration on gains from the Ram 1500 pickup truck, which is in overabundant supply and carrying some above-industry-average incentive levels.
Nissan lost the most momentum, falling 3 percentage points to 10% of shoppers considering the brand. Consideration for the Pathfinder SUV, Altima sedan and aged Murano SUV fell.
Shopping for Hyundai, Kia, Subaru, Dodge, Mitsubishi and Volkswagen all slipped in Q1 by at least a percentage point. For Hyundai, interest in the Elantra, Tucson and Tucson Hybrid softened. For Kia, shopping for the Sportage dipped. Shopping for Subaru's Outback, Forester and Ascent declined. Dodge Challenger shopping softened as the sports car is about to be discontinued. At Volkswagen, Jetta shopping weakened.
The remaining brands held steady.
Pickup Trucks Set Consideration Record
Shopping consideration for pickup trucks set a record in the first quarter of 2023. Of all non-luxury shoppers, 36% considered a truck, the highest ever. That was up from 33% in the fourth quarter of 2023 and 35% from the year-ago first quarter.
Quarterly Segment Consideration
The Chevrolet Silverado 1500 regained the No. 1 spot as the most-shopped pickup truck, replacing the Ford F-150, which held the lead through the second half of 2022. The GMC Sierra 1500 ranked third, followed by the Ram 1500, which returned to the Top 5 most-shopped truck list, replacing the Toyota Tacoma. Ford's F-Series Super Duty models rounded out the Top 5.
In addition to full-size trucks, midsize trucks are getting buzz. GM is launching the redesigned Chevrolet Colorado and GMC Canyon. Toyota is introducing a revamped version of the Tacoma as a 2024 model.
Pickups dominated the Top 10 most-considered models in total, with a half-dozen trucks making the list. The top five most-shopped vehicles in Q1 were trucks.
Top 10 Models Considered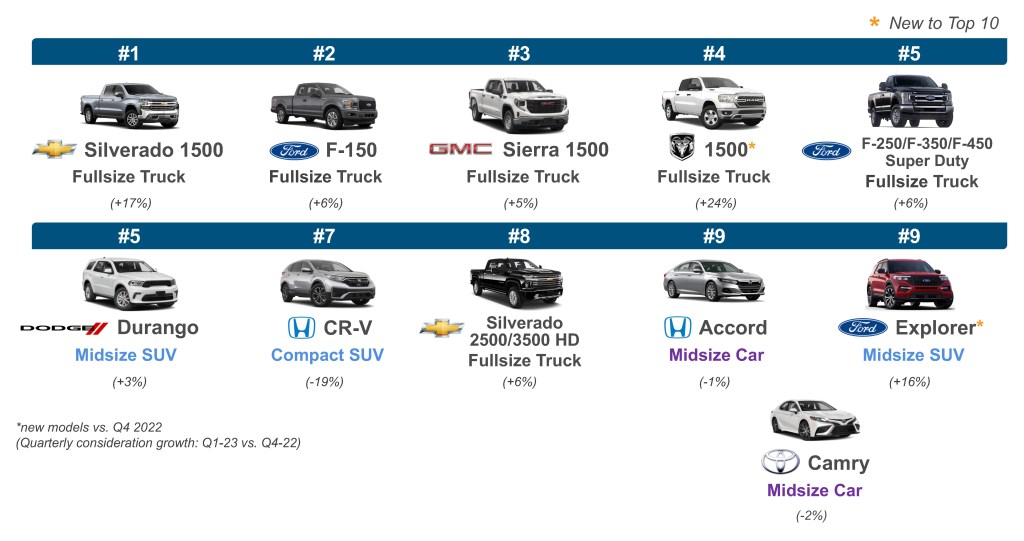 Still, SUVs remain the most-shopped body style, with 66% of all non-luxury shoppers looking at them. That is about the same percentage that it has been for some time. The five most-shopped SUVs, in order, were the Dodge Durango, Honda CR-V, Ford Explorer, Toyota Highlander and Toyota RAV4.
Shopping for traditional cars slumped to just 32% of non-luxury shoppers considering them. That is down from 36% last quarter and 37% a year ago when gas prices started climbing. However, in terms of sales, the market share for traditional cars increased in the first quarter. Budget-minded shoppers are looking for less expensive transportation than SUVs and trucks. While still low, the supply of cars improved from Asian automakers who dominate in cars after domestic makers largely abandoned car segments. The Top 5 most-shopped cars, in order, were the Honda Accord, Toyota Camry, Honda Civic, Dodge Charger and Ford Mustang.
Asian models generally are a staple on the overall Top 10 shopping list. But Toyota and Honda have not fully recovered from inventory shortages, and their strength is not in trucks. The only Asian models to make the Top 10 were the Honda CR-V, at No. 7, while Honda Accord and Toyota Camry tied for No. 9 with the Ford Explorer SUV.
Minivans, which are on the low end of supply industry-wide, held onto their 5% share of non-luxury shopping. The most-shopped minivans, in order, were the Chrysler Pacifica, Toyota Sienna, Honda Odyssey, Chrysler Pacifica Hybrid and Kia Carnival.
Ram Took the Top Place in Seven Factor Categories
The rating of factors most important to non-luxury vehicle shoppers has held relatively steady over the past five years. Factors related to cost have gained in importance. Affordability now ranks higher than Driving Comfort. Fuel Efficiency is deemed more important than Reputation.
Ram regained its lead in Driving Comfort, Driving Performance, Interior Layout, Exterior Styling and Prestige/Sophistication. It remained the leader in Technology and Ruggedness. The brand often hits high marks when pickup truck consideration is as strong as it was in the first quarter.
Factors Driving Non-Luxury Consideration
After losing steam the past couple of years, Honda is regaining momentum. Notably, it received the 2023 Kelley Blue Book Brand Image Award for Best Overall Non-Luxury Brand and Best Value Brand. Honda maintained its reign for Fuel Efficiency and grabbed top honors in Safety from Subaru for the first time. In addition, Honda placed first in Durability/Reliability, Affordability and Reputation while holding the No. 2 spot for four categories and No. 3 for two categories.
Tags