Commentary & Voices
Q2 2019 Kelley Blue Book Brand Watch: Non-Luxury Segment
Thursday August 15, 2019
Article Highlights
Pickup-truck shopping set an all-time record, partly fueled by business benefits from 2018's tax reform.
Americans showed continued love for SUVs as more than two-thirds of shoppers considered an SUV.
Fuel efficiency slipped in importance for shoppers as gas prices dipped. Brand reputation jumped ahead of fuel efficiency.
Americans' love for pickup trucks swelled in the second quarter, while their desire for SUVs stayed stronger, according to Q2 Kelley Blue Book Brand Watch ™ for non-luxury vehicles.
Kelley Blue Book Brand Watch is a consumer perception survey that also weaves in consumer shopping behavior to determine how a brand or model stacks up with its segment competitors on a dozen factors key to a consumer's buying decision. Kelley Blue Book produces quarterly Brand Watch reports for non-luxury and luxury brands.
Non-luxury segment consideration
Pickup trucks set an all-time record for shopping consideration. Of all new-vehicle shoppers in Q2, 28% considered a truck, a hefty gain from Q1's 24%. It was the only major non-luxury segment to gain from the first to second quarter.

Consumer interest in trucks is fueled partly by 2018's tax reform that gives business truck owners depreciation benefits. Vehicle sales to commercial fleets, particularly of trucks, have soared since tax reform went into effect. New players, including the Ford Ranger and Jeep Gladiator, are also driving interest in trucks.
Of the 15 most-shopped models, three were pickups – Ford F-150, Chevrolet Silverado and Toyota Tacoma. All gained in consideration from Q1. If the trend continues, more trucks could show up on the Top 15 list.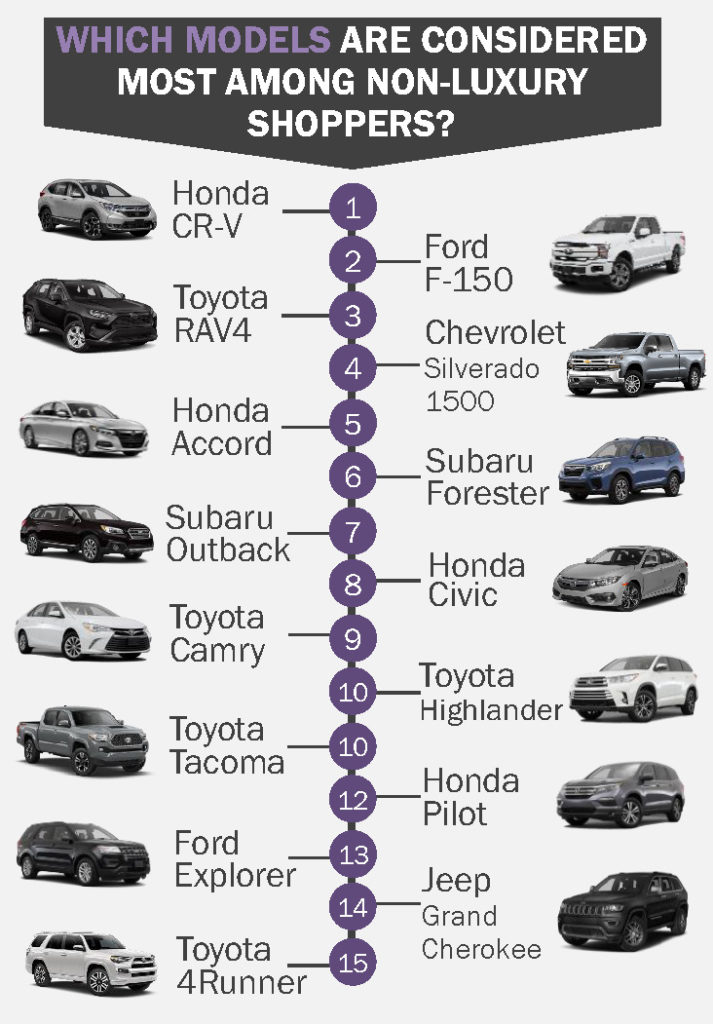 In terms of sales, Ford held onto the No. 1 spot as it has for decades. The Ram 1500 grabbed the No. 2 spot, long-held by Silverado, even though Silverado moved up four spots on the most-shopped list from Q1. Ram consideration also is up significantly.
Interest in SUVs held steady but still strong. The SUV category was the most-considered vehicle type among non-luxury segments by a wide margin. Of all new-vehicle shoppers, 64% considered an SUV, the same as Q1. The compact SUV is the most-shopped segment of SUVs.
Of the top 15 most-shopped vehicles, 10 were SUVs in Q2. The Honda CR-V was the most-shopped non-luxury vehicle for the 11th consecutive quarter. The Toyota RAV4 was not far behind.
The Subaru Outback moved up from last quarter as did the aged Jeep Grand Cherokee. The Toyota 4Runner made the Top 15 list for the first time since Q4 2016. The Top 15 list was rounded out by other Toyota, Honda and Subaru utilities as well as SUVs from Ford, Chevrolet and Jeep.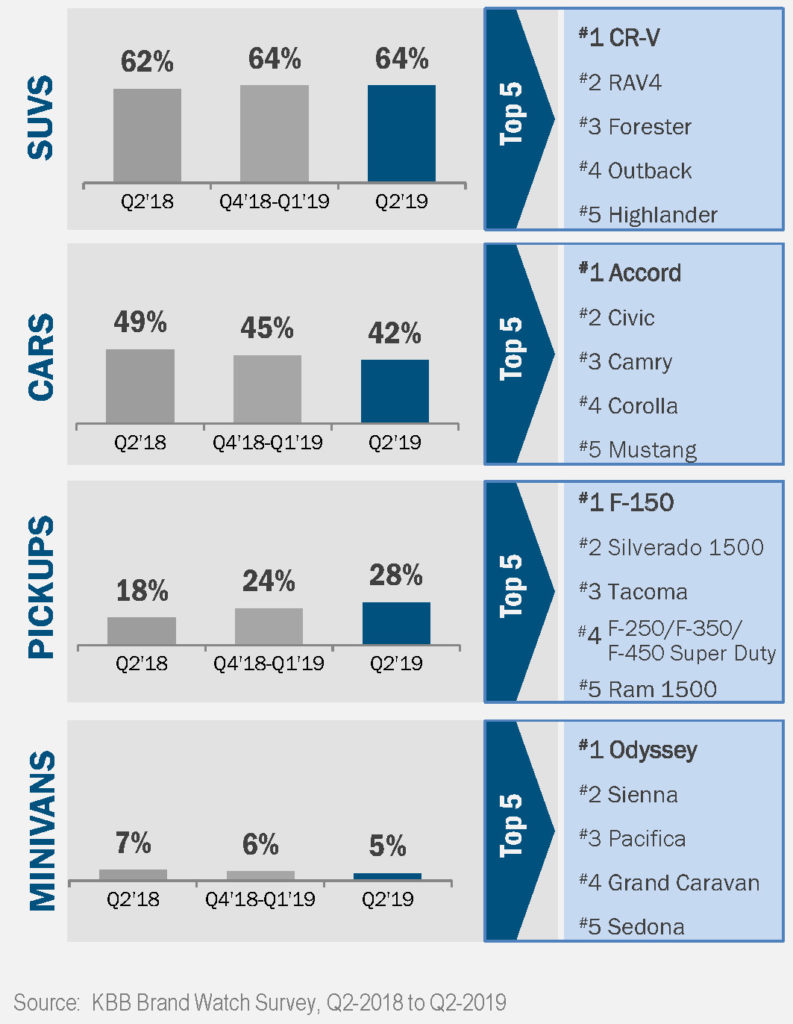 With SUV consideration still strong but plateauing of late, the question is will there be room for the onslaught of new and redesigned SUVs launching over the next two years. Already, automakers with older versions are trimming production. General Motors and Ford are dialing back production of some older utilities as sales weaken to avoid bloated inventories.
Consideration for cars slipped again in the quarter, down to 42% of all new-vehicle shoppers from 45% in Q1. Only three cars – Toyota Camry and Honda Accord and Civic – were on the 15 most-shopped list. The Toyota Corolla fell off the list entirely. Toyota recently decided not to build the Corolla at a plant it is building with Mazda in Alabama. Instead it will build a sport-utility vehicle. The question is: Have cars hit bottom in consideration and sales or will they drop further?
Minivan consideration has been in steady decline. In Q2, only 5% of all new-vehicle shoppers considered a minivan. Minivans have gotten very expensive for the average family, and three-row SUVs abound, providing worthy competition for the segment.
Brand consideration
The declining interest in traditional cars made a dent in consideration for the Toyota and Honda brands, though they still sell large numbers of Camry, Corolla, Accord and Civic models.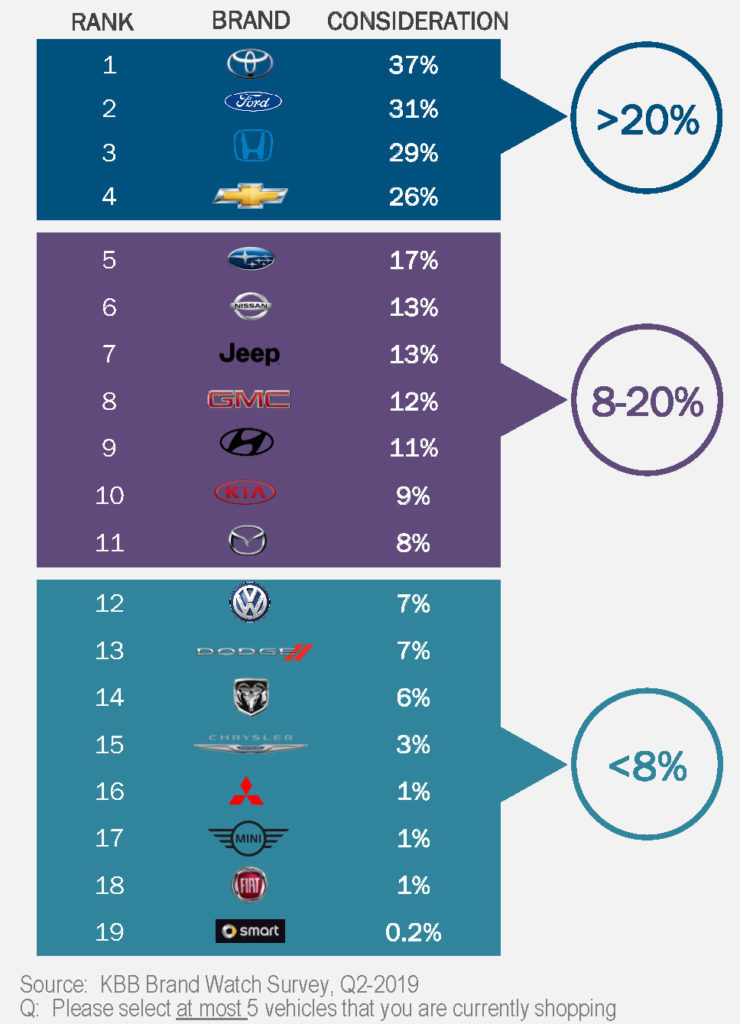 Honda's consideration dropped to levels not seen since Q2 2016. Toyota remained the top considered brand for the fifth straight quarter, but consideration dropped.
Thanks to the newly launched Ford Explorer, Ford's consideration surpassed Honda's and hit its highest level in two years. Ford introduces the new Escape this fall and the Bronco at year-end.
Chevrolet rounded out the top four most-considered brands.
Struggling Nissan had its lowest consideration since 2015. In the quarter, Nissan reported that profits plummeted. As a result, it will cut jobs and production and revamp its marketing and strategy. In addition, the arrest of former CEO Carlos Ghosn, who is being held in Japan on alleged financial misdeeds, hangs over Nissan as does its troubled alliance with French automaker Renault.
What's important to non-luxury shoppers
As gas prices dipped and Americans appetite for SUVs and pickups increased, the importance of fuel efficiency dropped for consumers. Brand reputation jumped ahead of fuel efficiency, likely due to the large number of recalls, particularly from Ford, FCA and Mazda.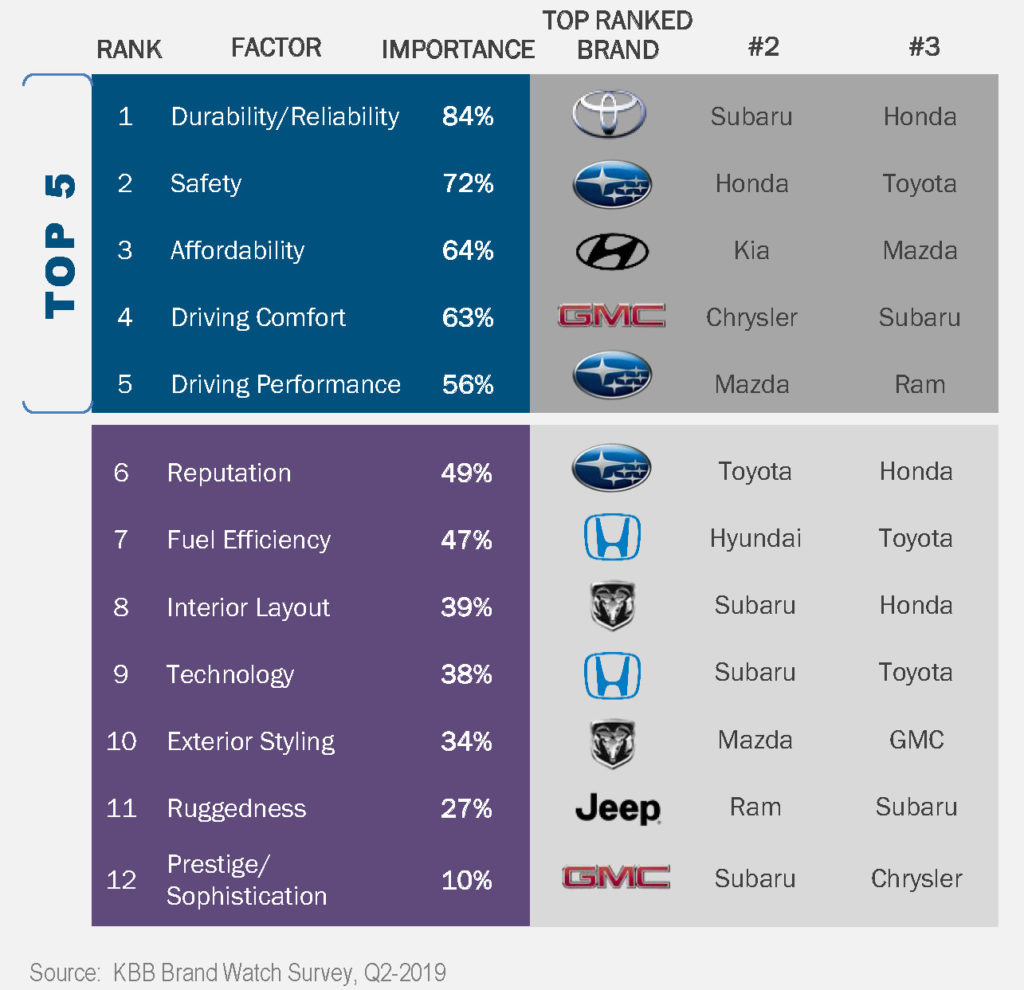 Affordability remains important, but apparently what is affordable is relative. The average transaction price of pickups is in the $50,000 territory. SUV ATPs run between $30,000 to $40,000, depending on the segment.
Not only did Honda drop in consideration, but it also slipped in factors important to consumers that it used to dominate, notably Durability/Reliability, Reputation and Fuel Efficiency. Recalls for Takata airbags that hit Honda particularly hard may be partly to blame.
Toyota regained the top spot in Durability/Reliability from Honda, a factor it has not led since early 2016.
For the fourth consecutive quarter, Hyundai ranked first in Affordability. It was second in Fuel Efficiency.
Domestic brands gained steam in areas important to shoppers. GMC, Ram and Jeep led five areas. GMC was the leader in Driving Comfort as well as Prestige/Sophistication. Jeep dominated Ruggedness. Ram ranked tops in Interior Layout and Exterior Styling.
Struggling Mazda lost its rankings in Driving Performance, Exterior Styling and Prestige/Sophistication.