Commentary & Voices
Q3 Kelley Blue Book Brand Watch: Car Shopping Falls to New Lows, Truck Shopping Rises to New Highs
Monday November 4, 2019
Article Highlights
Ford F-150 was the most-shopped vehicle.
Car shopping fell to new lows; truck shopping rose to new highs.
Consumer shopping for domestic brands rose on pickups, SUVs; shopping Asian brands still strong, but slipped.
Shopping for traditional cars slumped to new lows, while shopping for pickup trucks has soared to new highs, with the Ford F-150 being the most-shopped vehicle, according to the Kelley Blue Book Q3 Brand Watch.
Kelley Blue Book Brand Watch is a consumer perception survey that also weaves in consumer shopping behavior to determine how a brand or model stacks up with its segment competitors on a dozen factors key to a consumer's buying decision. Kelley Blue Book produces quarterly Brand Watch reports for non-luxury and luxury brands.
The percentage of shoppers who considered a traditional car fell to 40% in Q3 from 48% a year ago, the report showed. Only three of the Top 10 most-considered vehicles in Q3 were cars; three pickups and four SUVs rounded out the Top 10.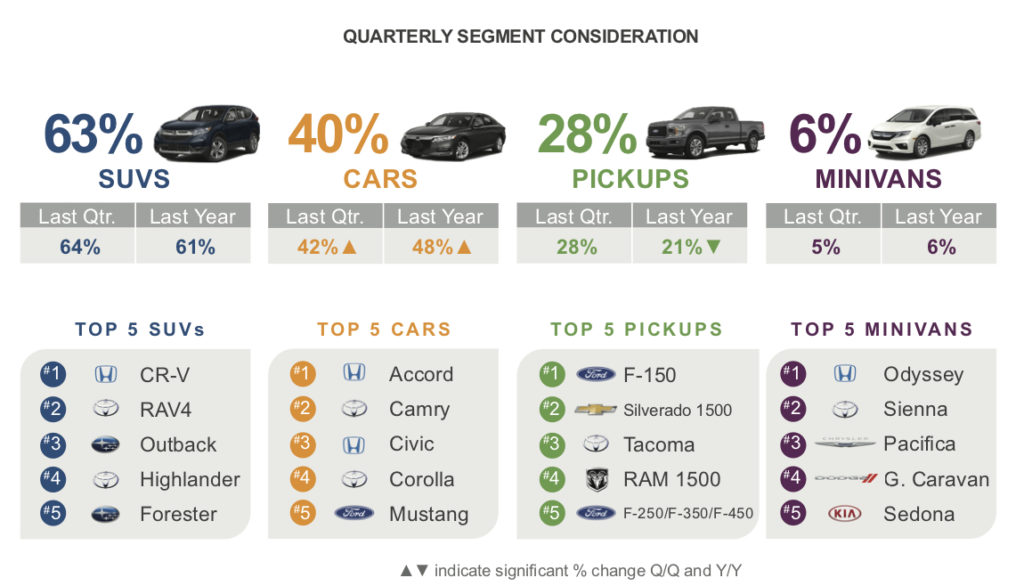 Honda and Toyota, long known for high-quality, reliable vehicles, led shopping consideration in non-luxury cars. Ford Mustang also remained in the Top 5 most-shopped cars.
Lower shopping resulted in lower sales of cars. Cars as a percentage of new vehicles sold dropped to less than 30% in some months this year, according to Cox Automotive. Indeed, fewer cars are on the market since some automakers, notably General Motors and Ford, have dropped some car models from their lines. Volkswagen announced the end of the iconic Beetle in the quarter.
The percentage of shoppers who considered pickup trucks has been soaring to 28% in the last two quarters, up from 21% a year ago, the report said. In contrast to cars, a number of redesigned models, including the Chevrolet Silverado and Ram 1500, or all-new trucks, like the Jeep Gladiator and Ford Ranger, have been introduced.
The Ford F-150 was the most shopped vehicle of all vehicles during Q3 for the first time in three years. It has been the most-shopped truck since Kelley Blue Book Brand Watch started in 2007. The recently redesigned Chevrolet Silverado 1500 followed at No. 2 in truck consideration, even though the Ram 1500 won the high-profile sales race.
Still, SUVs remained the top choice for shoppers, with more than 60% of all vehicle shoppers considering an SUV. In Q3, some cross-shopping between three-row SUVs and minivans was noted.
Toyota, Ford and Honda maintained their top positions for most-shopped non-luxury brands. However, shopping consideration for domestic brands rose due to their strength in pickup trucks and SUVs, as well as hefty incentives especially on trucks.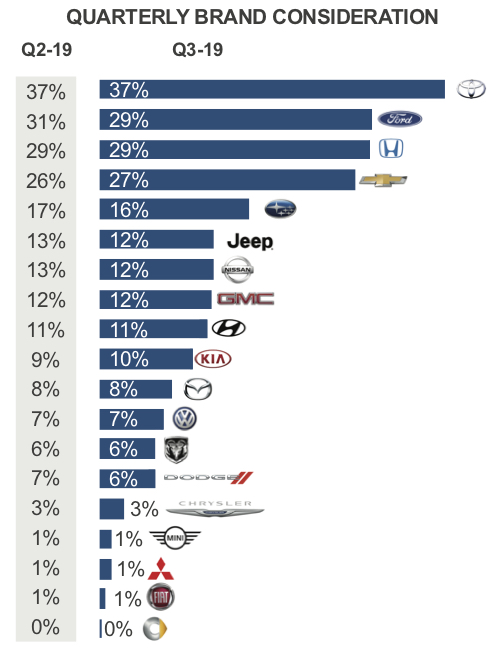 Still, Toyota remained the most-shopped brand by a wide margin on the strength of the Camry. Though consideration slipped for the RAV4, Highlander and Tacoma, the Tacoma broke into the Top 10 most-shopped vehicles, a first since Q2 2016, likely due to the surge in small trucks, a segment Tacoma dominates.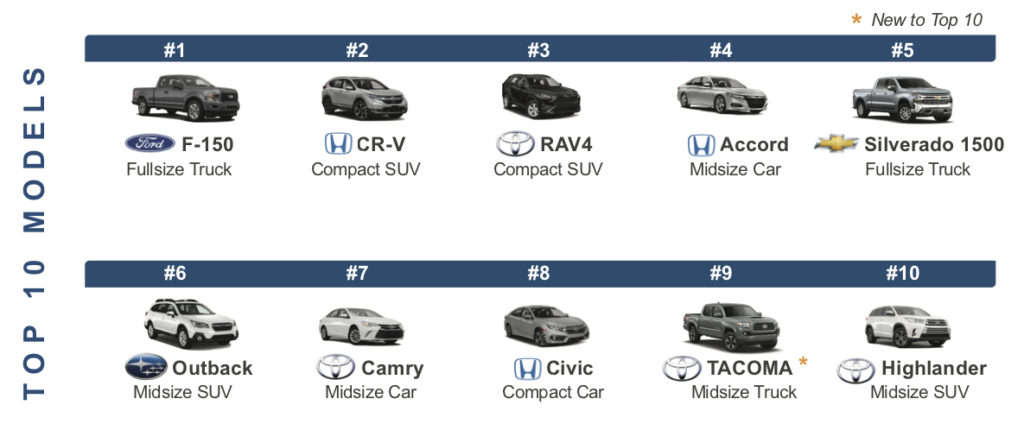 Despite its lofty position as No. 3 in shopping, Honda's consideration continued its steady decline that started in 2017, according to Q3 Kelley Blue Book Brand Watch. Except for the Ridgeline, Honda has no other trucks, and it has little new product of late.
The Honda CR-V lost its top spot as the most-shopped vehicle, a first since Q3 2016, to the Ford F-150, due to pickup strength and an increase in the number of new SUVs to compete with the CR-V.
Similarly, the Subaru Forrester fell from the Top 10 most shopped list, a first since Q2 2016, likely because of new SUV entries as well as new models from Subaru itself.
Nissan's corporate turmoil looks to be trickling down to consumers. It slipped from sixth to seventh most shopped brand, according to Q3 Kelley Blue Book Brand Watch. Aging products don't help. The company wants to wean itself off beefy incentives and high fleet sales.
Chevrolet got a boost in shopping consideration, on the strength of the Silverado, Tahoe and Traverse. It likely got a bump from all of the publicity surrounding the July reveal of the new Corvette as well.
The most important factors for consumers shopping for a non-luxury vehicle has remained largely the same over the past five years.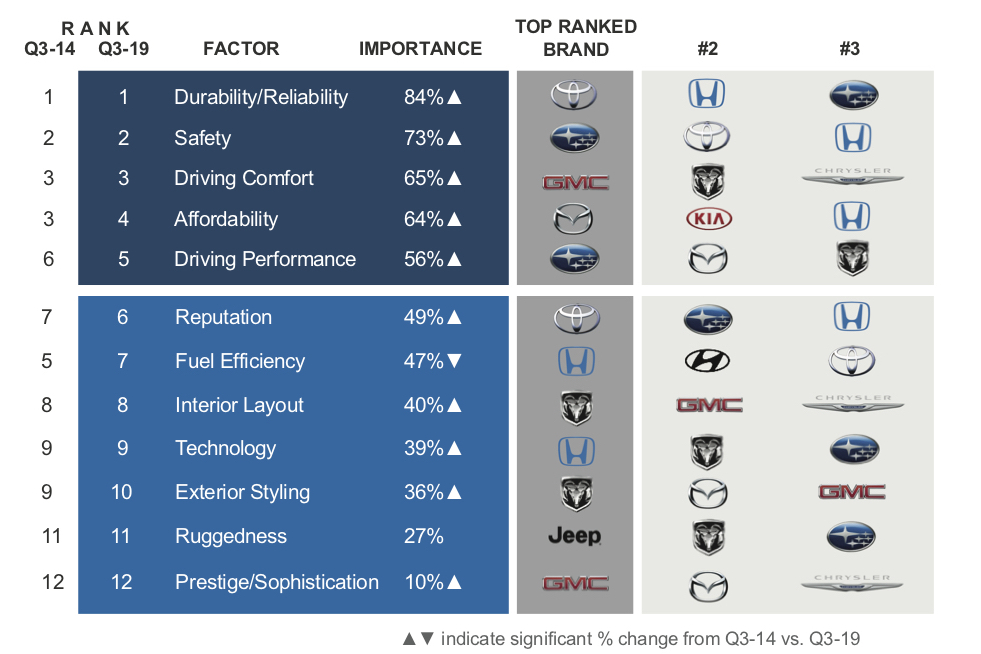 The most noticeable difference is that fuel efficiency is now less important than it was five years ago. Gas remains relatively cheap, and new vehicles achieve better fuel economy with every generation.
The importance in brand reputation is a bit more important than it was five years ago, spurred by events like the massive Takata airbag recall and Volkswagen's emissions cheating with diesel engines.
To that end, Toyota returned to No. 1 for reputation for the first time in three years, nudging Subaru out of the top spot.
Mazda nabbed the No. 1 spot for affordability from Hyundai. Affordability has been a Hyundai/Kia hallmark for years. Meantime, Mazda's signature has been performance, but, as it battled for sales on price, it lost the title for No. 1 in performance to Subaru.
In addition to slipping in shopping consideration, Honda has fallen in factors important to shoppers. Honda led in fuel efficiency and technology in Q3. A year ago, it led in seven of 12 categories.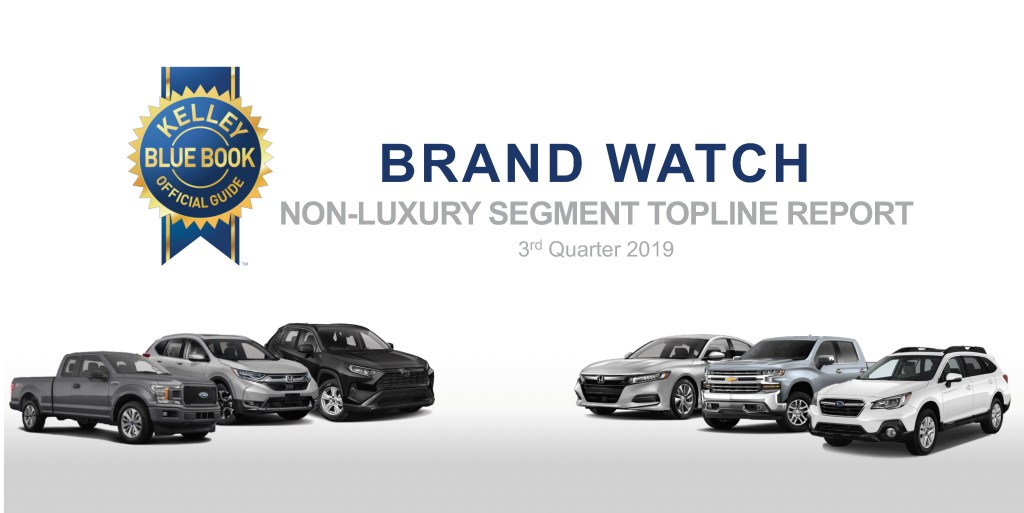 Q3 Kelley Blue Book Brand Watch - Non-Luxury
Read the full report.
Download
Tags