Commentary & Voices
Call Replay and Presentation Available: Q3 U.S. Auto Sales Call
Thursday September 26, 2019
A call replay of the Cox Automotive Q3 Auto Sales Call hosted by Chief Economist Jonathan Smoke, Senior Economist Charlie Chesbrough, Executive Analyst Michelle Krebs and Research Manager Zo Rahim is available now.
During the call, the team discussed key economic indicators driving the auto market and provided a forecast and analysis of new- and used-vehicle sales for September and the third quarter as well as provided some thoughts on the quarter ahead.
The presentation can be downloaded below.
________________________________________________________________________
For more information, please contact:
Mark Schirmer
734 883 6346
Mark.Schirmer@coxautoinc.com
Dara Hailes
470 658 0656
Dara.Hailes@coxautoinc.com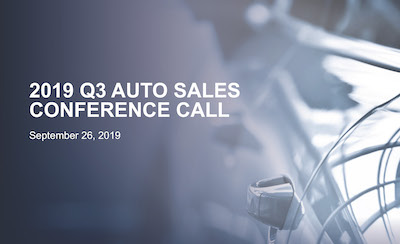 Download the Q3 Sales Call Presentation
Download