Commentary & Voices
Q4 2018 Kelley Blue Book Brand Watch: Non-Luxury Segment
Friday February 22, 2019
Kelley Blue Book Brand Watch™ is a consumer perception survey that also weaves in consumer shopping behavior to determine how a brand or model stacks up with its segment competitors on a dozen factors key to a consumer's buying decision. Kelley Blue Book produces quarterly Brand Watch reports for non-luxury and luxury brands.
Non-Luxury Consideration
Toyota considerably widens its lead from Honda and is No. 1 for the 3rd quarter in a row. Toyota has 5 vehicles in the top 15 list, the most of any OEMs. Consumers continue to love the SUVs, 6.5 million units sold in 2018. Honda CR-V has been the most considered SUV for the past 9 quarters, and there's no reason to believe that this trend will change any time soon. The top 2 selling vehicles are trucks, the F-150 and Silverado, together they command 10 percent of all new vehicles sold.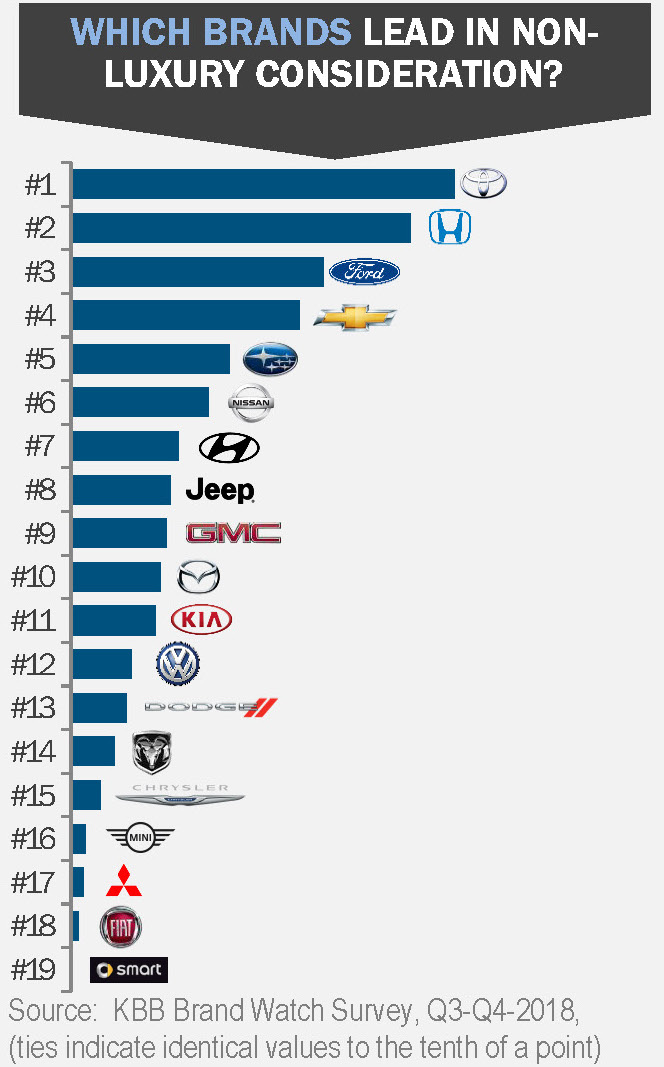 Overall Non-Luxury Segment Consideration
SUVs rule in sales and consideration. SUVs were 44 percent of 2018 new vehicle sales with the compact SUV segment the most popular. Sedans lost in consideration and sales. Still 4.4 million non-luxury cars, for nearly 30 percent market share, were sold in 2018, proving demand remains for cars. Trucks, thanks to fresh entries, gained in consideration and sales, making up almost 20 percent of sales in 2018.

Overall Non-Luxury Brand Consideration
Non-luxury brand consideration held steady for the past 2 quarters. The top brands consisted of the same 4 major OEMs (Toyota, Honda, Ford, and Chevrolet) since the inception of Brand Watch in 2007. Although Toyota is No.1 in consideration, Ford is No.1 in 2018 sales. Notably, Toyota was chosen as the 2019 Best Resale Brand by KBB.com.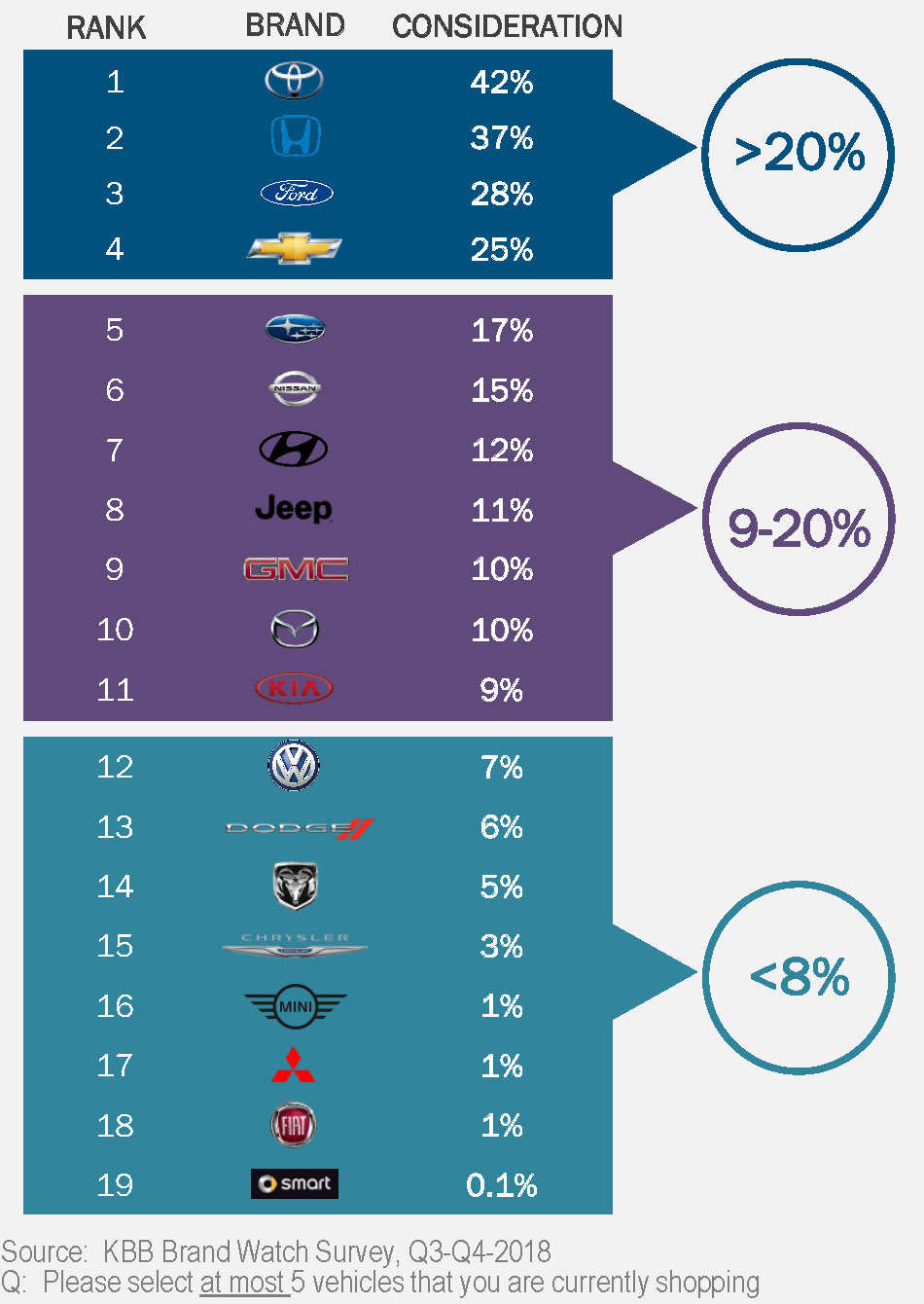 Top Considered Non-Luxury Models Overall
Toyota had the most models in the top 15 for consideration. Tacoma and Tundra won a slew of 2019 KBB.com awards (5-Year Cost to Own, Best Resale Value). Toyota has a wide variety of models (SUVs, cars, trucks) represented on the list, a nod to the OEM's superior range of offerings. Ford hung on in 3rd place, thanks to the hot-selling F-150, but its SUVs dropped from the top rankings. That should reverse when Ford introduces completely new Explorer and Escape SUVs this year.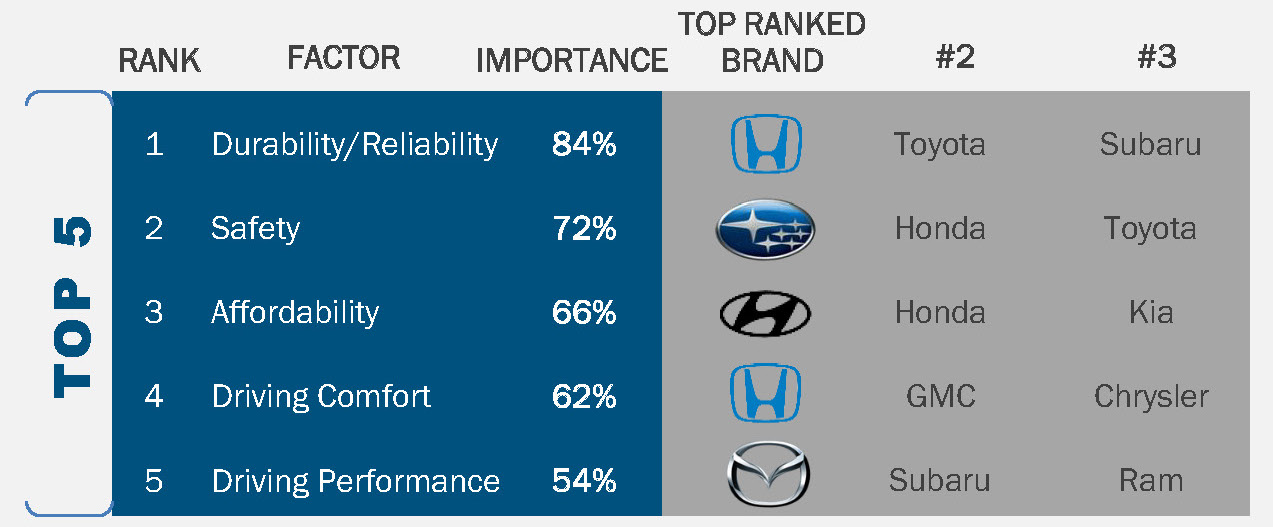 Factors of Importance Driving Non-Luxury Vehicle Consideration
Honda is the undisputed leader when it comes to consumer perceptions, as evidenced by the accolades the brand has racked up throughout the year. The CR-V, Accord, Civic and Odyssey are tops in their segments. Honda won multiple 2019 KBB.com Best Buy, Best Resale Value, and 5-Year Cost to Own Awards. If Honda's dominance in 7 of 12 factor of importance is any indication, the brand stands a good chance to win a KBB.com Brand Image Award in April.
Download the entire Brand Watch report below.
Download the Brand Watch report
Download