Commentary & Voices
Q4 2020 Kelley Blue Book Brand Watch Report: Tesla's Star Fades While Other Luxury Brands Rise
Wednesday February 10, 2021
Article Highlights
Tesla Model 3 shopping plummets from No. 1 to No. 10.
Luxury SUV shopping set a record; 7 of 10 luxury shoppers considered an SUV.
Lexus RX is the most-shopped luxury vehicle.
Tesla has been the rising star among luxury brands for the past couple of years, but the bright light of Tesla continues to fade as consumer perception and shopping consideration fell again, according to the Q4 2020 Kelley Blue Book Brand Watch™ report.
The Kelley Blue Book Brand Watch report is a consumer perception survey that also weaves in consumer shopping behavior to determine how a brand or model stacks up with its segment competitors on a dozen factors key to a consumer's buying decision. Kelley Blue Book produces a separate Brand Watch report for non-luxury and luxury brands each quarter.
Shopping for the Tesla Model 3 plummeted by 40%, more than any other model. The decline in shopping caused the Tesla Model 3 to drop from No. 1 on the most-shopped luxury vehicle list, a spot it held for six consecutive quarters, to No. 10. The Tesla Model Y fell off the Top 10 most-shopped luxury vehicles completely in Q4 2020; it had been the third-most shopped luxury vehicle in the third quarter.
Looking at just cars, Model 3 fell to the third most-shopped luxury car, a spot held in the previous quarter by Model S, which slipped to No. 4. In terms of just SUVs, the Model Y fell off the top five list of most-shopped luxury SUVs, having been the second most-shopped luxury SUV in the previous quarter.
In total, shopping consideration for the Tesla brand fell a hefty four percentage points. Of all luxury vehicle shoppers, 12% considered a Tesla down from 16% in Q3 2020. In the rankings of most-shopped brands, Tesla fell behind five other luxury brands, some of which tied, including Tesla, which tied with Acura. In the previous quarter, it was behind only four luxury brands.
Tesla also lost momentum in terms of the dozen factors most important to car shoppers when deciding what vehicle to buy. At its height in Q3 2018, Tesla took top honors in eight of 12 factors. Even in the year-ago fourth quarter, it ranked among the top three in nine of the dozen categories.
But in Q4 2020, Tesla led in only two factors – Technology and Fuel Efficiency. The only other category in which it ranked among the top three was in Driving Performance; it was No. 2 behind Porsche. In the Prestige/Sophistication category, Tesla was knocked out of the top three altogether; it had been No. 2 in Q3 2020. Porsche, Mercedes-Benz and Audi took the top three spots.
While Tesla's performance in Q4 2020 Kelley Blue Book Brand Watch declined, Tesla was a star sales performer in 2020. It was one of only a couple of brands to post a sales increase during the pandemic-ridden year and closed the year on a high note. Kelley Blue Book data shows Tesla sold 68,200 vehicles in Q4 2020, up 27% from the year-earlier quarter.
Tesla could get a boost in future Brand Watch Reports as it rolls out a freshened Model S and introduces the Cybertruck. New product makes a huge difference in consumer perception.
Luxury SUV shopping hits new heights
Shopping for luxury SUVs set a new record. In Q4 2020, 69% of all luxury vehicle shoppers considered an SUV, the highest percentage ever in Kelley Blue Book's Brand Watch Report. That was up from 67% in Q3 2020 and 64% in the year-earlier fourth quarter.
Seven of the 10 most-shopped luxury vehicles are now SUVs and only three are cars. In the year-earlier quarter, five cars and six SUVs were on the list, 11 total vehicles because of a tie.
In Q4 2020, the Lexus RX took the No. 1 spot for the most-shopped luxury vehicle for the first time since Q1 2018. Of course, it was also the most-shopped luxury SUV, a position it held for every quarter of 2020.
The third-most shopped vehicle was the Acura MDX, which was in sell-down mode as the brand geared up for the important launch of the new version in early 2021. When considering only SUVs, it was the second-most shopped, up from No. 4 in the previous quarter. The MDX routinely bounces around in the rankings, as does the Acura brand.
The new Cadillac Escalade is on the rise. It tied with MDX as the third-most shopped luxury vehicle and second-most shopped luxury SUV. It was the only full-size luxury SUV on the top 10 list.
The BMW X5 slipped, tying with the Buick Enclave, which jumped seven ranks powered by a 76% increase in shopping consideration supported with sizable incentives. Buick, now an SUV-only brand, is revamping the Enclave later in 2021. It just launched a freshened Envision.
Luxury car shopping holds steady
Shopping for luxury cars held steady quarter to quarter but was down significantly from a year ago. Of luxury shoppers, 51% considered a car, the same in Q3 but down from 56% a year ago. Consumers have fewer models to consider. Discontinued of late were the Acura RLX, Cadillac CT6, Lexus GS, Jaguar XE, Lincoln Continental and MKZ, and Mercedes-Benz SLC.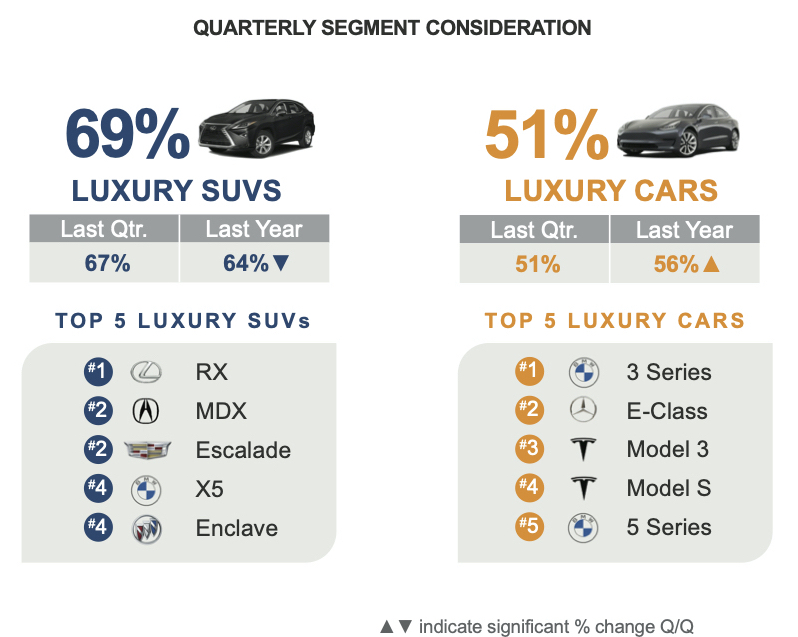 The BMW 3 Series returned as the most-shopped luxury car, replacing the Tesla Model 3. With a whopping 65% increase in shopping consideration, the Mercedes-Benz E-class climbed six ranks to slide in right behind the 3 Series in most-shopped luxury cars. The recent redesign and winning of awards resonated with shoppers. A new Mercedes-Benz S-Class is on its way, which could bolster the brand further.
The BMW 5 Series, along with the Tesla Model 3 and Model S, rounded out the top five list of most-shopped luxury cars.
BMW Remains Most-Shopped Luxury brand
BMW again was the most-shopped luxury brand overall, supported by the 3 Series and the X3. BMW has held that top spot for 10 consecutive quarters with between 22% and 24% of all luxury shoppers considering BMW. Despite slightly lower shopping consideration for the X5, the 3 Series saw a big jump in consideration and a bit higher consideration for the X3, giving BMW an overall boost. BMW launches a new M3 sedan and M4 coupe later this year that may give its shopping consideration further lift.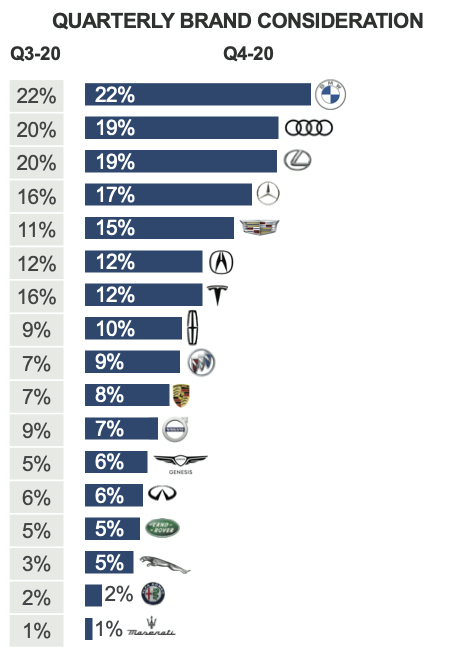 Lexus and Audi have swapped places for the second most-shopped brand since 2018. Q4 2020 was Audi's turn. Even though the Q5 slipped in consideration, Audi edged past Lexus. A big hike in shopping for the Lexus RX was offset by lower consideration for the LS and IS sedans.
The No. 2 spot could be up for grabs again by either brand as both have new products coming out. Audi launches the Q4 sportback and its EVs, the Q4 E-tron and E-tron GT. Lexus rolls out a new NX compact crossover.
Porsche wins the most honors
Among the dozen most important factors to consumers deciding which vehicle to buy, the top four factors have remained largely unchanged for the past five years. In both luxury and non-luxury, Durability/Reliability is always No. 1 by a wide margin, followed by Safety. However, in Q4 2020, Driving Comfort edged past Safety for the No. 2 spot in the luxury category.
In Q4 2020, the top spots for the dozen factors represented a rich mix of brands, some of which hadn't been among the top rankings for those factors in a long time, if ever.
Porsche claimed the most top spots among the 12 factors, thanks to the new 911 Turbo and freshened Panamera with its new hybrid variant. It took three No. 1 spots: Exterior Styling; Prestige/Sophistication; and Driving Performance, passing Tesla. Porsche was No. 2 in Reputation and No. 3 in Technology.
Lexus tied with Tesla with second-most top spots. Lexus, as always, was first in Durability/Reliability and Reputation. Lexus also No. 3 in Safety, Fuel Efficiency and Ruggedness.
Volvo held onto its top spot in Safety. It was No. 2 in Ruggedness and Fuel Efficiency likely due to its SUVs and the electrified vehicles it is bringing to market.
Mercedes-Benz came on strong in the Factors list. It didn't capture any No. 1 spots, but it placed second in Safety and Prestige/Sophisticated and third in Driving Comfort, Driving Performance, Reputation and Exterior Styling.
Detroit luxury makers broke into the Factors rankings during the quarter. Cadillac ranked No. 1 in the increasingly important Driving Comfort category, followed by Lincoln.
Lincoln took the No. 1 spot for Interior Layout while Cadillac was No. 3. Buick came in first for Affordability.
In the past, Audi stood out for Interior Layout and Exterior Styling. But in Q4 2020, it did not lead in any categories. It was second in Interior Layout and Technology and third in Prestige/Sophistication.
Land Rover, of course, was tops for Ruggedness. Acura was second in Durability/Reliability and third in Affordability. Genesis was third in Durability/Reliability and second in Affordability.
Tags